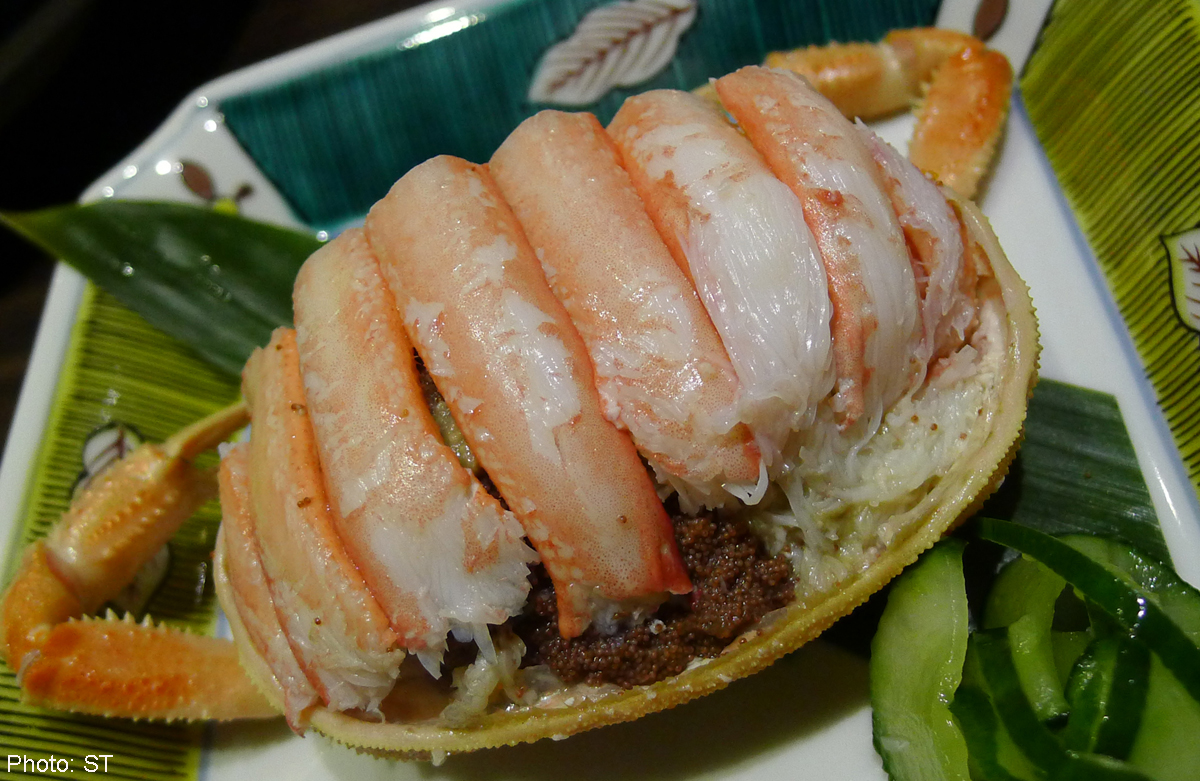 Its new name, G-One, sounds like that of a Korean boyband but that is perhaps a deliberate decision by the owners of the revamped Goto restaurant in Ann Siang Road.
Still owned and managed by chef Hisao Goto and his wife Saori, the restaurant has, after all, shed its sense of exclusivity for more mass appeal. Where it once offered kaiseki menus that can cost more than $200 a person, the dinner menu now lists a la carte dishes priced from under $10 to $60.
Mrs Goto has exchanged her elegant kimonos for a more casual outfit of black shirt and pants, a uniform she shares with a group of young servers.
The food is understandably not as refined as before in some instances, but there are still dishes that recall the wonderful experiences I have had at the kaiseki dinners.
The Assorted Sashimi (from $48 for one person) is certainly as good as before. The pieces of salmon, fatty tuna and scallops, among others, are sliced perfectly and taste good. The one-person platter is enough for two to share because there are at least two slices of everything.
That way, you can try the other dishes, most of which are also cheaper.
The Rolled Chinese Cabbage With Minced Pork ($16) is something I thoroughly enjoy. The cabbage is simmered till soft and sweet, while the pork is mixed with very finely diced carrots and wrapped in what looks like a piece of pigskin.
In the mouth, however, everything merges into a delicious mix of flavours.
And the broth the cabbage is cooked in is so delicious, my dining companion and I ask for spoons so we can drink it up. It tastes like a clear vegetable soup that we wish there is more of.
Another dish I like is the most expensive - Female Snow Crab. The menu lists it at market price, which is $60 at my dinner last week. It is also a seasonal dish, available only until the end of next month.
The crab is not big, about the size of an average adult's palm, but seems to be packed with meat that is conveniently shelled. The back shell is stuffed with roe and slivers of meat from the body, while on top is a neat row of meat from the legs.
This is the perfect lazy man's way of eating crab. All the hard work has been done for you, but you miss none of the chilled shellfish's sweet flavours.
There are good meat dishes too. The Simmered Duck Loin ($16) is cooked very nicely. It is tender yet not so soft that it falls apart, leaving enough bite and plenty of meat juices to flavour it. The seasoning is mild but sufficient, as the duck has no strong smells.
The Beef Sushi ($18 for three pieces) is a novelty for me that turns out well. Lightly seared slices of fatty beef are wrapped over balls of rice, and a thick sweet sauce drizzled over them. It's like eating wagyu don in bite-sized portions, which may whet your appetite for more, which it would in my case if I have not already filled myself with the other dishes.
There are dishes that do not impress, however.
The Grilled Chicken Wing ($18) tastes like any ordinary barbecued chicken wing. It is not bad but not something I would order again for dinner. But as a small dish to go with alcoholic drinks, it might work.
And the Deep Fried Scallop ($18) is so overcooked that the shellfish has turned rubbery. You wouldn't want to order this even as a snack with drinks.
The good thing about the change from Goto to G-One is that it is much more affordable. But one does miss the refined charm of the kaiseki courses.
ahyoke@sph.com.sg
Follow Wong Ah Yoke on Twitter @STahyoke
SundayLife! paid for its meals at the eateries reviewed here.

This article was first published on Dec 14, 2014.
Get a copy of The Straits Times or go to straitstimes.com for more stories.