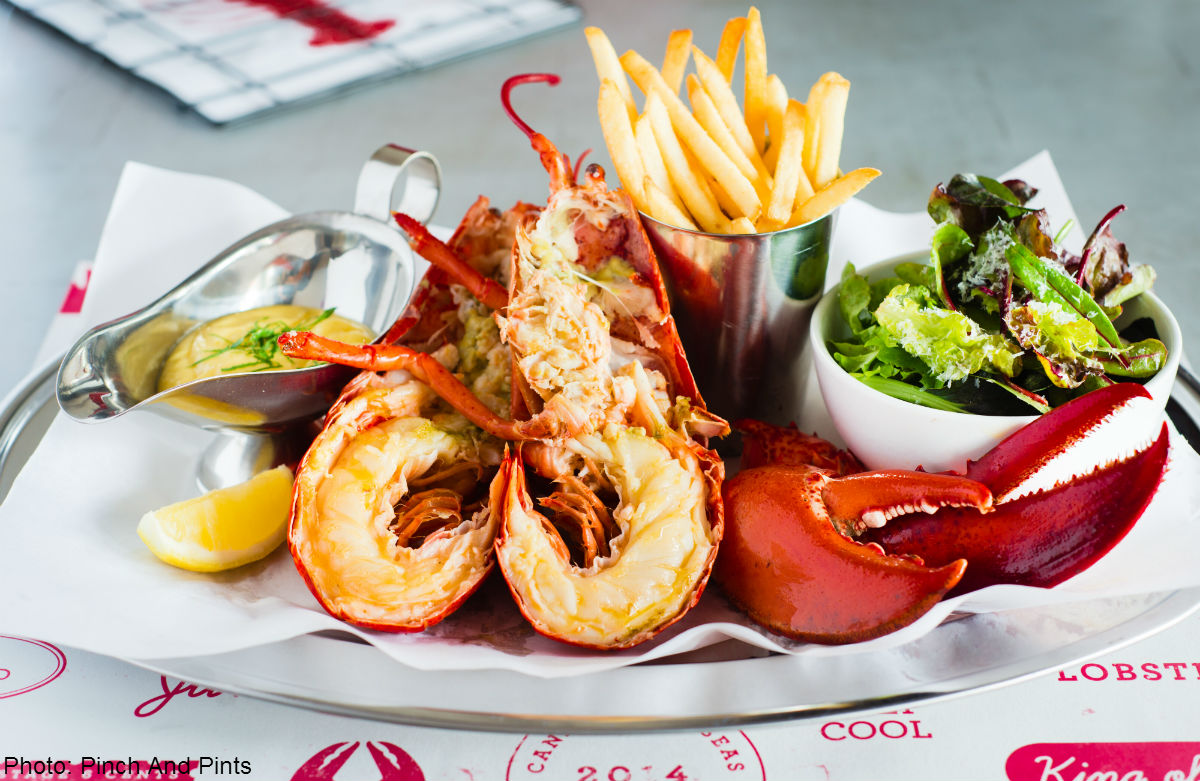 A whole new roll
Frederick Yap
Pince and Pints
32-33 Duxton Road
6225 7558
www.pinceandpints.com
Opens Monday
When's the last time you had lobster on a casual dress-down dinner with friends? Or have you ever?
Ponder no longer, when Frederick Yap's lobster specialist Pince and Pints unrolls its shutters next week. For the 46-seater will serve only three dishes uniformly priced at $48: a whole lobster either steamed or grilled with a side of fries and salad; a lobster roll that encases hearty chunks of mayonnaise-coated lobster flesh in a butter-fried white bun; and chilli lobster, a take on the classic Singaporean chilli crab dish served with golden-crusted mantous.
"Not many people get to eat lobsters on a regular basis in Singapore as they are typically very pricey and only found in fine dining restaurants. But we wanted to make it accessible to the masses and serve lobsters only, which hasn't yet been done in Singapore," says the 27-year-old co-founder of fashion e-tailer Love, Bonito of his first F&B foray.
Except for the meat in the lobster rolls, which are steamed, deshelled and chilled ahead of dinner service daily, the whole lobsters are slaughtered after you place your order. Only American lobsters, or the Homarus Americanus, are used - a species picked for its durable hard shells and year-round availability - says Mr Yap, and each lobster typically weighs between 600 and 650g, which yields about 160g of edible lobster flesh.
If you think Pince and Pints bears uncanny resemblance to London's immensely popular Burger and Lobster chain, you aren't far off the mark. After all, Mr Yap calls the Burger and Lobster's business model "an inspiration" and sources his lobsters from the same seafood suppliers in Maine, Boston and Nova Scotia in Canada. He's even met up with the chain's co-founder on his last trip to London.
Rather than launch a franchised outlet of the brand here, however, Mr Yap says his aim is to create a made-in-Singapore brand designed for the local market. The buns in the lobster rolls are baked by a traditional bakery in Chinatown, for instance, while the mayonnaise sauce in the lobster rolls are based on a recipe the hobbyist chef concocted himself. With two wok stations in the kitchen, Pince and Pints plans to roll out more dishes adapted from local zichar classics such as a deep-fried XO lobster and lobster e-fu noodles when it expands to all-day dining hours eventually.
"I'd rather build a brand myself. Pince and Pints can grow as a name," believes Mr Yap, who has his sights set on regional expansion. "There's plenty you can do with lobsters, the business opportunities are immense as they are a very sustainable, scalable product. I definitely see myself in the F&B industry for a long time, but we want to take it one step at a time."
Though the concept seems to be one that can be easily copied, Mr Yap believes the crux of his business lies in keeping his prices unbeatably low, "and the only way to get the low prices is to import everything ourselves to cut out middle-man costs".
Like Burger and Lobster's 950 sq ft lobster holding facility within the UK's Heathrow Airport, Mr Yap has set up a 1,000 sq ft holding facility for 1,200 lobsters in Bedok - picked for its proximity to Changi Airport - where lobsters flown in live from the US and Canada are rested before they are transported to the Duxton restaurant, which can hold up to 200 lobsters in tanks.
Lobsters are kept bound up in cold waters between 5 and 7 degrees Celsius, "to keep them in hibernation mode to stop muscle degradation", explains Mr Yap.
A total of 1,000 lobsters are currently flown in three times a week, which means each lobster that ends up on your plate hasn't been caught for more than a week, assures Mr Yap, who earlier spent a month working at Fish & Co to better understand kitchen inventory and livestock management.
Sounds very technical? That's exactly what drives him. "I've always like building things, from warehouses to supply chains," laughs the amicably earnest diploma holder in mechanical engineering.
While his wife Velda, her sister Viola and their friend Rachel Lim fronted Love, Bonito as fellow founders, Mr Yap presided over the brand's back-room operations, stretching from its China-based manufacturers to its local distribution channels, which he has since fully automated.
Last year, the brand nudged its way into the high fashion ranks when it partnered with Parisian couturier Julien Fournie to launch a collection during the Fide Fashion week. It was also the same year that Mr Yap and his wife stepped down from the company as its managing director and creative director respectively. Part of Mr Yap's liquidated shares went into funding Pince and Pints - "a close to $1 million venture" - as its sole proprietor, while wife Velda Tan has enrolled in fashion designing courses at Central Saint Martin's in London.
On the difference between the fashion and F&B industries, "I'm no longer one of the only two guys in a company of 40 people," he laughs. But more seriously, he adds: "F&B gives you a chance to connect to customers directly while e-commerce is very 'offline' - you reply to queries over email. And it's nice when you get to see your customers genuinely happy as they dine."
Besides Pince and Pints, Mr Yap has also launched a distribution arm supplying lobsters to restaurants such as Tanjong Beach Club and the Naked Finn, and ultimately aims to launch a central kitchen to package retail products such as lobster butter and lobster oil from the restaurant's lobster spare parts. A retail shop front will also be plugged into Pince and Pints' Bedok holding facility in a month for lobster-seeking home cooks.
Now there's definitely no need to dress up for that.
Japanese-French mix
Darren Wee
Babette - Restaurant and Bar
165 Tyrwhitt Road
#01-03 Parc Sovereign Hotel
6341 7727
Hours: 11am to 11pm daily
www.facebook.com/babetteSG
Darren Wee doesn't just gush about food on the radio, he puts his money where his mouth is.
After hosting The Sunday Brunch weekend show on local radio station 987FM for the last two years, the part-time radio deejay launched his second restaurant venture, Babette, earlier this week.
"Everyone wants to expand at some point. Doing it when you're younger means you have more energy to commit to your business," says the 29-year-old, who also runs two-year-old massage parlour-cum-heartland cafe Chillax in Serangoon Gardens.
His sophomore effort is a slightly smarter 64-seater tenanted space within the brand new four-star Parc Sovereign Hotel along Tyrwhitt Road. Named after a 1980s Danish movie, Babette's Feast, "a poetic film about how food can bring people together and right wrongs", Mr Wee hopes the modern restaurant-bar will likewise channel the same positive vibe.
"It's like how asking where the best char kway tiao or chicken rice is in Singapore will always break the ice and get people talking," he elaborates.
Beyond a menu of salads, pastas and crowd-pleasing small plates such as truffle fries, tuna tartare and octopus tempura ($8 to $14), Babette's star orders lie in its small but thoughtfully crafted selection of mains, which fuse French techniques with Japanese ingredients tailored for local palates.
Says Mr Wee: "Most Singaporeans enjoy Japanese food and are familiar with French cuisine, and what I especially like about the two cuisines is that a lot of effort and thought goes into them, right down to the plating."
This multi-cultural cooking philosophy is best epitomised in Babette's signature dish, the duck confit donburi ($28), which folds in a leg of crispy duck leg on a bed of Japanese rice topped with homemade Japanese sauce and pickles - or what Mr Wee jokingly calls "my version of atas roast duck rice".
Other mix-marriage creations include the pork and bacon hamburg donburi ($16), or a rice bowl topped with a plump roll of bacon-wrapped pork sausage and a slow-poached "onsen egg" that you mix into the rice before eating, and the fully indulgent steak and foie gras donburi ($28), which comprises plumply sliced striploin cuts of beef paired with pan-seared foie gras and a garlic and soy sauce-based Babette sauce.
Lighter plates such as the chirashi donburi ($19) of marinated assorted raw fish chunks on a bowl of plain Japanese rice, or sous vide-cooked salmon steaks served on coils of soba noodles ($17) will satisfy those looking to avoid the post-lunch food coma.
"French-Japanese cuisine is typically found in fine-dining restaurants, but at Babette we wanted to translate that into one-dish meals that you can eat daily," says Mr Wee. "Even though we are in a hotel, we want it to feel like a casual, unpretentious place just like any other restaurant."
To cater to the brunch-seeking hipster crowd that increasingly roam the gentrifying Jalan Besar neighbourhood on weekends, the restaurant also has a "mix and match brunch" option, where you can cobble together your own brunch platter combination from picks of eggs, french toast, hash browns, baked beans, avocados and the like ($2 to $8 per item).
"When I dine out now, especially in start-up F&B ventures run by young people, I am a lot more appreciative of the thought that goes into the details, even down to the type of paper the menu is printed on, after having gone through the same process myself," laughs Mr Wee of Babette, which was six months in the making.
There are two main similarities between the media and the restaurant industry, he reckons: the long hours and the requisite love of talking to people.
"On radio we're always selling something, just like in a restaurant," he laughs, adding: "I love chatting and I'm used to hosting events in front of large audiences, which makes it very natural for me to be constantly speaking with my customers to get feedback."
But unlike being a DJ, where one has to be generally likeable, "you can't always be likeable as a business owner, sometimes you have to make a call and make unpopular decisions to fix problems," he states.
While being on air is something he sees himself doing for a long time ("radio is something I do to de-stress, there's something magical about being able to push the 'on' button on a microphone and everyone can hear you", he says) so too does he see himself in the restaurant scene - despite all its challenges.
"You don't have the dollar stress as an employed DJ, you wait for your next paycheck every month. But with running your own place, there is the real pressure of worrying about making ends meet," he adds. "Besides balancing the books, there are other aspects to running a restaurant. Managing people is not as easy a it seems, for example, finding them, hiring them, and making them feel part of a team - it takes a lot of maturity to run one's own business."
But that's where he finds further therapy in his radio show. Interviewing fellow food entrepreneurs for his food features "helps me take some comfort in knowing that the little sleep, long hours, manpower crunch and high capital investment aren't things that I face alone, everyone is having the same issues", he says.
Game on pleasing customers
Ivan Yeo
The 1925 Microbrewery and Restaurant
369 Jalan Besar
6294 9215
Hours: 10am-midnight (Mon-Sat), 10am-10pm (Sun)
What does game design have to do with running a restaurant? Very little, yet very much, according to Ivan Yeo of Jalan Besar's latest dining spot, The 1925.
"Running a restaurant was never really a definite goal I was working towards, yet everything I've done has led to this," the former head of a mobile gaming agency remarks.
Granted, the microbrewery-restaurant has only been open for six weeks and is still undergoing many changes: its second-floor wine lounge cum communal dining area (a large central table seats up to 20) was only opened this week, its wine racks will only be set up in a fortnight, and its alcohol licences are still pending before the restaurant can serve the light and dark pilsner beers produced by its on-site microbrewery.
Still, Mr Yeo concedes: "It's a different kind of stress. I can sleep much better now."
After dabbling in the design industry for close to two decades, from website development to interactive multimedia design and even social media marketing, the 33-year-old was last heading a mobile application development company, which he spun off from a larger group in which he was creative director.
He observes: "In the design industry, after you deliver a project to a client, you still have to continue to make sure your campaign or website works well, but it is then also left in the hands of many people, which makes it open to potential problems beyond your control."
"F&B is a tangible business that appeals to many senses, you can see, smell and taste the food to determine its value. For design, most people only judge the final product visually, so you constantly have to justify the value of your intangible ideas," Mr Yeo further muses.
At one point in his earlier career, he branched out into interior design with a local furniture company, where a part of his responsiblity was to oversee the company's F&B spin-off, a cafe in Tiong Bahru. It was also there where the first roots for The 1925 were sown, Mr Yeo recalls. A few friends had gathered at the cafe to knock back his uncle Yeo King Joey's homebrewed craft beers post-dinner some time last year, and encouraged the younger Mr Yeo to run his own microbrewery. (Uncle King Joey, an aeronautical engineer by day, now oversees the four 600-litre tanks of beers on the restaurant's ground floor.)
It didn't matter to the Yeos that none in the family have any F&B experience. While there are indeed challenges as a relatively unknown name, such as food suppliers often wanting cash on demand - which results in a tighter cashflow and a higher chance that some items on the menu will run out - Mr Yeo admits, the upside is that "we will never know whether we are doing things right". "This means we won't do things the usual way, which is refreshing for our customers," he says.
Unusual items on the menu include the crispy egg aglio olio ($16), a chilli and garlic-tinged spaghetti coiffed with wisps of the crispy fried eggs typically seen in zichar dishes, or the raw Canadian oyster shooters ($10 for two) that you knock back with a shot of Alaskan smoked salmon vodka and a sprig of thyme. In place of dessert, pick from a span of dessert-inspired cocktails like the gula melaka and pandan-tinged Zoot Soot Riot ($16) or the Ziegfield Follies ($16), which blends vanilla vodka, strawberry puree with strawberry ice-cream topped with parmesan cheese cookie crumbs.
Does he miss the design industry? "Instead of designing for customers, I am now my own client, I design for myself," he laughs. "It doesn't get better than that." This gives him the full creative freedom to mull over the littlest details in the restaurant, from embossing sunken edges on the restaurant's cardboard coasters to prevent water from spilling out, to gold-rimming its beer mugs, and custom-making the metal lamps and vintage furniture that kit out the lofty second floor.
"Game design is a lot about understanding consumer mentality and behaviour manipulation. We build a virtual environment and create stimulus that make players feel stressed or upset and act a certain way," observes Mr Yeo. "In F&B, we are similarly building a restaurant environment - and changing factors such as lighting, music and pricing - but instead with the aim of making people happy." Tapping on his social media marketing experience, plates are also intentionally plated according to a brand-conscious, Instagram-friendly template, Mr Yeo says. If it's all starting to sound a little too Truman Show to you, well, Shakespeare did once say that all the world's a stage...
debyong@sph.com.sg

This article was first published on July 5-6, 2014.
Get The Business Times for more stories.