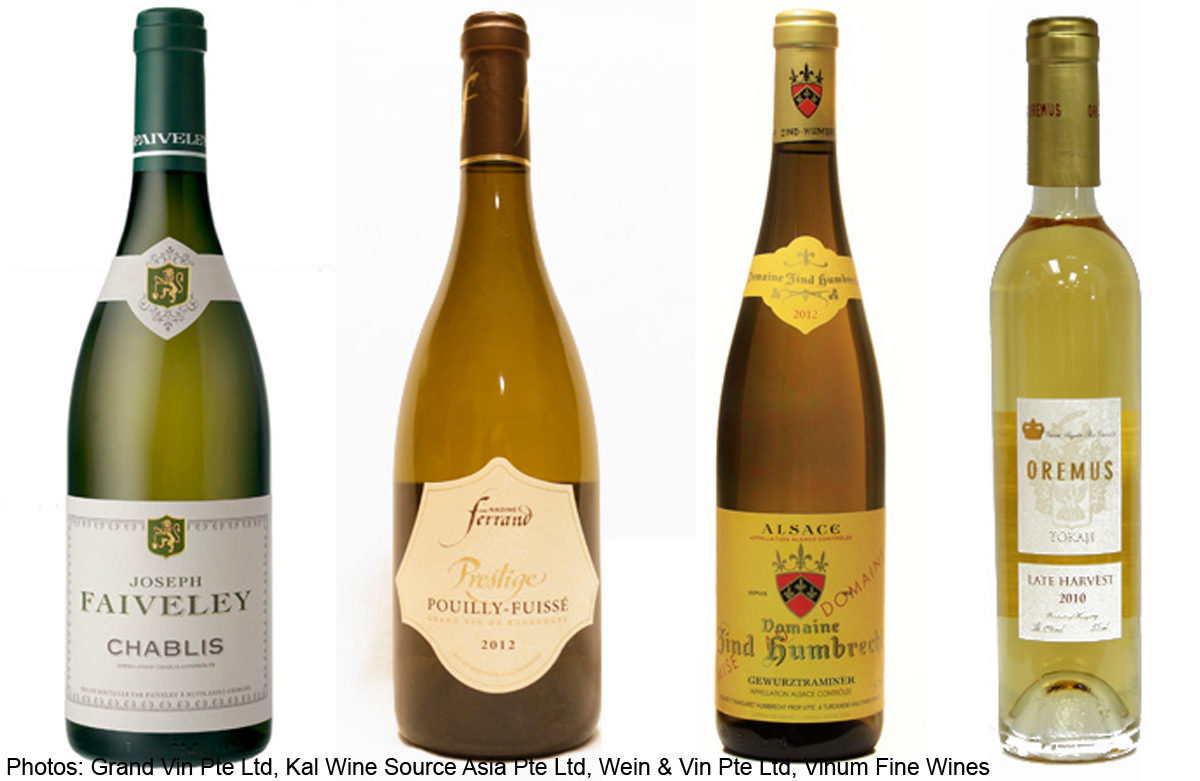 Surprisingly, many wine consumers still dismiss white wine as inferior to red but by doing so they miss out on a broad spectrum of wine experiences.
In The Business Times Wine Challenge 2014, 12 white wines progressed through to the final 30 wines shortlisted. In this, the fifth and final article, we feature four traditional dry whites from France and two very classic sweet examples - one from Germany and the other from Hungary.
Three of the wines have been produced from Chardonnay and originate from Chardonnay's spiritual home in Burgundy.
Knocking Chardonnay has been trendy for some years although serious wine lovers have no time for the "ABC" (Anything But Chardonnay) brigade. Chardonnay lovers would suggest that members of the "ABC" club have not yet tasted the right Chardonnays.
Highly respected wine writer Jancis Robinson MW (Master of Wine) remarked: "I can certainly appreciate great Chardonnays ... as some of the best wines on the planet."
Chardonnay is a particularly neutral grape variety. It is relatively easy to grow and can be manipulated by the winemaker so much that it can produce a range of styles from those which are overripe and overwhelmed by resinous oak to extremely dilute, bland, characterless wines.
Nonetheless, when Chardonnay is grown in the right location, it has the ability to truly express a sense of place, a real reflection of its "terroir", particularly when the producer does not interfere too much.
One region where the practice of producing unadulterated Chardonnay has thrived to create one of the most recognisable names in wine is that of Chablis. It has also inspired many imitations in the wine world. Admittedly Chablis can often be a disappointing wine, yet in an increasingly competitive marketplace, there is no room for sub-standard Chardonnay.
Nonetheless, at its finest it can be "an understated wine, subtle rather than obvious, reserved rather than too obviously charming", according to Burgundy wine doyen Clive Coates MW. Chablis is far closer to the northerly region of Champagne than to the rest of Burgundy, hence the climate is distinctly cooler giving racy wines.
This is the last in a series of five articles featuring 30 wines shortlisted for The Business Times Wine Challenge 2014 - CEOs' Choice, in partnership with UBS. The wine awards is in its second year, and is the only one to reflect the palate of Singapore's business elite. Wines submitted by merchants here were shortlisted by a panel of wine professionals, and the 30 finalists were then narrowed down by CEO judges to 10 CEOs' Choice winners. The panel of wine professionals comprised chief judge Lim Hwee Peng (international wine specialist, Winecraft Marketing & Services), Timothy Goh (director of wines, Les Amis Group) and Maximilien Fedkiw (founder/sommelier, Le Bistrot du Sommelier), plus three guest judges.

Get The Business Times for more stories.