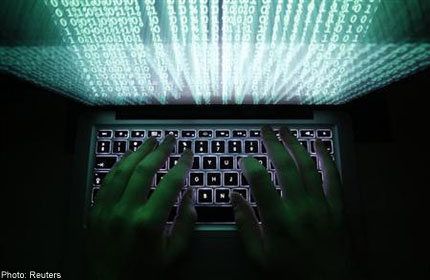 WELLINGTON - Hackers disabled several websites of New Zealand's ruling party on Tuesday, protesting a planned law to widen the surveillance powers of the country's spy agency but the action was criticised by Internet entrepreneur Kim Dotcom as counter-productive.
The government has proposed a controversial bill that would allow the General Communications Security Bureau (GCSB) to engage in domestic operations. Currently, it spies on foreign targets via electronic listening posts but is barred from spying on New Zealand citizens or residents.
The bill was prompted by disclosures that the Bureau had illegally spied on Kim Dotcom, the founder of online storage company Megaupload. Dotcom is fighting attempts by the US government to extradite him on charges of Internet piracy, copyright infringement, and money laundering.
The self-styled Anonymous New Zealand said it had taken down 14 websites run by the centre-right National Party, including those for Prime Minister John Key and Finance Minister Bill English.
In a posting on YouTube, the group called the bill, which will allow the GCSB to provide technical support to police and the Security Intelligence Service on operations against terrorism and organised crime, "a despicable piece of legislation".
The law has been strongly opposed by lawyers, Internet and civil society groups, and prompted street protests.
Dotcom, a vocal critic of the law change, came out against the hacking attack.
"Dear Anonymous NZ, hacking National Party websites is just giving John Key a new excuse to pass the #GCSB bill...Please stop it.," he said in a posting on Twitter.
To secure the support of an independent lawmaker to be able to pass the law, Key's minority government has made some concessions, increasing supervision of the GCSB and making provision for reviews of its operations.