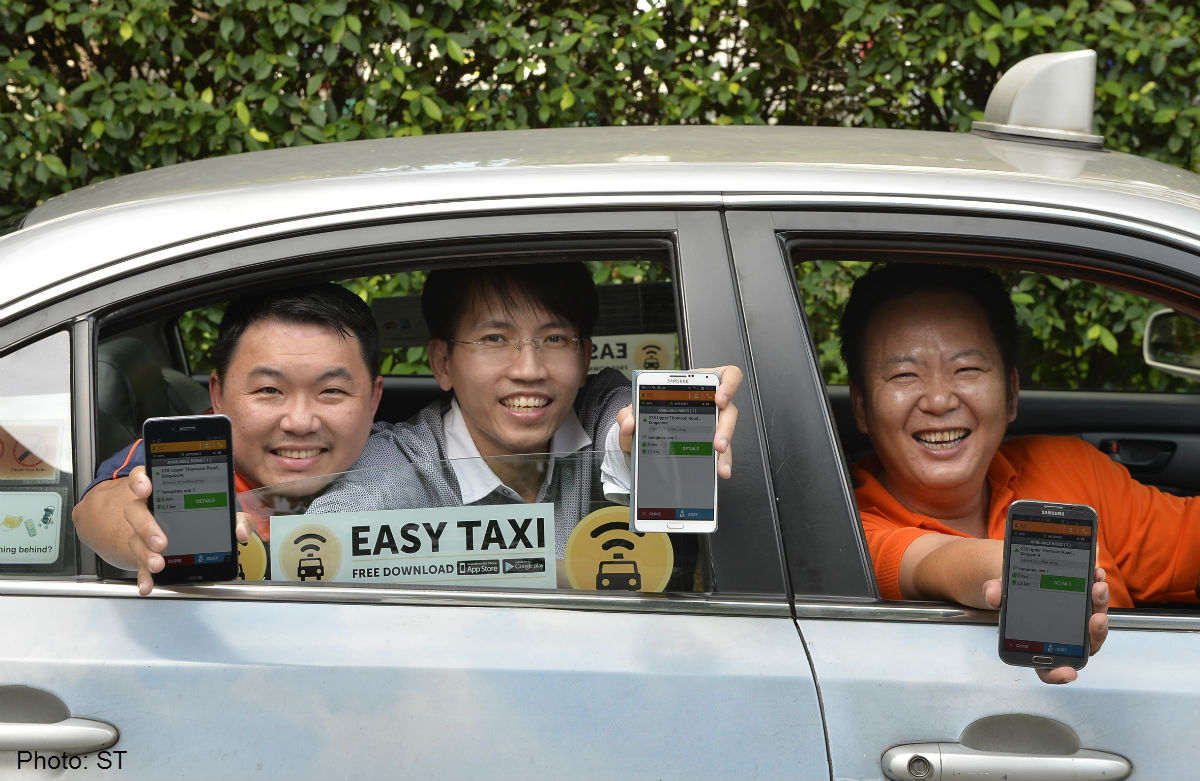 Taxi apps are giving cab companies a run for their money.
In just half a year since its launch here, GrabTaxi already claims that it has enough drivers using its service to be the "second largest cab fleet" here. Digital Life understands that Easy Taxi has amassed 7,000 cabbies under its wing and they have made more than 100,000 rides using the smartphone app since it started in December.
Yet, neither company owns a single taxi.
Fed up with long taxi queues and tired of long waits when calling to book a cab, commuters are turning to mobile transport booking apps that do away with many of the problems associated with conventional ways of booking a taxi.
GrabTaxi, Easy Taxi, MoobiTaxi and Uber apps offer real-time location tracking and link drivers with passengers directly. The companies behind these apps say their business is growing as they compete with established operators who have their own call centres.
Before GPS-enabled smartphones became so widely used, only cab companies, with their satellite systems, could easily track taxis and relay booking information.
Now, smartphones with GPS functions enable third parties to match drivers and passengers.
The apps are especially popular with cabbies from the smaller companies as their smaller fleet size means they get significantly less calls than market leader Comfort Delgro.
Mr Jonathan Pang, vice-president of products at MavenLabs, which launched MoobiTaxi last year, said: "The simple smartphone is levelling the playing field for everyone."
The potential of these apps has not gone unnoticed. Temasek-backed Vertex Venture Holdings just invested a new sum in GrabTaxi this month, bringing its total investment in the company to at least US$10 million (S$12.6 million). Some cab companies are concerned.
TransCab's general manager Jasmine Tan said: "We have invested in call centres. It seems unfair that these apps are using our cabs."
Popular with drivers now are GrabTaxi and Easy Taxi which offer cabbies plump incentives for taking assignments. Such variable payments top the $2 to $3 that cabbies earn for taking bookings by their own companies' reservation service. They even get compensated for no-shows.
This week, GrabTaxi is paying $58 to drivers who accept 20 jobs in a week, and $188 for 40 jobs. Drivers get $2 for a no-show if the company verifies with the passenger that this is the case.
Easy Taxi will pay $5 a job once drivers accept 12 jobs in a week, and $6 a job once they hit 24 jobs in the same period. Drivers get $100 more for taking 40 jobs in a week. They get $3 for each no-show. Such attractive payouts have allowed the app companies to grow their base quickly.
Bonus payouts
Mr Armstrong Ho, 46, who drives a Premier cab, started using Easy Taxi last December. He said: "I have earned about $2,000 in incentives this month with Easy Taxi."
This included a $1,000 payout for taking 100 jobs in a week. Mr Ho was one of eight drivers who received this "super bonus" last week.
These apps also benefit those from smaller cab companies. Said Mr Ho: "Most people tend to call Comfort at peak hour because it has more cabs."
But new apps level the playing field for smaller cab companies, which get fewer calls, he said.
They give passengers a way to reach a wider pool of drivers than by calling just one taxi company.
Ms Evon Tan, 32, who has been using GrabTaxi since January, said: "It's a win-win situation for drivers and passengers."
GrabTaxi and Easy Taxi require their passengers to key in their destinations. This allows drivers to plan their routes ahead of time.
Explained Mr James Low, 38, a Premier driver who uses GrabTaxi: "It's a very useful function. At least we know which passengers we can pick up when we are about to change shift."
Next: Better chance of getting a cab
Better chance of getting a cab
MoobiTaxi, a booking aggregator, works in a different way. Passengers can book rides via the app, which is also linked to Comfort and CityCab and SMRT Taxis' servers. Every ride request is also dispatched to Comfort and SMRT cabbies in the vicinity and appears on the screens in their cabs.
This increases a passenger's chances of getting a cab as drivers without smartphones can also respond.
MoobiTaxi said it wants to offer its app to all cab operators.
But MavenLabs' Mr Pang said operators with smaller and, therefore, more dispersed fleets are reluctant to get on board. They worry about coping with higher demand and meeting the service standards set by the Land Transport Authority (LTA), including a time limit for cabbies to arrive after accepting a booking, he added.
Such requirements do not apply to GrabTaxi and Easy Taxi as their bookings do not go through taxi companies' booking systems.
A fourth app, Uber, uses drivers and vehicles from limousine companies here. The app, which originated in the United States, offers high-end luxury cars on its Uber Black service, and regular sedans on its cheaper UberX service.
Uber's charges are simpler and are quite different from the complex combo of local flagdown fares and surcharges that the five taxi companies use. It also offers payment by credit card by default, with no additional fees.
Despite Singapore's relatively small population of 5.4 million, it has about 28,000 cabs on the road, which make it an attractive market for taxi app companies. In comparison, Hong Kong has about 18,000 cabs; and London, about 23,000.
Mr Gustavo Vaz, co-founder of Brazil-based Easy Taxi said: "Taxi rides are more affordable in Singapore when you compare them with Brazil and many European cities." Singapore's high smartphone penetration rate - at least 78 per cent - is an added draw for services looking for a quick roll-out and speedy adoption.
GrabTaxi general manager Lim Kell Jay said: "In the Philippines, many drivers didn't have experience with smartphones. We had to equip them with smartphones and teach them how to use these apps. Singapore's population is tech savvy, so that's a big plus."
Cab companies feel the heat
Several Comfort and CityCab drivers who use these apps told Digital Life that they have been questioned about accepting so many private bookings.
ComfortDelGro, the parent company of Comfort and CityCab, which got more than 32 million call bookings last year, said it does not ban its drivers from using such apps, but will "continue to invest and innovate so as to stay ahead of the competition".
The company, which owns more than half of Singapore's taxi fleet, added a field asking for a customers' destination in its own booking app a few weeks ago.
A CityCab driver, who only wanted to be known as Mr Lim, said: "We have been wanting this feature for such a long time."
He said that the new taxi apps are a wake-up call for the company.
At the beginning of this year, TransCab also sent out a message to its approximately 4,000 cabs to discourage drivers from using third-party apps.
Though the company does not ban its drivers from using the apps, its general manager,
Ms Jasmine Tan, feels that it is unfair for these apps to use the company's cabs as it has sunk money into a call centre.
Replying to queries from Digital Life, the LTA said it was "reviewing the impact of third-party applications on the taxi industry" and looking into "how it may benefit taxi drivers and commuters in matching demand with the supply of taxi services". For now, the companies behind the apps cannot charge an additional booking fee.
Last year, the LTA also told GrabTaxi to remove from its app a tipping feature that would let a passenger secure a cab more quickly.
"Taxi drivers are not allowed to overcharge passengers by collecting fares in excess of those set by their taxi companies," said an LTA spokesman.
MoobiTaxi's Mr Pang is sanguine. He said: "Technology is always disruptive. It is now disrupting the taxi market too."
Easy Taxi
Though not yet as prominent as GrabTaxi, Easy Taxi is known for providing the cheapest rides on the market so far.
The app currently waives all booking fees, including the standard booking fee that cab companies charge.
In other words, Easy Taxi customers pay only the meter fare, whereas drivers who take jobs booked through apps such as GrabTaxi or from cab companies will charge the standard cab booking fee ($2.30 and up, in addition to the metered fare, depending on operator and time of day).
This may mean the cabbies earn less per ride by foregoing the standard booking fees. However, Easy Taxi is still attractive to drivers such as Mr Alvin Tan, 37.
"Easy Taxi attends to drivers very promptly and takes care of them. It's not only the incentive, but the driver-company relationship that matters," he said.
Founded in Brazil in 2011, Easy Taxi launched here last December. The company, which has received US$50 million (S$63million) from e-commerce venture capital
Rocket Internet, now operates in more than 80 places, including Ecuador, Taiwan and Hong Kong.
According to sources, in Singapore alone, Easy Taxi has 7,000 drivers using its app. The passenger version of the app is available for iOS and Android, while the driver app is available only for Android.
How it works
When passengers request for a taxi, they can choose from four-seaters, seven-seaters or limos. They have to key in their current location and destination.
The request is then sent out to drivers within a certain radius of the location. The area widens if no driver accepts the booking within a given timeframe. This radius and timeframe vary throughout the day, depending on time and other factors.
Unlike GrabTaxi, which tells users within 30 seconds if their bookings are unsuccessful, Easy Taxi tries for a match for three minutes before giving up.
Using the driver version of the app, a cabby can see if the passenger is nearby and choose to accept the booking. The driver who is nearby and accepts the booking first gets the job.
Once a booking is accepted, the user will see the driver's name, mobile phone number, car model and licence plate number, as well as his current real-time location and estimated time of arrival on the map.
The driver, in turn, can see the passenger's name and phone number.
Incentives for drivers
These vary by the week. This week, drivers get an additional $3.50 for each fare, up to the first 11 fares in the week.
Once they hit a dozen, they get $5 for each fare. If they hit 24 in a week, they get $6 per fare. This is topped off by a $100 bonus when drivers accept 40 fares in a week, and a $1,000 super bonus when they hit 100 rides in a week.
Easy Taxi will pay drivers $3 should a passenger not show up, but there is no compensation for cancellations.
Users who are no-shows more than twice without valid reasons are blacklisted.
User experience
Easy Taxi, which uses Google Maps, did not detect our location accurately. This was compensated by a field which let us key in our location.
While the response time from drivers took less than three minutes, we were unable to get a cab two out of the fourtimes we tried it. One unsuccessful try was during peak hour; another during a non-peak period.
The estimated time of arrival was also inaccurate, as it took longer for the cab to arrive.
When we spoke with the drivers, most complaints concerned location services. Drivers said they often had to call passengers to say it would take longer than expected.
The app maker said it is currently working with another vendor to make its location services more accurate.
None of the drivers charged us booking fees. Passengers who spot drivers attempting to charge them standard booking fees can call the Easy Taxi hotline to report them.
GrabTaxi
Currently the most prominent third-party taxi app on the market - thanks to a fresh injection of capital from Temasek-backed Vertex Venture Holdings earlier this month - GrabTaxi prides itself for providing good payouts to drivers.
Originally established in 2011 as MyTeksi in Malaysia, GrabTaxi was founded by Harvard Business School graduates Anthony Tan and Tan Hooi Ling, who wanted to provide safer passenger rides for those living in Kuala Lumpur.
The app, which launched here last October, is also available in the Philippines and Thailand. It is available on Android for drivers and both Android and iOS for passengers.
How it works
Once you open the app, it shows how many GrabTaxi drivers are in your vicinity.
Passengers key in a destination, select their cab type and tap the "Book Now" button for a taxi. Like Easy Taxi and, more recently, the Comfort and CityCab apps, the destination field is mandatory so drivers can plan their routes.
GrabTaxi provides estimated travelling time and fare rate as the booking request is sent out to drivers within a certain radius of a location.
The estimated fare rate does not include booking fees or ERP charges.
Drivers have to bid for the job. Those who bid within 30 seconds and are closest to the passenger's location will get the job.
Unlike Easy Taxi, which broadcasts a request for a maximum of three minutes, GrabTaxi broadcasts a request for a maximum of about 30 seconds, after which a user is informed if a booking has been successfully made.
Once a booking is accepted, the driver's licence plate number and his estimated time of arrival will appear on the app.
There is an option to call the driver and the passenger also sees a taxi's location in real-time.
Users can use the app to forward the status of their rides to their contacts via Facebook or WhatsApp.
Incentives for drivers
For this week, drivers are paid $58 for 20 jobs and $188 for 40 jobs.
Drivers are also allowed to charge the standard booking fee (from $2.30, depending on the taxi company and the time of the day) to passengers above the meter fare.
Drivers who decide to keep the booking charge key this under a "private booking" field on their meter.
Drivers also get paid $2 for each no-show.
On the flip side, GrabTaxi charges drivers $0.30 for every successful GrabTaxi job they accept and this deduction is made from an account that registered drivers top up at GrabTaxi offices in Bukit Merah or Midview City.
Last Friday, GrabTaxi tied up with local telco M1 to allow drivers to pay the company via their phone bills.
User experience
While the app shows the number of GrabTaxi drivers available nearby, a display of a high concentration of taxis is not indicative of higher potential success in making a booking.
Aside from Google Maps, GrabTaxi also uses location service Foursquare to provide a more accurate location of users.
However, the app's estimated cab fare is way off the mark. A trip from Yio Chu Kang to Dover costs $14.95, but GrabTaxi estimated it as between $18 and $28.
Drivers whom Digital Life spoke to also had issues with the app's inaccurate estimated arrival times.
GrabTaxi will consider a payment option field so customers can select if they are able to pay by cash, Nets or credit card.
MoobiTaxi
MoobiTaxi was launched last year by Maven Lab, a website and mobile development company that was awarded $10 million by the Infocomm Development Authority's (IDA) Digital Concierge initiative.
The IDA initiative is intended to improve the tourism, retail and hospitality sector by funding the development of innovative and useful mobile services.
MoobiTaxi claims a user base of more than 10,000 passengers and 2,000 drivers from ComfortDelGro and SMRT Taxis, and said it is in talks with other taxi operators.
How it works
A check-in feature on the passenger's version of the app auto-detects his location.
This, in turn, displays his location on the taxi driver's version of the app.
The check-in option requires no booking fee but does not guarantee a taxi, as drivers are free to ignore the check-in.
The app also has a booking feature, sending all bookings through the app to the smartphones of nearby drivers. Drivers without a smartphone can see the booking on their vehicle's data terminal, as all bookings are also sent to the taxi operators' dispatch systems.
Bookings made this way are more likely to get a response and the taxi's regular booking charges will apply.
Maven Lab is looking to add a limousine-booking feature to MoobiTaxi by the end of the year.
In partnership with food rating and restaurant reservation service HungryGoWhere, it allows passengers to see information about notable food places nearby and make reservations for restaurants.
Prices
The app's check-in feature is free for drivers and passengers.
Passengers who book a taxi through the app will be charged the regular taxi-booking fee from ComfortDelGro and SMRT Taxis ($3.30 during peak hours, $2.30 during non-peak hours).
All other surcharges and ERP fees apply.
Incentives for drivers
The check-in system lets drivers see where nearby passengers are in real time.
Taxi drivers download a different MoobiTaxi app, which has a taxi stand display feature that highlights taxi stands around Singapore.
However, there is no guarantee that there will be customers at the taxi stands.
User experience
We used the check-in feature on several occasions at Braddell MRT station close to 7pm and at Clementi Avenue 1 around 8am, but no driver responded, even after several tries.
Though the check-in method did not work, booking a taxi was quick, with taxis responding quickly, often under 5min. A standard booking fee was charged.
The app shared our mobile numbers with the drivers, allowing them to contact us.
Some drivers we spoke to said they had not heard of the app and received the booking via their taxi's mobile data terminal instead.
Payment is in cash, or Nets if the taxi has a Nets machine.
How to use the app
MoobiTaxi for passengers is available on Android, iOS and Windows Phone.
A driver version of the app is available only on Android and iOS.
Registration is simple. A passenger creates an account with his name, mobile number and password.
A driver must register with his name, Taxi Driver Vocational Licence number, taxi company name and taxi number.
Uber
The United States transport network company, started in 2009, made waves when it began to compete head-on with taxi companies by connecting passengers directly with drivers for hire.
Instead of waiting in a queue or dialling a call centre to book a taxi, passengers ask for an Uber ride via an app. Uber drivers nearby respond via the app on their smartphones.
Uber is available in more than 30 countries and in 100 cities. It was launched here last year. Uber Singapore declined to reveal exact numbers, saying only that there are "thousands" of users here every week.
How it works
All Uber drivers here use commercially registered vehicles with commercial insurance. This means that cars and drivers are employed and owned by limousine companies.
Passengers can choose to use either Uber Black or UberX services.
Uber Black offers luxury rides using high-end vehicles like BMW 5 series and Mercedes-Benz E-class cars, while UberX uses sedans like the Toyota Corolla and Mitsubishi Lancer, and charges less.
Fares are estimated based on the start and end point established by the passenger.
Payment is by credit and debit card only. After the ride, the card registered to the user's Uber account is billed automatically and a digital receipt is e-mailed.
Prices
Uber Black rides start from $7 and go up in increments of 45 cents a minute and $1.95 a kilometre. The minimum fare is $12.
UberX has a base rate of $3.50 and charges 40 cents a minute and 70 cents a kilometre. The minimum fare is $8.
While Uber does not add peak-hour surcharges, it employs an algorithm known as surge pricing, which adjusts prices during peak hours or in bad weather, when demand is high and supply is low.
At such times, a rate multiplier, which Uber declined to elaborate on, drives up fares. This surge pricing multiplier is shown on the app when passengers book a car.
Uber says this incentivises drivers to be available during periods when demand is expected to be high and ensures passengers can get a driver.
Incentives for drivers
Uber ties up with private limousine companies with their own fleets and drivers instead of buying its own fleet and employing drivers.
Drivers are issued iPhones with the Uber driver app already installed.
Drivers can pick up Uber passengers when they are free, and still work with their company's regular customers.
Uber pays the driver 80 per cent of the fare, which the driver splits with his own limo company.
In case of a cancellation, the customer is charged a cancellation fee of $10 for Uber Black and $6 for UberX.
User experience
Both Uber Black and UberX offer clean and comfortable rides. Besides using more luxurious cars, Uber Black drivers may offer a customer bottled water and offer to adjust the temperature in the car.
Most of the time, the drivers called or sent a message quickly to confirm the booking and some would even open the door for us.
How to use the app
After downloading the app (iOS or Android) on a smartphone, a would-be customer creates an account and links it to a credit or debit card.
Passengers can enter a pick-up location manually, or by using auto-detection on Google Maps. The maps show nearby vehicles under Uber Black or UberX.
At the end of the ride, passengers are asked to review the rides and rate the drivers.
Wannabe drivers can apply by registering at www.uber.com. Uber contacts the driver for an interview and performs a background check.
This article was published on April 30 in Digital Life, The Straits Times.


Get a copy of Digital Life, The Straits Times or go to straitstimes.com for more stories.