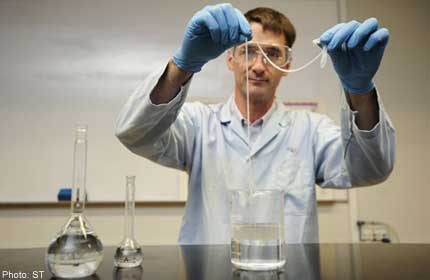 Geek alert.
Want to know how the roller-coasters at Universal Studios Singapore work or play forensic expert for a couple of hours? The Singapore Science Festival, which opens today, is your ticket.
Organised by Science Centre Singapore and Agency for Science, Technology and Research (A*Star), the 21/2- week-long event offers 70 activities and performances to whet the appetites of the young for learning and practical application.
Associate Professor Lim Tit Meng, 53, chief executive of Science Centre Singapore, says the annual festival's goal is to boost young people's interest in the sciences, such as physics and engineering.
"We want to encourage the young to look at science as something that is meaningful and impactful, which makes a big difference to the way we live and the way the world operates and can, in fact, have a huge impact on their future," he says.
There are programmes for the older folk as well, he adds: "Adults and young ones alike will find something of interest to them."
Festival opener X-Periment! is a three-day showcase of cutting-edge technology developed by universities, private companies and research institutions here. The free event runs until Sunday at Marina Square mall.
Universal Studios Singapore will hold a workshop exploring the physics of its rides throughout the festival period. Highlights include learning about the phenomenon of free falls at the Battlestar Galactica roller-coaster and discovering how mass, speed and acceleration come into play at the Jurassic Park Rapids Adventure.
And Republic Polytechnic's Poisonous Tea!!!!!!!!! on July 30 will have participants using thin-layer chromatography, a technique that separates nonvolatile mixtures, to solve a crime involving some lethal tea.
A festival hit from last year is back: the Singapore Mini Maker Faire. The local, do-it-yourself showcase, where booth holders show off homemade electronics and crafts, attracted 2,000 visitors when it was held at the Science Centre Singapore last year.
With a new, central location at *Scape in Orchard Road, the fair's attendance is expected to double this year.
In total, last year's science festival attracted around 60,000 to its events.
The organisers hope to draw more than double that number this year, the festival's 13th edition. It was called the National Science Month prior to 2009.
More than 50 institutions, such as Resorts World Sentosa and Singapore Space and Technology Association, are involved in this year's festival - a 20 per cent increase from last year.
The number of festival events is also up from last year's 60, with 70 activities taking place from Woodlands to Sentosa to Pulau Semakau.
To encourage festivalgoers to take part in the activities, organisers have put together a Science Festival Passport, which costs $12 and can be bought on the festival website or at the Science Centre Singapore.
Participants can get their passports stamped at the events and they stand to win an iPad Mini or a Samsung Galaxy S4 phone. The passport also contains about $500 worth of vouchers and discounted entry to festival programmes and partner institutions, such as the ArtScience Museum.
Life!Weekend rounds up some other geeky pursuits in the coming weeks.

Get a copy of The Straits Times or go to straitstimes.com for more stories.