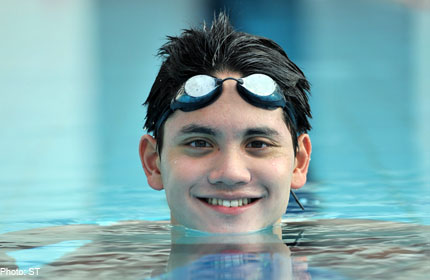 In the call room, he's still safe. In the call room, where swimmers gather before a race, he says, there are "some who talk to you, some who crack jokes. I avoid all this. I hate talking". In the cramped call room, with its eight big men with eight bigger egos, he's "zoned out", losing himself in music.
But Joseph Schooling's calm is about to be shaken.
The swimmers are called and suddenly there he is, by the blocks, the water waiting, the world watching, his name on the board in front and world record holders by his side. It's no longer safe.
This right now, for a boy swimmer of 18, is the hardest thing in his world.
"The real problem," said Schooling last month in Singapore, reflecting candidly on his successful year, "is when you take off the headphones and hear the crowd". The noise, and firing of camera flashes, is his raucous reality check. He can't crawl back to the call room; he has to literally strip and metaphorically stand exposed in front of the world. This is real.
At July's world championships, Chad le Clos, slayer of Michael Phelps in London 2012, is in Joseph's 200m butterfly semi-final. At last year's Olympics, Joseph swims with Phelps and he can hear him, for the American with the 208cm wingspan is swinging his arms and slapping his body like gunshots going off.
"It's a message," says Joseph, "he makes his presence felt."
In their caps, goggles and dark, clingy outfits, swimmers resemble a lean tribe of outwardly fearless aliens, but this, the start, is their most human moment. Especially for the young, who naturally question if they are worthy of the company they are keeping. They might strut, but it only camouflages their most basic fear: Do I belong here?
"The hardest part," says Joseph, "is in front of the blocks. You know there are seven others faster than you. You know they are the fastest in the world. You start doubting. So you need to break this barrier and have a break-out meet."
Doubt, for Joseph is a head swimming with a series of imaginary "ifs" that impede concentration. "Say if I'm tired in the race, say if I don't do my best time, say if I disappoint myself, say if my goggles fill with water and my cap comes off." In this rapid-fire, self-interrogation, the athlete forgets his purpose.
Doubt is like bacteria eating away at the calm brain. "It tightens you up and you have to be loose. When your arms tighten, you can't feel the water." It's so unsettling that young athletes, in all sport, seek out older athletes to find out about this affliction. The answer is reassuring.
"You want to know," says Joseph, "am I the only one feeling it. But everyone is scared and it's a sense of relief." Even Usain Bolt as a boy once slides the wrong shoe onto the wrong foot at the start.
On the pool deck, you can't see the athletes' lips move, but some are in animated conversation with themselves. "I take my clothes off, look down, breathe in, visualise." Then Joseph tells himself: "You put so much effort (in training), don't chicken out." Doubt, swimmers know, can drown them before they even hit the water.
"Experience," Joseph knows, is the antidote. Racing again and again and again till trust and faith subdue doubt. And it's happening. This year, amid the best, he set a PB in the 200m fly at the world championships and reminded himself: "My goggles didn't leak, my cap didn't come off. And I could fight with them (the best)." It was a quiet victory of his own.
Sport, for all its sinewy bodies, is psychological warfare and it demands self-awareness. Joseph has it. He knows it's easy to think of winning an Olympic medal, it's harder to convince yourself of it in the seconds before a race. And so he keeps close to him the words said to him by his coach Sergio Lopez as they left Barcelona:
"He told me, 'you've got to feel like you're part of everyone. You're one of them'."
No, wait.
Better than them.
rohitb@sph.com.sg
Get a copy of The Straits Times or go to straitstimes.com for more stories.