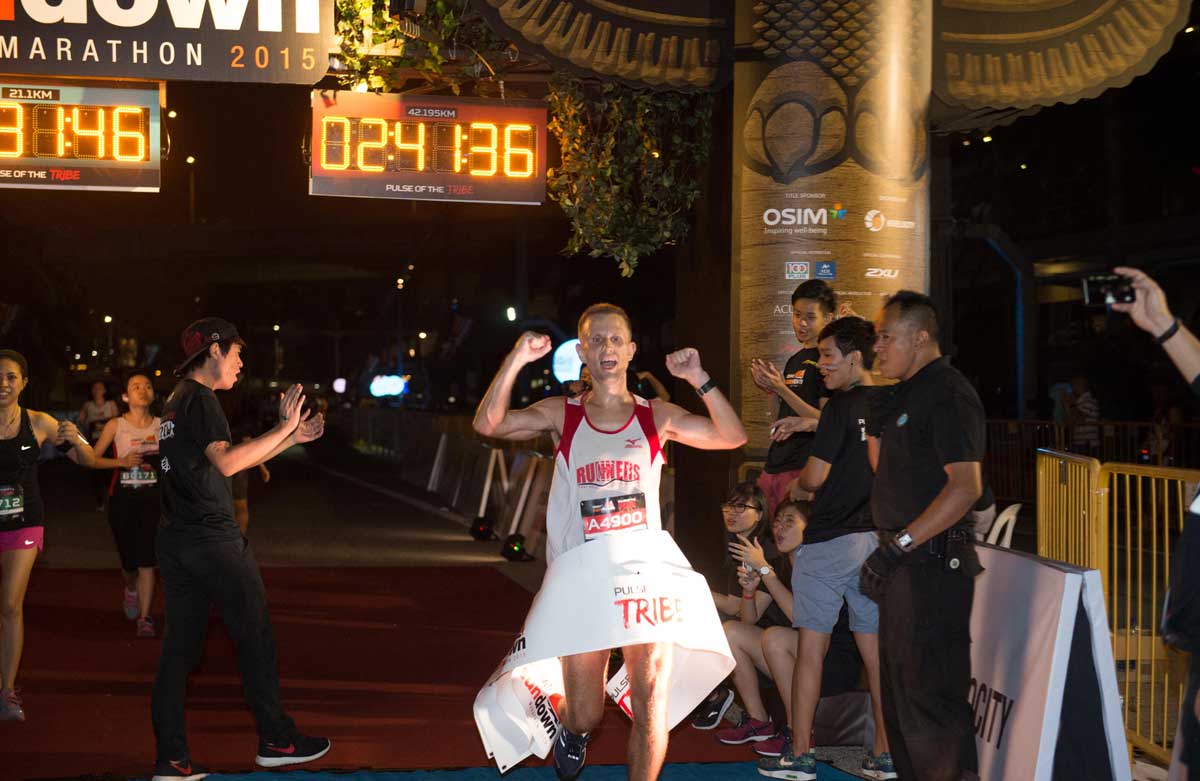 He was struggling with injuries and had debated pulling out.
And Briton Stuart Haynes' decision to soldier on was handsomely rewarded when he clocked 2hr 41min 34sec- a personal best in this event - to win the men's 42.195km race at the Osim Sundown Marathon yesterday.
Haynes, 39, who also won the 2013 edition, said: "I had a couple of injuries on my ankles, hamstring, tendinitis and I almost pulled out today. But I felt great during the run and even bettered my previous timing of 2:45:09."
In fact, he had had an inkling of his chances early in the race, explaining: "I looked around and when I did not spot any Kenyans or familiar faces, I thought I stood a chance and left the pack at around the 2km mark and was alone till the end."
Indian Ullas Narayana (2:53:54) and Briton Thomas Greene (2:57:24) were second and third.
Up to 26,000 runners took part in the four categories - 5km, 10km, 21km, 42km - over the two days, with the marathon attracting nearly 7,000 entries.
Another who bounced back from injury was Ang Chee Yong, 26, the fastest Singaporean finisher, who was fourth (3:03:24).
He said: "This is my first long-distance race this year after spending 2014 recovering from injuries.
"Today's race timing was slower than my previous ones but it allowed me to recalibrate my training."
Japan's Sakiko Matsumoto, 28, (3:07:29) won the women's title. Kenyans Viola Jepchirchir Kimeli, 28, and Susan Jemutai Chepkwony, 33, were second and third respectively in 3:17:48 and 3:24:03.
Said Matsumoto: "I did not expect to win after seeing that the Kenyan runners were in the same race with me. They were running at the same speed for the first 30km, but I did not give up and am very happy to be a champion."
The organisers' decision to add a new race category, the 5km run for those aged six and above, which saw 3,000 entries, proved popular. The race took them past scenic landmarks like the Singapore Flyer, Marina Bay Sands, Gardens By The Bay and The Float@Marina Bay.
Elizabeth Wu, 34, who was with her six-year-old son Benjamin, said: "Soaking up the atmosphere especially along the Singapore River was really nice.
"However, I feel that they could lower the age limit for the fun run participants since it is non-competitive and it seemed really enjoyable for the participating children."
Adrian Mok, managing director of HiVelocity Events, the owner and organiser of the Sundown Marathon said: "We wanted to create a new category to encourage more people to take on a healthy lifestyle.
"We believe that running may be an individual sport, but with the support of a tribe that is always motivating and pushing each other to do better, everyone can reach their running goals."
Indeed, it was her tribe that spurred Shannon Heo to complete the race. The 37-year-old veterinarian, who has multiple sclerosis, ran the 10km to raise awareness of the disease.
Not only did she have to contend with her condition, but she also had gastric issues and a sore Achilles tendon two days before the race.
She said: "I felt pretty awesome to have finished my race strong despite my initial setbacks. When I saw the rest of my team (25 others who were running for the cause), I felt those negative feelings slipping away and was determined to run a good race."
ljeremy@sph.com.sg

This article was first published on July 6, 2015.
Get a copy of The Straits Times or go to straitstimes.com for more stories.