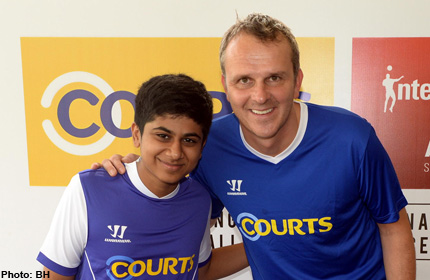 Haziq Rafi refused to believe his father when he was told that he had won a chance to meet former Liverpool star Dietmar Hamann. Speaking to The New Paper yesterday, the 16-year-old Christ Church Secondary School student said: "My father told me earlier in the week that he had a feeling that he would win (the contest).
"But when he called to say he actually won, I didn't believe him until I saw the text message."
His father, Mohd Rafi, was one of six lucky TNP readers who won a ticket to train under the German at Jurongville Secondary School yesterday, but was unable to attend the session.
The 50-year-old, a Liverpool fan of more than 30 years, said: "I just recovered from a heart attack not too long ago and thought that I shouldn't exert myself. I asked the organisers whether I could give the opportunity to my son and they were all right with it."
EXCITED
An excited Haziq, the older of two sons, had never seen the former Germany midfielder play for the Reds and he spent Thursday researching the 40-year-old.
Haziq said: "My father told me a lot of stories about him, especially about how he came on at half-time in the 2005 Champions League final and inspired Liverpool to victory."
Hamann's session yesterday capped the 12-day Courts and Liverpool Football Academy, where aspiring youngsters, Courts Young Lions players, Special Olympics Singapore athletes and Heartware Network volunteers trained under the watchful eye of three coaches from the Liverpool Football Club International Football Academy & Soccer Schools.
Haziq and 35 others, mostly from local supporter clubs, went through a morning training session before competing in a mini-tournament in the afternoon.
Both father and son posed with the lanky German, who was friendly and obliged with numerous photo and autograph requests. Said an awestruck Haziq: "He is very tall in real life and I only managed to say 'hi' when I took a picture with him."

Get The New Paper for more stories.