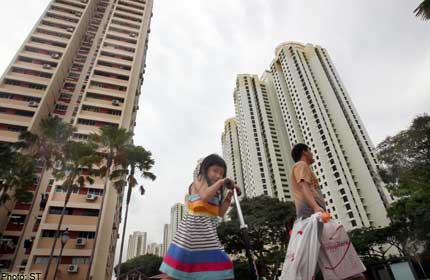 MORE families now have the option to temporarily rent a Housing and Development Board (HDB) flat while waiting for their new one to be ready, and the process should be faster and more convenient.
Couples engaged to be married may now also apply for these flats, which are offered under HDB's Parenthood Provisional Housing Scheme (PPHS) as a form of interim housing.
This came as HDB expanded the scope of coverage for the scheme yesterday.
Married couples comprising a first-time applicant and a second-time applicant, as well as a divorced or widowed parent with children, are now eligible for PPHS flats. Previously, the scheme extended only to married couples who were both first-timers.
But married couples will continue to enjoy priority in selecting a PPHS flat, HDB said.
All eligible families can now apply for PPHS flats at any time on HDB's website or at e-kiosks at any HDB Hub or branch, instead of having to wait for periodic launches.
They can also cut down on waiting time to move in, as they can apply for a PPHS unit right after booking a new flat, instead of having to wait for an Agreement for Lease, which could take a few months. With the latest changes, HDB expects families to be able to move into their interim homes by the following month.
Finally, engaged couples can now apply for the scheme while waiting to register their marriage. The condition is that they must produce their marriage certificate within three months of moving into the PPHS flat.
The latest changes are unlikely to impact the overall housing market much, said Eugene Lim, key executive officer at ERA Realty.
He said couples usually stay with their parents while waiting for their new HDB flats or rent a place from the open market.
However, Mr Lim added that expanding the coverage of the PPHS "gives people who really need a place a cheaper option, rather than to rent from the open market".
Since the scheme was introduced in January, 327 married couples have moved into PPHS flats, HDB said in a written reply on Monday to a Parliament question from Jurong GRC MP Ang Wei Neng.
Monthly rentals for the roughly 800 flats currently available range from $800 to $1,900 depending on size and location. They come in three- to five-room options in four estates: Ang Mo Kio, Bedok, Boon Lay and Dover.
The PPHS was part of a broader $2 billion Marriage and Parenthood package of measures by the government to help improve birth rate numbers.
It has been tweaked once in April to extend coverage to married couples without children. Only first-timer married couples with a child below 16 years old who is a citizen qualified initially.

Get The Business Times for more stories.