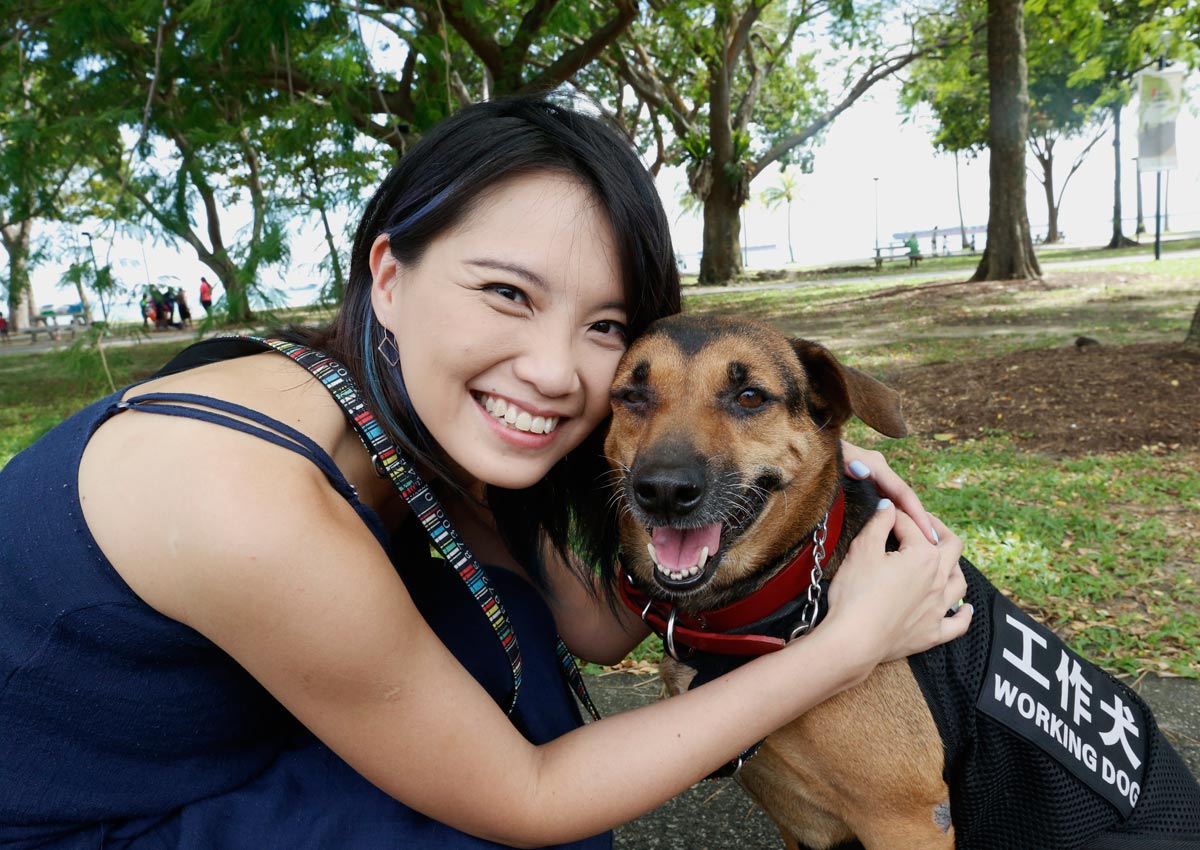 Whoever said you can't teach an old dog new tricks has never met 10-year-old Butter.
In the past six months, the mixed breed canine has learnt to raise the alarm whenever Ms Stella Chew's blood sugar levels fall to a critical low - even if its owner does not notice it herself.
Ms Chew, 37, began researching online and training Butter as a diabetic alert dog when she was diagnosed with Type 1 diabetes last June.
Now, the financial technology consultant is helping to train the dogs of other diabetics free of charge, so as to help them better cope with the chronic illness.
Many people with diabetes - especially Type 1 diabetics, whose bodies are unable to produce insulin - are prone to hypoglycaemia, when blood sugar levels become too low.
"You start to tremble or become incoherent, and your body tends to go into panic mode," Ms Chew said.
"One time, it happened when I was sleeping and I was struggling to get up and broke out in a cold sweat."
But now, Butter, trained to pick up the smell of someone having low blood sugar levels, acts as an early warning system, alerting Ms Chew with a lick or nudge before the symptoms start.
The dog has even nudged her awake at night when she was fast asleep and had no idea her blood sugar levels were low.
While diabetic alert dogs are not uncommon overseas, especially in the United States, they are almost unheard of in Singapore.
They also tend to be expensive, costing several thousand dollars.
Rather than buying a dog, Ms Chew trains people's dogs or works with them to pick a suitable dog from a shelter.
Such a canine must be intelligent, have a "natural confidence and sense of responsibility" and, of course, a sharp nose.
She learnt to train Butter with help from people on online forums.
She would freeze saliva samples when she is in a hypoglycaemic state and later thaw them for Butter to sniff and get acquainted with the smell.
Ms Chew is now working with four people, and hopes they will pass on the knowledge when their dogs have mastered the skill.
One of them is Irish national Caitriona Evans, who heard about what Ms Chew was doing through KK Women's and Children's Hospital, where her 13-year-old daughter, Caoimhe, was going for treatment.
She and Ms Chew visited a local shelter, and she adopted a dog which had been abused.
The dog has since "progressed tremendously" and is starting scent training to pick up the smell of someone having a hypoglycaemic episode, Mrs Evans said.
She said of her daughter: "With the dog, she'll be able to live alone - and if it doesn't work out, the dog will still be part of the family."
There is no accurate way to predict when someone might have a hypoglycaemic episode, said Dr Ben Ng, an endocrinologist at Arden Endocrinology Specialist Clinic.
Instead, many people rely on warning signs such as sudden drowsiness or trembling hands.
They also plan ahead - packing sweet food with them if they are going to exercise, for example, which can cause blood sugar levels to drop and trigger an episode.
But people may not react in time, said Dr Ng.
"Hypoglycaemia can come on very suddenly and be dangerous, so any effort to reduce the number of episodes a person might have is a good idea," he added.
linettel@sph.com.sg

This article was first published on January 3, 2017.
Get a copy of The Straits Times or go to straitstimes.com for more stories.