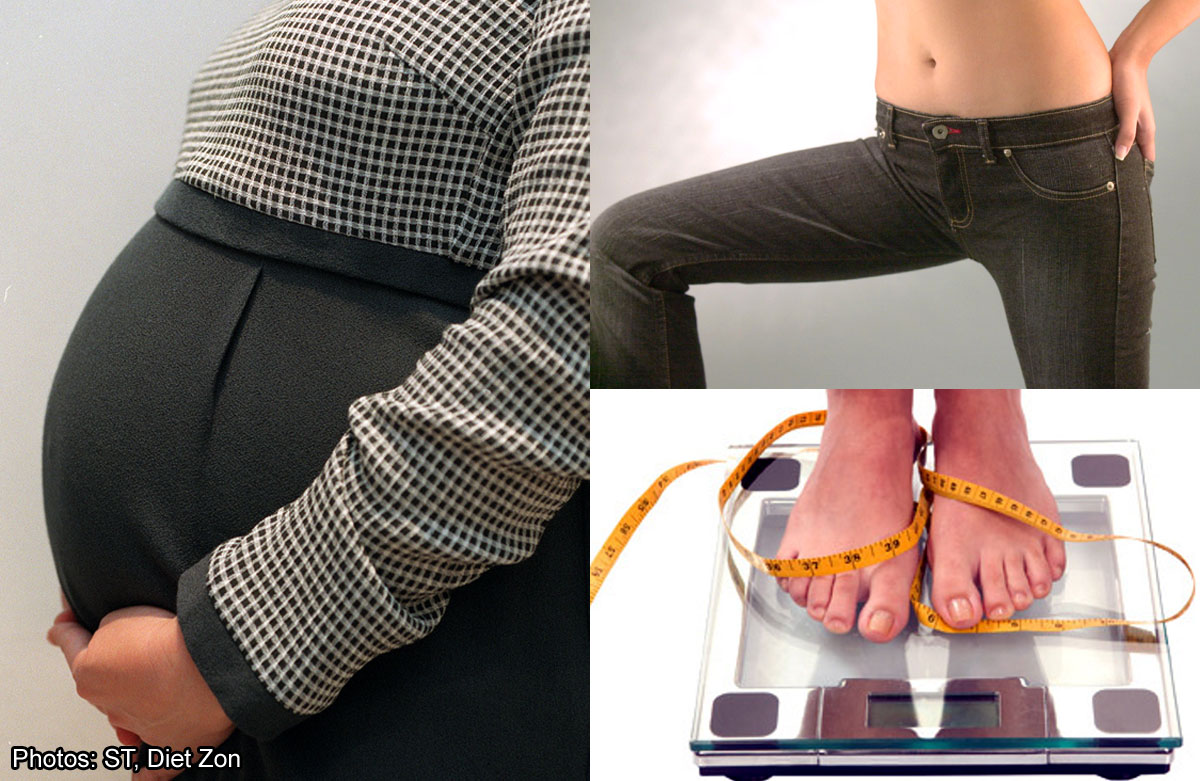 A few months after Mrs Lynette Wang gave birth to her baby boy, she signed up for a series of laser treatments at a popular aesthetic clinic.
"I'd put on close to 20kg during my pregnancy and my stretch marks were hideous," said the 39-year-old teacher. "Topical creams didn't do much to fade the marks; I needed something more heavy-duty to get the skin around my belly and breasts looking normal again, so I decided on a laser procedure."
New mum Marissa Chan splurged on treatments to help with her blotchy skin tone and a loss of firmness. "My pregnancy left me feeling a little worse for wear," said the 34-year-old marketing executive.
"I was flabby and my stretch marks were awful. I just wanted to feel attractive and healthy again."
Both women are not alone. Dr Low Chai Ling, medical director of The Sloane Clinic, said she sees many new mothers who are keen to regain their pre-pregnancy figures and skin tone. Over the past year, however, she has been seeing them sooner after their deliveries as compared to mothers in the past; and some even visit her during their pregnancies.
"Women realise that just because they are pregnant, it doesn't mean that they should totally neglect their skin or their appearance," she said.
"Most new mums are concerned about the changes their skin has undergone during pregnancy, in particular, pigmentation. They're also concerned about weight gain and skin laxity."
Dr Georgia Lee, founder of TLC Lifestyle Practice and Dr Spa, said the new mums who consult her are interested in eliminating stretch marks, lightening the skin around their belly, armpits and bikini region, and losing the weight they gained during pregnancy.
WAIT A LITTLE LONGER
There is nothing wrong with wanting to look your best and feel like your old self again after having a baby. But it is important to know which aesthetic treatments are safe for new mums and how soon after giving birth you should even start considering them.
Aesthetic treatments can encompass both invasive and non-invasive procedures to improve one's looks and well-being, said Dr Low.
Non-invasive treatments can help with skin conditions that may have developed during pregnancy, such as acne and stretch marks. These treatments, such as intense pulsed light (IPL) therapy and chemical peels, are non-surgical and can usually be carried out as soon as a month after delivery.
Invasive treatments, on the other hand, involve surgery. These may include procedures such as a tummy tuck - which is performed to remove excess skin that has stretched over the abdomen - and liposuction.
Dr Low said that how soon one can have an aesthetic treatment after giving birth depends on how quickly her body heals.
"All new mothers recover from their deliveries at different rates, but I usually tell my patients that there's no rush to undergo a surgical cosmetic procedure. Their general well-being should always come first.
"On average, we'd wait at least six months for a woman to regain her pre-pregnancy body before evaluating her again, to see if she is suitable for an invasive procedure. There are patients who may have to wait a little longer than that," she added.
Dr Leslie Kuek, a cosmetic and reconstructive surgeon from Leslie Kuek Plastic Surgery, agreed, adding: "You still have pregnancy hormones coursing through your system and these hormones have an effect on your body shape.
"In the meantime, if you want to feel good about your body and get your pre-pregnancy figure back faster, just exercise regularly and stick to a healthy diet."
There is another big reason to stay away from surgical procedures first, especially if you are breastfeeding: Injections and oral medicines are involved, and these can pass into your breast milk, said the doctors.
NO MAGIC FORMULA
It is important to have realistic expectations before you sign up for a treatment. For instance, if you have put on a lot of weight during your pregnancy, you should not expect liposuction to be the magic formula to help you lose the excess kilos.
"I'd advise getting back to your pre-pregnancy weight first," said
Dr Lee. "Liposuction is not a means of weight management but, rather, something that is carried out to remove localised fat tissue that's difficult to shift."
Remember, too, that non-invasive body shaping or toning treatments are best combined with a sensible diet and regular exercise.
Stretch marks are nearly impossible to eliminate completely, so if you are looking to get rid of yours, know that you will likely only be able to improve their appearance.
In addition to making sure you are physically ready, and cleared by your gynaecologist to undergo any kind of aesthetic treatment, it is important to consider the number of sessions required before committing yourself to the procedure, advised Dr Lee.
"The more treatments you have, the more money and time you have to commit."
Also, do ask the aesthetic practitioner or doctor how established the treatment is and what results you can expect.
DO YOUR RESEARCH
Whether the procedure you have chosen is invasive or not, make sure that the person treating you is qualified and experienced. After all, even non-invasive procedures carry risks, such as burns and scarring from lasers or chemical peels.
Before you even decide on a doctor or clinic, Dr Kuek advised that you familiarise yourself with the risks of your chosen treatment.
"You can find all this information online. Visit forums and speak to people who've done them. Carry out your own research. If something goes wrong during or after your treatment, there's absolutely no excuse for saying that you had no idea about the risks," he said.
But do keep in mind that online marketing or advertising is sometimes disguised as patient reviews, so visit reputable websites, suggested Dr Leo.
Most doctors would be able to manage non-invasive procedures. Still, it is important to consider the doctor's training and experience.
If you are keen on a treatment that is invasive, Dr Kuek advised you to see a specialist, as general practitioners are not allowed to perform procedures that involve cutting, stitching and surgery.
You may also wish to visit the clinic in advance to make sure that you feel comfortable in that environment and that the therapists are experienced.
Beware of any doctor who tries to talk you into undergoing a treatment you are not comfortable with or, worse, tries to trap you into paying for a package or series of treatments you are not interested in.