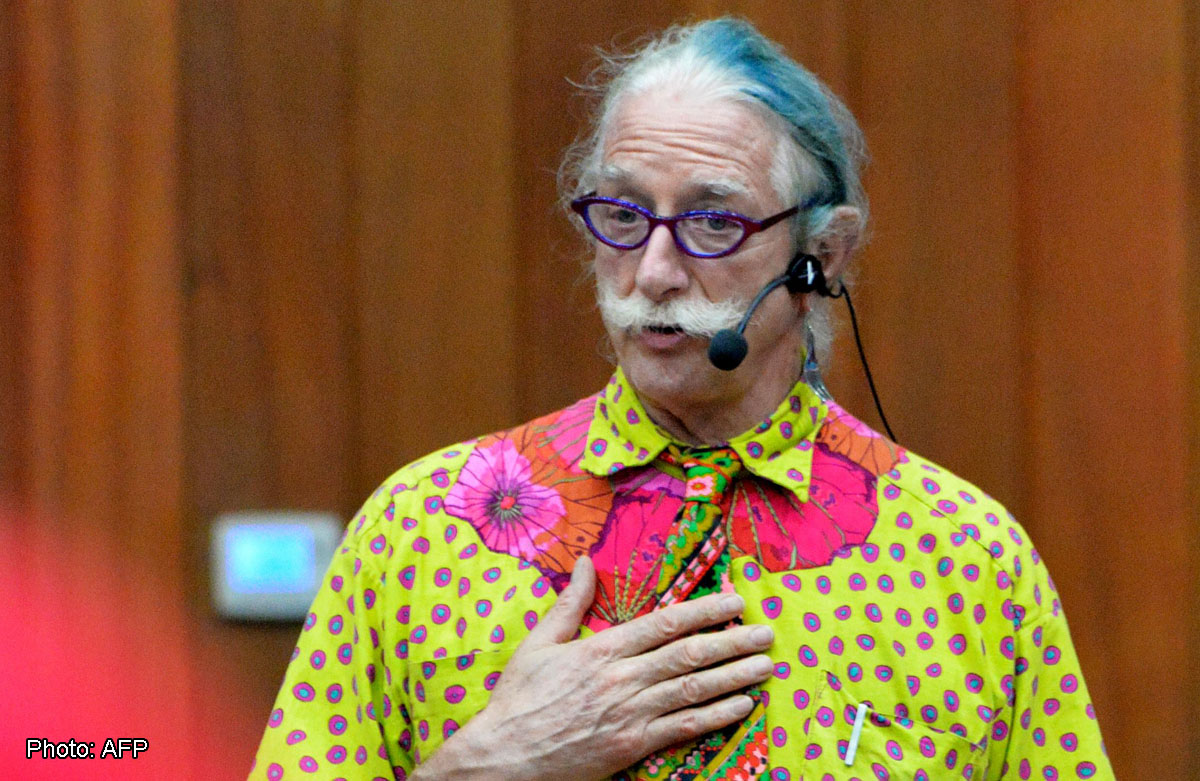 LIMA - Bubbling with optimism and energy, the US physician who was the inspiration for the Robin Williams film "Patch Adams" will do anything to elicit a soothing laugh.
Even something as bawdy as flatulence is not out of bounds for Hunter Adams. He addressed that earthy issue this week during a visit to Peruvian children with cancer and brought the house down.
Adams works on the premise that humour and clowning around is good for sick people.
During a recent visit to a hospital for cancer patients, the 69-year-old doctor told stories of sick people who learned to be happy through compassion and laughter. He wants to spread the message around the world.
"My job is to love and be affectionate, to help those who are suffering. Spirituality cures," he told dozens of cancer patients at a seminar on breast cancer.
With a bright, multicolored outfit and the round, red nose of a clown, Adams and a group of aides visited children, youths and adults who suffer from cancer. He made them laugh, and helped them forget their illness for a while.
"There is something that is funny in all countries: how we emit gas, or farts, something which is common and normal in all humans," said the doc, triggering roars of laughter at the seminar.
"For me, being a clown is a trick to bring love" to people in need, said Adams, who has spent the last 30 years traveling the globe, even to war zones and those areas hit by natural disaster.
He said he hand-writes responses to the hundreds of letters that he receives from at least 120 countries in his post office box in the United States.
Death of Williams
Despite all the clowning around there was a definite something hanging over all the laughter.
Adams avoided mentioning the death of his friend Williams, who played the role of Adams in the 1998 movie that bore his name. Williams died Monday of an apparent suicide at his home in California.
But on Facebook, writing from the Peruvian jungle where he was holding a workshop with local groups, Adams said he was deeply saddened.
"The terrible news of the passing of Robin Williams reached me here in the Peruvian Amazon late last night with tremendous sadness," Adams wrote.
Williams helped make "humour therapy" known around the world with the film.
"Patch Adams", directed by Tom Shadyac, tells the true story of Adams when he was a medical student and began to use humour to treat patients.
The comedy was nominated for an Oscar for best original soundtrack and earned Williams a Golden Globe nomination as best actor.
HELPLINES
Samaritans of Singapore (SOS):
1800-2214444
Singapore Association for Mental Health:
1800-2837019
Sage Counselling Centre:
1800-5555555
Care Corner Mandarin Counselling:
1800-3535800