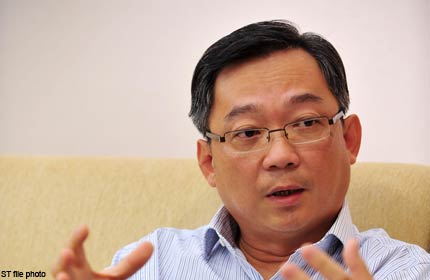 SINGAPORE - More people will be eligible to get help with their health-care bills and the process of getting it is to be simplified, announced Health Minister Gan Kim Yong in Parliament yesterday.
Under the system of subsidies introduced as part of the Health Care 2020 package, everybody will be eligible for subsidies regardless of income.
While subsidies will be higher for lower income patients, everybody will receive at least 20 per cent subsidies at community hospitals, Mr Gan said.
Under the changes, the income ceiling will be eased to allow two-thirds of households here to receive subsidies for nursing homes, home care and day rehabilitation services.
In addition, more than 700,000 people aged 40 and above will be eligible for subsidised chronic care at private GP clinics under the expansion of the Community Health Assist scheme (CHAS).
The qualifying per capita household income ceilings is to be increased from $800 to $1,500 for the scheme. For intermediate and long-term care, the income ceiling will be raised from $1,400 to $2,200.
"By raising the income cut-offs, we are extending the healthcare safety net to better support the sandwiched class, who are supporting both children and elderly parents," Mr Gan said.
In addition, he announced another change to the income criteria for aged and ailing Singaporeans.
Under the current system, the criteria to receive subsidies is based on per capita family income.
This means that the earnings of all the patient's family, including married children not living with the patient, is considered in qualifying for the subsidy.
This is to be changed to per capita household income, which means that it will only consider the incomes of people living under the same roof as the patient.
This is to take into account the elderly's extent of financial support, said Mr Gan. In addition, this will simplify the process and reduce hassle for pateints and their families.
Other changes include an increase in the amount of Medifund can give out from $80 million to $100 million a year, and a monthly grant for families who hire maids to take care of an elderly at home.
However, Mr Gan cautioned that the Government cannot afford to subsidise all new treatments at all costs, and stressed the need to reduce inefficiencies and discourage over-consumption.
Thus, hospitals are to receive $20 million to find ways to improve efficiency and productivity.
He said Singapore cannot go the way of countries where healthcare is free, and suggested that patients be required to co-pay to put a lid on expenses.
yamadak@sph.com.sg