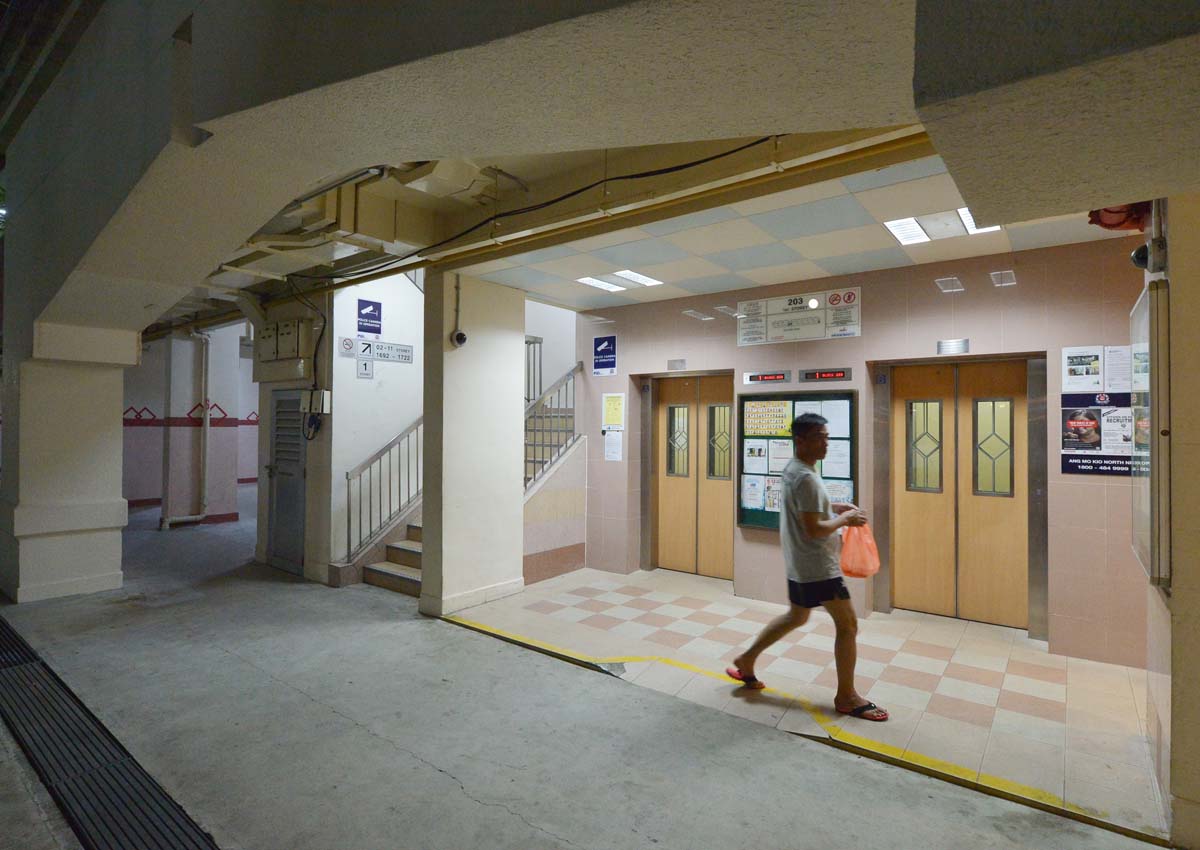 The residents of a block of flats in Ang Mo Kio Avenue 3 are being urged to undergo screening for tuberculosis (TB), after six of their neighbours were diagnosed with the same drug-resistant strain of the disease over a four-year period.
Last night, grassroots volunteers, officers from the Ministry of Health (MOH) and Ang Mo Kio GRC MP Koh Poh Koon knocked on the doors of the 160 units of Block 203 to inform residents of the situation, which MOH described as "highly unusual".
Three of the six TB patients lived in the same unit but the other three were from different households. All four households said they did not know and had not interacted with one another.
This stumped investigating doctors as TB is typically spread through "close and prolonged contact", said Associate Professor Benjamin Ong, director of medical services at MOH.
Even among members of the same household, transmission could take days or weeks to occur.
"It is unusual for TB to be spread by casual, brief exposure," Prof Ong told reporters yesterday. The ministry has been unable to find out how the same strain of TB could have spread among the six.
The cluster came to light when a sharp-eyed doctor at Tan Tock Seng Hospital's TB Control Unit noticed that a patient diagnosed with multi-drug resistant TB lived in the same block as earlier cases and alerted the ministry.
The first patient was diagnosed with the disease in February 2012. The last was diagnosed last month.
The group comprises five men and one woman aged between their early 20s and 70. They are no longer infectious and cannot spread the disease, said Dr Jeffery Cutter, director of MOH's communicable diseases division.
Three have completed treatment, and the other three are undergoing treatment in hospital.
Screening of their close contacts, such as family members and colleagues, has also been carried out. MOH said, without specifying the number, that some were found to have the latent form of the disease, which cannot be spread.
TB is caused by bacteria that usually attack the lungs. It is spread via droplets in the air when someone with an active infection coughs.
Of those who are infected, only one in 10 will actually develop an active infection. The vast majority have latent infections without symptoms, and will not spread the disease.
Normal TB infections can be completely cured within six to nine months, but the use of antibiotics has led to the rise of drug-resistant strains that are harder to treat.
MOH is providing voluntary free screening for residents at the void deck of the 11-storey block from today until Sunday as a precautionary measure, to pick up any undiagnosed or latent TB infections.
Told of the situation last night, some residents expressed concern while others said they were not worried as they did not interact much with their neighbours.
When approached by reporters, Dr Koh, who is also Minister of State for Trade and Industry and National Development, said he would comment on the issue later.
Mystery over how 6 patients ended up with same TB strain
How six people from four different households managed to pick up the same strain of multi-drug resistant tuberculosis (TB) is a mystery.
The six patients told Health Ministry officials that apart from the three from the same household, they did not know or interact with one another and had not congregated at common areas. They ranged in age from early 20s to 70.
The index case was a man who was first diagnosed with drug-resistant TB in February 2012. Another member of his household was diagnosed with the same strain three months later. That year, a woman living in the same unit was also diagnosed with a latent form of TB. This meant she would have shown no symptoms of the disease. However, in October last year, she too developed an active infection.
In May 2014, one of their neighbours was diagnosed with the same strain of TB. A fifth person was diagnosed in October last year.
When a sixth case came to the attention of a doctor at Tan Tock Seng Hospital's (TTSH) TB Control Unit, she noticed it was the same TB strain as that of another patient living in the same block, and notified the Ministry of Health (MOH).
Dr Jeffery Cutter, director of the communicable diseases division at MOH, said it was highly unlikely the patients could have caught TB by sharing the same lift, for example.
"It's possible, but we think that the likelihood is low," he said. "TB transmission requires close and prolonged contact." Even among members of the same household, the TB bacterium may take days or weeks to spread. It cannot be caught by touching a surface that an infected person has coughed on.
Professor Sonny Wang, director of the TB Control Unit at TTSH, said he believed there might have been contact between the six people which doctors could not identify. "We had some difficulty in getting people to divulge their daily activities to us, and they would tell us only the obvious things, like they went to work... and so on," he said.
"Maybe they were indeed not close contacts, and they were casual contacts, in which case we think that this is a very unusual situation because this is not the way TB ordinarily spreads."
Worried residents say they'll get screened
Some residents were very worried, others much less so, after being told last night that six of their neighbours had been diagnosed with the same drug-resistant strain of tuberculosis (TB).
They were informed by representatives from the Ministry of Health (MOH), grassroots volunteers and Ang Mo Kio GRC MP Koh Poh Koon. Split into teams, the group of about 10 went from door to door at Block 203, Ang Mo Kio Avenue 3, encouraging residents to go for a free TB screening that will be provided at their void deck from today till Sunday.
"Of course, I'm scared, and I'm worried for my family," said 34-year-old delivery attendant Fazli Sahat, who lives with his wife and two teenage sons on the ninth storey of the block of two-room rental flats. "I've told them we must all go for the check-up and get any medical treatment if we need to."
One floor up lives telemarketer Mumtaz Begum Syed Yusope, 42, her elderly mother and uncle.
"It's weird that something like this can happen," she said, referring to how six people in the same block got the disease over four years. The first patient was diagnosed in 2012, and the last in May this year. "But I'm glad that they are giving us free check-ups - especially for the elderly folk who are more vulnerable," added Ms Mumtaz.
The screening, which takes about 15 minutes and includes a blood test and a chest X-ray, is being provided free, along with any subsequent treatment if necessary.
When The Straits Times visited the block at around 8pm, grassroots volunteers and MOH officers were setting up tables and chairs at the void deck for the screenings. Dr Koh was chatting with residents in their homes. He said he would speak to the media only later.
Letters in four languages containing information on the free screening and frequently asked questions about the disease were also distributed to residents.
Madam Joanne Yeo, who lives with her sister and son on the eighth floor of the 11-storey block, was not too concerned. The 53-year-old, who is unemployed, said her family does not interact with their neighbours very much.
"If I am coughing badly, I'll just go straight to the doctor," she added.
But others said they would rather be safe than sorry. Part-time cleaner Phua Geok Lian, 68, who lives on the fifth floor with her husband, said: "It's no use worrying too much. But we will go for the check-up just for peace of mind."
The screening will be available from 9am to 9pm. Those unable to have it done at Block 203 can walk into any Sata CommHealth clinic from June 20 to 30. Parents with children under five are encouraged to take them to Tan Tock Seng Hospital for a skin test.
Former residents who lived in the block from July 2011 can also go for screening at any Sata clinic until June 30. After that, residents and former residents can make an appointment at the TB Control Unit.
For more information, residents can call 6325 9220 or e-mail moh_info@moh.gov.sg
What you need to know about TB
Q What is tuberculosis?
A Tuberculosis, or TB, is a mycobacterial disease that usually affects the lungs.
It can also affect other parts of the body, including the brain, lymph nodes, kidneys, bones and joints.
It can be fatal if not treated properly, and the disease is a major cause of death and disability in many parts of the world.
Initial infection usually goes unnoticed as a condition known as latent TB infection (LTBI).
About a tenth of adults with healthy immune systems who have LTBI will eventually develop TB.
Q How is TB spread?
A The airborne disease is spread through fine respiratory droplets from an infected person.
Those who have TB are most likely to spread it to people with whom they have close and prolonged contact, such as family members, friends and co-workers.
One cannot contract TB from sharing eating utensils, food, cigarettes, or kissing or shaking hands.
Q How is TB treated?
A The disease is curable and treatment usually involves a combination of several drugs taken for six to nine months. More than 95 per cent of patients are cured if they take the prescribed medication. Multi- drug-resistant TB requires 20 to 24 months of treatment.
Q How prevalent is TB here?
A There were 1,498 new cases among Singapore citizens and permanent residents last year, bringing the incidence rate to 38.4 per 100,000 resident population. Singapore has the second-lowest incidence of TB in Asia, after Japan. Based on reported cases, it is more prevalent among older men.
SOURCE: MINISTRY OF HEALTH

This article was first published on June 16, 2016.
Get a copy of The Straits Times or go to straitstimes.com for more stories.