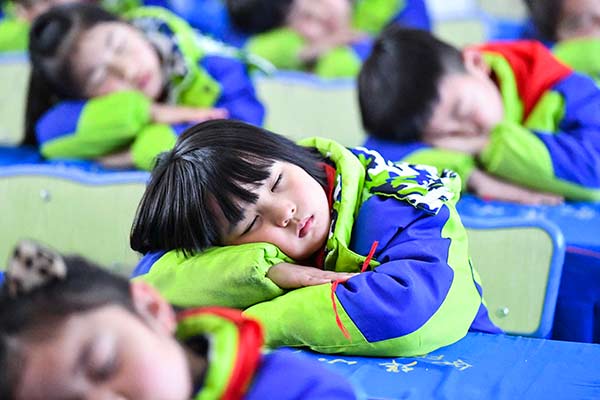 More than 60 per cent of people born after 1990-the group that most actively uses smartphones late at night-do not sleep well, according to a report on the sleep patterns of Chinese netizens.
Netizens sleep 7.1 hours a day on average, but 56 per cent do not sleep well, according to an online survey of 2,000 people aged 18 to 50 in 10 major cities, including Beijing, Shanghai, Guangzhou and Shenzhen.
IT workers are most likely to suffer insomnia, with 16 per cent claiming to have problems sleeping, followed by blue-collar workers, salespeople and consultants, the report by the Chinese Sleep Research Society said.
The report, which was released on Sunday, said 12 per cent of people born after 1990 had experienced insomnia, and for 75 per cent of them emotions such as anxiety and sadness had affected their sleep.
About 31 per cent of them said they need more than 30 minutes to fall asleep, and 0.9 per cent said they need drugs to fall asleep.
The report showed that those born after 1990, especially those born after 1995, are most likely to use their smartphones just before sleep.
Nearly 60 per cent of those born after 1995 use their smartphones for up to 80 minutes before sleep, most commonly chatting and watching online videos, the report said.
People born after 1990 have become the main consumers of products that help sleep, such as earplugs to cut sound, the report said.
Ye Jingying, a professor at Beijing Tsinghua Changgung Hospital's department for head and neck diseases, said a lack of sleep or insomnia can be harmful to health, and increase the risks for diseases such as dementia.
"Good sleep is crucial for protecting the brain's neurons," and lack of sleep for long periods can endanger health, she said.
Playing on electronic devices such as mobile phones and computers before sleep can delay falling asleep and reduce sleep quality, she said.
All people, including the young, should maintain a good lifestyle, go to bed and get up at fixed times and avoid staying up too late at night, the report said.
Hang Fang, president of the society, said more than 50 million people in China have sleeping disorders, but less than 2 per cent receive diagnoses and treatment because of a lack of physicians specialising in the treatment of sleeping disorders.