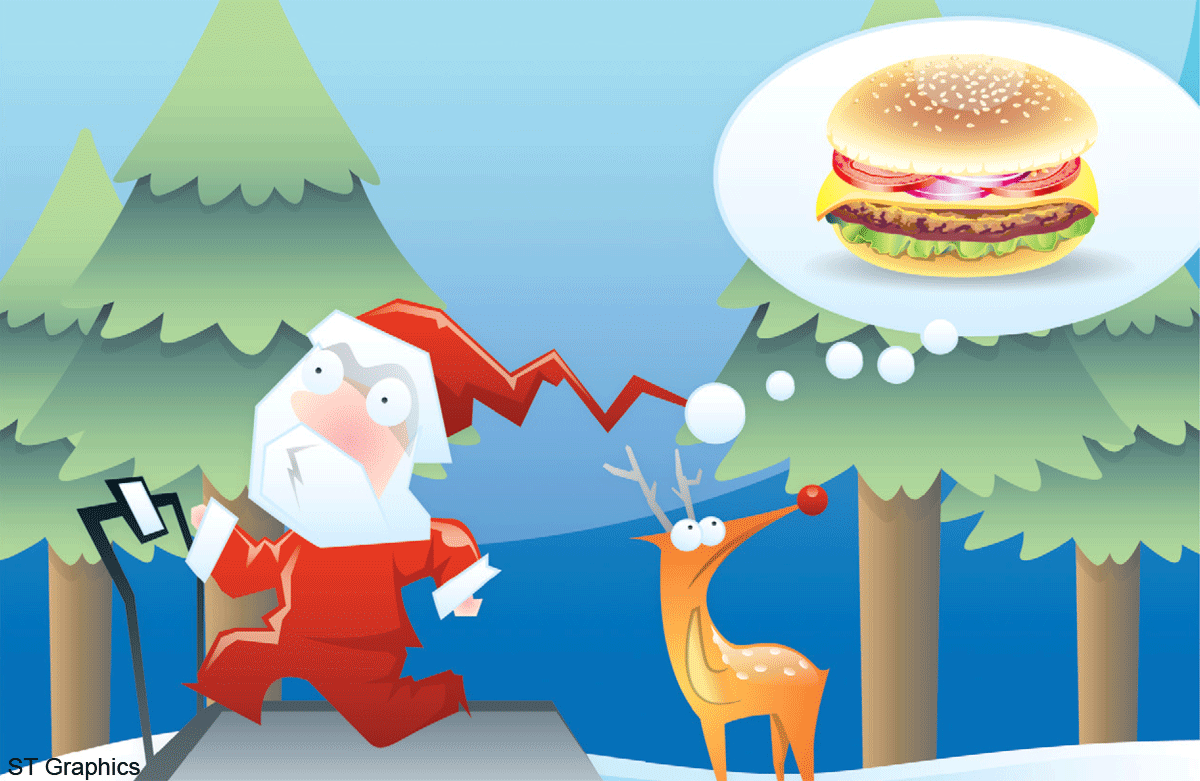 Come Christmas and New Year, administrative officer Tiara Putra will be doing yoga daily, hitting the gym for cardio sessions on odd days and going for freestyle and piloxing training on even days.
"This is my annual routine during the last month of the year, so I can get fit for the New Year. It's pretty intensive so I'm sticking to it," says the 35-year-old. "I believe in eating in moderation and maintaining my regular exercise plan. It's efficient and effective."
Real estate agent Darius Chia, 32, also believes in efficient exercise.
"I play football twice a week and I do kettle-bell workouts at home. Those are good for this season because you can do them in half an hour, then head out," he tells SundayLife!.
They are among a group of eaters who maintain or step up their workouts to cope with the increased calorie load from having their fill at parties this season.
Mechanical engineer Koh Tee Yan, 26, intends to keep up his twice-weekly routine of runs and swims. "It's so that I don't have to worry about my weight ballooning this season," he says.
Ms Verena Tan, senior research dietitian at the Singapore Institute for Clinical Sciences, under the Agency for Science, Technology and Research (A*Star), says their commitment to exercise is "desirable".
A consistent exercise programme all year round is key to long-term weight maintenance, she says.
A 2008 study of more than 54,000 runners published in the United States has found that those who cut down on or stopped running, could not lose the amount of weight gained during inactivity after resuming their exercise, she notes.
For a quick home workout, try a circuit of squats, push-ups, jumping jacks, planks and crunches, suggests Fitness First Singapore's head of fitness education Tommy Yau.
"These don't require any equipment, just your body weight," he notes.
Intense workouts burn more calories as the body has to keep its metabolic rate up, says personal trainer Joanna Lee from Pure Fitness.
But simple exercises such as brisk walks and taking the stairs can do the same, she adds.
"You can put on your favourite tunes and dance to the rhythm, which is a great exercise for the heart."

This article was first published on Dec 21, 2014.
Get a copy of The Straits Times or go to straitstimes.com for more stories.