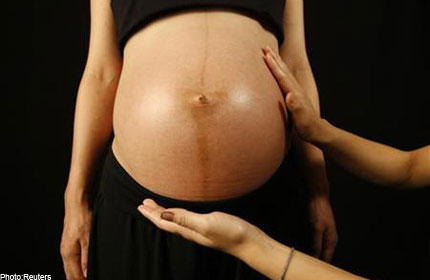 BEIJING - A Guangzhou woman who has had "octuplets" with the help of surrogate mothers has aroused enormous attention and controversy.
The woman, who lives in Guangzhou, South China's Guangdong province, had eight of her eggs fertilized through an in vitro procedure last year.
Overjoyed, she and her husband decided to keep all of the viable fetuses.
They hired two surrogate mothers, one to carry two and the other three of the test-tube babies.
The woman herself carried three fetuses.
The infants were born in September and October 2010, but did not become well known until a photography studio asked permission to photograph the octuplets and later used the photos in an advertisement this year.
"The photo shoot was a mess," said a photographer surnamed Li from QQ Baby, a photo studio in the Tianhe district of Guangzhou. "Some of the babies were crying, some were sleepy, while the others were crawling around."
Li said that after a whole afternoon's hard work, only a dozen photos had been taken, and just two of those were satisfactory.
The octuplets, four boys and four girls, now have 11 nannies, with eight caring for them, two cleaning the house and one preparing food.
"Nowadays, it's so expensive to bring up a child, and the octuplets' parents are really courageous," said Zhou Xiaozhu, a new mother who works at a media company in Guangzhou.
"My 1-year-old son exhausts me every day, so for me, the thought of raising eight children all at once would be hellish," Zhou said.
The family's monthly expenses, including the 11 nannies' salaries, milk powder and diapers, can run to 100,000 yuan ($20,647), according to a report by the Guangzhou Daily.
The newspaper also said that the couple spent 1 million yuan on the octuplets' birth.
The mother, a successful businesswoman, had tried in vain for years to become pregnant and finally followed her parents' suggestion to give to charity - on the principle many Chinese believe that good deeds are rewarded.
"She always shows great enthusiasm for our work, donating to a number of orphans and visiting them often," said Li Long, secretary-general of China Guangdong Lions Clubs' Mingdao Service Team, a charitable organization in Guangzhou.
He said that the mother was a member of the group for three years and has continued to work as a volunteer since the children were born.
The octuplets' birth has also been criticized by some as a way for rich people to circumvent China's family planning policy.
"While many people in China obey the family planning policy, it's unfair that some people take advantage of assisted reproductive technology to have a multiple-birth pregnancy," said Tao Yanzhi, a 26-year-old woman who works for a bank in Nanjing, East China's Jiangsu province.
Tao said that she may want two or three children if the one-child policy is eased, but having eight children is "beyond imagination".
While the children have come to be known the as the "octuplets" in China, the term is generally reserved for children born of the same pregnancy.
The addition of the two surrogate mothers brings the case into a gray area, and not just in terminology.
Zhang Zanning, executive director of the Health Law Association of China, said there is a legal vacuum surrounding birth by surrogate mothers in China.
But out of moral concerns, he said, surrogate motherhood is not encouraged.
"Moral problems come with surrogate motherhood: Who is the real mother? Who should have custody of the baby if the surrogate mother has regrets after giving birth?
"Because the technologies used in test-tube babies are still under development, the birth rate of unhealthy babies rises with the number of babies in multiple pregnancies, posing great danger to both the mother and children," Zhang said.
Zhang said that he would approve of a total prohibition of test-tube babies and artificial insemination, which is, in his words, "against the law of human nature".