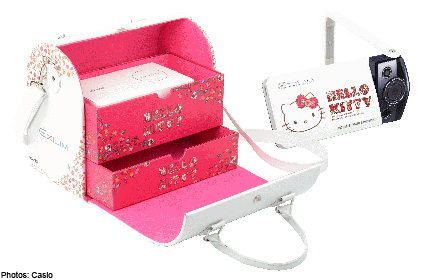 SINGAPORE - A hundred Hello Kitty-themed cameras will be available for sale at the upcoming Comex show, which runs from tomorrow til Sunday at the Singapore Expo.
It will be the only place in the world that the Casio Hello Kitty X Exilim EX-TR10 can be purchased. 25 units will be on sale for each day of the Comex show.
Retailing for $1,199, the 12-megapixel digital camera features a unique swivel function for easy taking of self-portraits and is equipped with the widest angle lens in the industry.
The Exilim EX-TR10 weighs only 170g and is only slightly thicker than an average smartphone. It is powered by a dual-core Exilim HS3 engine that significantly speeds up post-processing time, enabling more photos to be taken within minutes.
Users can also customise their photos with stamps and other handwritten artwork.
The camera will be sold at at the Casio booth (6116 in Hall 6A), together with a variety of Hello Kitty-themed accessories, including a wooden case, a camera pouch and a screen cleaner.
huizhen@sph.com.sg