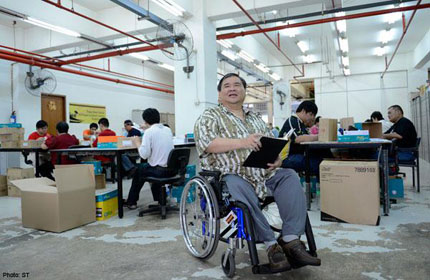 I agree that having anti-discrimination laws is a possible approach to protect workers ("Time to get tough on unfair treatment at work", May 19; and "Govt is open to anti-discrimination labour laws: Chuan-Jin", May 21).
I am concerned about workers with disabilities as they are more vulnerable to unfair treatment or discrimination.
If they are hired, their needs, abilities, interests, preferences and working styles must be considered to ensure that the job and the workplace suit them, rather than the other way round.
Often, this is a big challenge to most employers and many would hesitate to hire these workers, forgetting that many workers with disabilities are diligent, intelligent and can make good employees.
The Tripartite Alliance for Fair Employment Practices and SG Enable (the soon-to-be new name for the Centre for Enabled Living) are important supporters of workers with disabilities.
However, families remain their No. 1 ally, especially in providing much-needed support to help them succeed in their working lives.
Families and employers often hold different perspectives on workers with disabilities and their needs.
For example, a family may think that an employer focuses on a disabled employee's weaknesses rather than seeing him as an individual with unique strengths.
The most important factor is trust. When families, workers with disabilities and employers trust one another, they can work through their differences.
However, when trust is broken, there are serious consequences for all.
Good collaboration between employers and employees with disabilities takes effort, requiring both sides to respect each other and share their common workplace beliefs.
Given time, perseverance and continual planning, Singapore can become an inclusive workplace for all.
(ST reader, Noel Chia Kok Hwee (Dr)