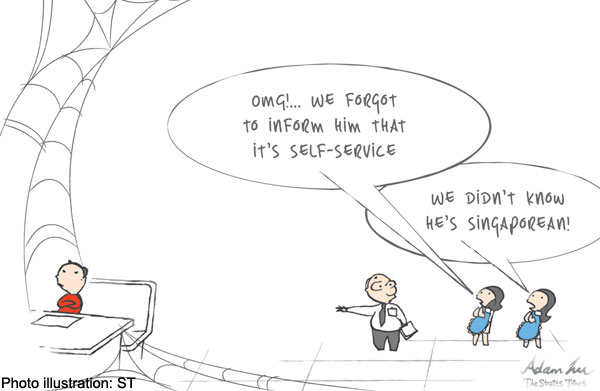 One of the most famous ramen chains in Japan, Ichiran, produces some of the richest and tastiest pork bone soup in the country.
But that's only my second-favourite thing about it. My favourite thing is that at Ichiran, you can enjoy an entire meal without ever having to speak to another human being.
This comes in very handy if, like me, you speak Japanese about as well as a cat speaks French. Or if, like some Japanese people, you just don't feel like talking to anyone that day.
Even before you step into Ichiran, you order and pay for your noodles - about $10 - at a ticket machine outside the door.
Inside the restaurant, you find a seat by consulting a screen that shows which places are occupied. All the seats are individual booths around a counter, separated from one another by screens and curtains and from the counter by a sliding panel.
Once you settle in, you fill in a form specifying your ramen preferences in detail, from the thickness of the soup to the springiness of the noodles and the variety of the toppings.
Then you slide the form under the panel in front of you, wait five minutes, and voila - a pair of hands delivers a steaming bowl of ramen from behind the panel.
Ichiran is just one of the many selfservice restaurants I now visit frequently in Tokyo. Most have a similar ticketing machine system: At fast-food restaurants, the software lets you choose set meals, upsize them and change the side dishes, while at some bars, you order beer and snacks from the machines, take the tickets to the counter, and then go back to collect the food from the counter when it's ready.
All the machines accept cash and some even allow you to pay with stored-value transport cards, the Japanese equivalent of an EZ-link card.
What I like better, though, are restaurants where each table has an iPad-like device, on which you can browse the menu's pictures and order food at leisure.
The only drawback to this is that without a built-in limit mechanism - a waitress raising an expressive eyebrow at my gluttony, for instance - I always end up ordering a lot more when I use electronic systems.
Still, if the only thing we need human waiters for is to watch our diets, I can do without them.
Think about all the annoying service staff we would no longer have to deal with if all restaurants became automated: the receptionist too busy chatting with her colleague to glance your way, the hostess who snubs you to serve the better-dressed customers first, the bored waitress who insists she can remember your order without writing it down and then brings you tomato soup instead of the medium-rare steak you asked for.
Over my last year in Japan, I've found this principle of not over-relying on service staff to be both refreshing and progressive.
Asking the customer to help himself wherever possible makes a lot of sense in societies like Japan or Singapore, where labour is expensive and human service is becoming a luxury.
For 24-hour fast-food chains in Tokyo, having a ticketing machine that takes orders and payments from customers allows the restaurant to rely on a single human employee to cook and serve food during the graveyard shift. I wouldn't want to be that employee, but the efficiency of it is delightful.
The culture of self-sufficiency in Japan also goes far beyond restaurants. Customers here use self-service kiosks for everything from supermarket checkouts to public parking and even bicycle rentals.
On a snowboarding road trip last year, I was more impressed by Japan's petrol stations than by its mountains. My Japanese friend refuelled the car and paid cash for the gas at a machine next to the pump, without once having to consult a station attendant or go to the cashier.
Of course, this reliance on self-service works only if customers themselves are mature enough to embrace it.
At Japanese family restaurant chain Yayoiken, customers who want refills of rice readily get up to help themselves from a big rice pot in a corner of the restaurant.
And when Japanese diners are done eating, all of them - without exception - tidy their tables and return their dirty dishes, which significantly reduces the need for a cleaner.
Is Singapore ready for a self-service culture? Honestly, I don't see why not - when it comes to good hawker food, we are already happy to line up for hours and carry our own trays of food.
Of course, there are those who may find it more difficult to adjust, such as hyper- picky customers who insist on "prawn mee, without prawn".
But just as self-service can do away with irritating waiters, it may also finally eliminate the other vexatious part of the equation: the spoilt, entitled customer.
fiochan@sph.com.sg

Get a copy of The Straits Times or go to straitstimes.com for more stories.