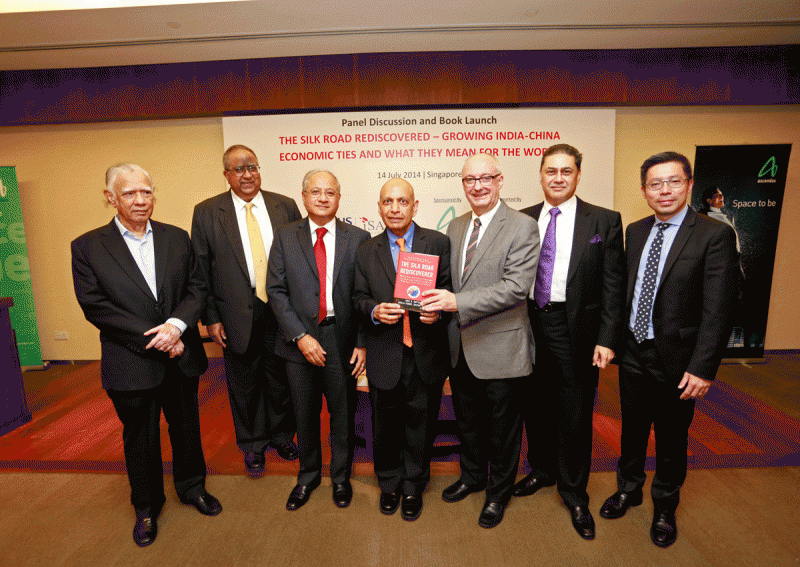 From developing a simulated market in frozen peas in the '70s at the Indian Institute of Management, Ahmedabad (IIMA) to advising business heads in a ski resort within the Arctic Circle at minus 51 deg C, life has been an exciting journey for Dr Anil Gupta.
Along the way he got a Doctorate in Business Administration (DBA) from Harvard Business School, was a professor of strategy at INSEAD, and taught global business leaders how to get "China and India right". Maybe being the captain of the IIT Kanpur bridge team was an early sign of a future strategy guru.
The Economist named him as one of the world's "superstars" for research on emerging economies. No wonder he is on the Thinkers50 biannual global ranking of management thinkers in 2013 and in 2015. Here, he talks about current issues in India-China business and the bridging role Singapore can play:
Q: It may not be wrong to say that you would have grown up in the shadows of the 1962 India-China War. When you were pursuing higher studies in IIT and IIM in the late '60s and '70s, did you think that you would one day set up a China India Institute, or be a leading researcher and writer on doing business with these countries? How did this come about?
A: This has been an evolutionary process where one step leads to another. When I was studying at IIT and IIM, my goal was to become the CEO of a major multinational company. After graduating from IIMA, I joined Hindustan Lever (now known as Hindustan Unilever) in marketing and sales. It was a dream job. As product manager, I kept busy managing the products under my umbrella and, even more interestingly, launching new products. I enjoyed it but, after three years, felt that I needed a more intellectual challenge. So I applied to a few of the top PhD programmes in the US. In 1975, I joined Harvard Business School to start my doctoral studies.
After graduating in 1980, I joined the Business Strategy faculty at Boston University. A few years later, I moved to the University of Maryland, which has been my home since 1986. During 1980-1990, my research and writing focused exclusively on corporate strategy questions.
Around 1990, I concluded that globalisation was becoming increasingly central to corporate strategy. As a direct result, over the next decade, virtually all of my research focused on the topic of global strategy. A key outcome of this period was the publication of a book I co-authored - The Quest For Global Dominance.
Around 2000, it became clear that the rise of China and India (along with other emerging markets) was becoming central to global strategy. This was when I decided that I had to build expertise on these two economies.
Of course, this decision became even more personal since I met my wife (Haiyan Wang, from China) in 1997 and we got married in 2001.
Over the next several years, we spent considerable time doing research on how to make sense of these two emerging giants and what the implications of their rise could/should be for the world's MNCs. This is how we came to set up The China India Institute and write two highly-regarded books - Getting China And India Right and, more recently, The Silk Road Rediscovered.
Q: In The Silk Road Rediscovered, you explain how leading Indian companies such as Tata Consultancy Services, Tata Motors and Mahindra Tractors have a "China strategy" and are growing their businesses there.
Do you see the broader segment of large and medium Indian businesses having clear China strategies and growing their businesses in that market? If it is not too late for them, what strategic advice would you give?
A: The new Silk Road is bidirectional i.e. not just Indian companies playing in China but also Chinese companies playing in India. Since writing The Silk Road Rediscovered, the Chinese economy has slowed down dramatically.
This means that, in many sectors, currently there is huge overcapacity in China. This means that the Chinese market has become much more brutally competitive. This is not a particularly good time for many Indian companies (just as for many companies from the US and Europe) to contemplate entering China.
Of course, if you are already a player in China, then you're committed. As in the case of Tata Motors' subsidiary Jaguar Land Rover, the central question becomes: How do you adapt to a changing China?
On the other hand, the pace of Chinese investment in India has picked up dramatically. Over the last 12 months, Alibaba Group has invested almost US$1 billion in India's e-commerce sector. Other Chinese companies like Baidu and Tencent are also snooping around.
As India's infrastructure story picks up momentum, we can expect to see sizeable investments by Chinese companies in sectors such as rail, power, real estate and industrial townships.
Put together, economic linkages between China and India are deepening very rapidly. It is shifting from trade to investments. Also, it is becoming much more multi-dimensional.
Q: Since Indian and Chinese companies are making direct entry into each other's markets and, as your book shows, they have succeeded in these efforts, do Singapore companies have any role to play in the future in India-China business?
A: What areas should they focus on and how can they add value?
Except in the IT sector, which is fundamentally global, in most other sectors, Chinese and Indian managers do not fully understand each other and are often baffled by vast political and cultural differences. The two societies also suffer from historical baggage and thus do not fully trust each other.
This is where the Singapore Government and Singaporean companies can play an important bridging role.
A: Both the Indians and the Chinese believe that they understand Singapore well and work effectively with Singaporean managers. This should provide arbitrage opportunities for Singaporean companies.
On a more grand scale, I see huge potential for Singapore to play a bridging role in helping Chinese companies build mega Indian special economic zones. Singapore is a grandmaster at this and has already partnered with the Chinese to develop Suzhou Industrial Park near Shanghai.
As Chinese banks and infrastructure companies look for opportunities outside the slowing China, India is one of the hottest opportunities globally. As a joint venture partner, Singapore can play an important bridging role in converting these dreams into reality.
Q: There is a high speed race for high speed train deals between China and Japan. China is said to have given generous financing terms to win the US$5.5 billion Jakarta-Bandung Indonesian high speed train deal. But when it came to the US$15 billion Mumbai-Ahmedabad high speed train deal, they lost out to Japan.
What happened? Will China compete for future Indian infrastructure business with even better financing options?
A: The Mumbai-Ahmedabad high speed trail project is just one of many that India is (and will be) launching over the next decade. I doubt that the Indian government would want to put all its eggs in the Japanese basket. Diversifying the choice of partners will be better for India - both politically as well as economically. India got a great financing deal from Japan precisely because of competition from China.
In short, I very much expect that China will continue to compete vigorously for other rail projects in India. I also expect that China will be able to get a reasonable share of India's rail sector.
Q: Recently Reuters estimated that the "Indian economy accounts for little more than 3 per cent of global output" while the corresponding numbers for China and the US were 12 and 20 per cent. You have an impressive list of global clients. Are they actively investing more in India now? Or will they continue to be predominantly US and China focused? Please give us some examples.
A: China launched major economic reforms in 1979 whereas India jumped on this train in 1991. Thus, China has a 12-15 year advantage over India. Also, China's command-and-control system can build infrastructure at a much faster pace than is possible in a democratic India. This is why China's economy is now four to five times as large as India's.
That said, China now suffers from a major challenge. As the saying goes, "what got you here won't get you there". China now needs to shift from investment-led to innovation-led. It's not easy to see how a command-and-control system (including powerful state-owned enterprises) can help China become innovation-led.
Just as China has slowed down, India is beginning to pick up speed. It is now the world's fastest-growing economy and is likely to remain so for the foreseeable future. Thus, as an investor, I find it hard to justify betting on Chinese stocks at present. On the other hand, India is where the real growth opportunities lie. While short-term market movements are impossible to predict, over a five-year and longer timeframe, I am very bullish on India.
I am not picking specific sectors and companies. I prefer to invest across the entire market. High growth opportunities exist in almost all sectors.
Q: Large Indian business houses like Tata and Mahindra are well known for their corporate social responsbility (CSR). What about Chinese companies? Are they focused only on growing their business?
Are there large and active CSR arms of large Chinese companies? Can you tell us who they are and what they do?
A: CSR is a much-more ingrained idea in India than in China. This is because religion (and religious teachings and values) play a much stronger role in India than in an officially atheistic China.
Nonetheless, there is growing awareness of the CSR concept in China. To date, however, this has largely meant that the government views it as important that companies not be allowed to wantonly pollute the environment, exploit labour and endanger consumer safety.
As a result, over the last 10 years, the government has enacted a series of laws to prevent companies from acting in seriously irresponsible ways.
In the US and Europe, the concept of CSR refers largely to voluntary actions by companies that go beyond merely obeying the laws. From this perspective, China still has a long way to go. I believe that, given its strong religious ethic, India is closer to the US and Europe than to China.

Get a copy of tabla! for more stories.