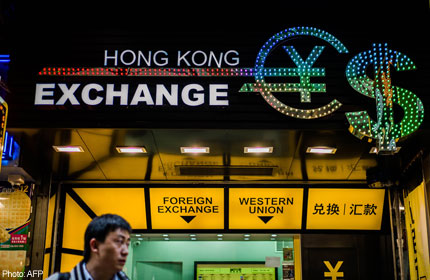 HONG KONG - The Hong Kong Monetary Authority (HKMA) stepped into the currency market twice on Tuesday, selling a total of HK$12.013 billion (S$1.9 billion) in Hong Kong dollars as the local currency repeatedly hit the strong end of its trading range.
According to Reuters data, the latest intervention will lift the aggregate balance - the sum of balances on clearing accounts maintained by banks with the HKMA - to HK$220.341 billion on Dec. 13.
The HKMA sold HK$5.813 billion in Hong Kong dollars in its second injection in a day, bringing the total amount of injection to $9.25 billion worth of Hong Kong dollars since October 20.
Market players said besides the recent inflows to purchase stocks in Hong Kong, the strength of the local currency was also supported by booming US dollar bond issuances as some of the issuers converted their proceeds to Hong Kong dollars for trade or investment use.
The Hong Kong dollar is pegged at 7.8 to the US dollar but can trade between 7.75 and 7.85 to the US dollar. Under the currency peg, the HKMA is obliged to intervene when the Hong Kong dollar hits 7.75 or 7.85 to keep the band intact.
The currency traded at 7.7501 against the US dollar at 0953 GMT.