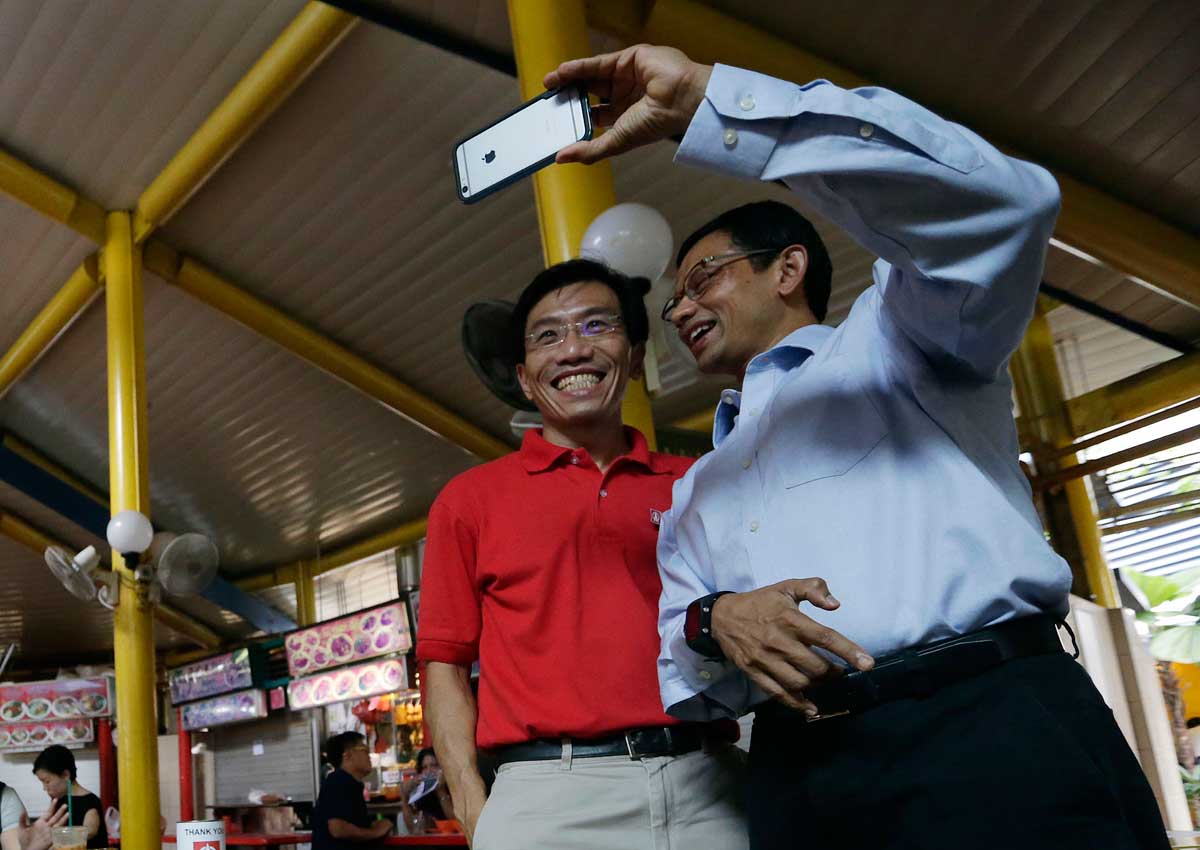 It is Sunday morning at Bukit Timah hawker centre and diners are forming a long queue for their fishball noodles. By the entrance of the complex, another queue is forming - of people waiting to speak to, or take pictures with, Dr Chee Soon Juan.
The Singapore Democratic Party (SDP) chief, who is contesting in elections for the first time since 2001, is leading a four-man team against the ruling People's Action Party in the contest for Holland-Bukit Timah GRC. This is the SDP's second stab at the ward, after its team lost to PAP with 39.9 per cent of the vote in the 2011 General Election.
Dr Chee had to sit out the past two elections after being bankrupted by libel lawsuits brought against him by PAP leaders. This year, he has assembled a team comprising medical professor Paul Tambyah, healthcare administrator Chong Wai Fung and compliance auditor Sidek Mallek. The PAP team, led by Minister for the Environment and Water Resources Vivian Balakrishnan, includes Minister of State Sim Ann, banker Liang Eng Hwa and lawyer Christopher de Souza.
Since Nomination Day, Dr Chee has drawn the crowds at rallies and made fiery speeches. In Holland-Bukit Timah GRC, his team has campaigned for alternative national policies, such as a minimum wage, a national health investment fund, as well as cheaper public housing sold under special conditions. Conspicuously, it has offered no specific plans for the ward itself, something its PAP rivals have noted loudly in the past few days.
At a rally at Commonwealth Avenue on Monday, Dr Balakrishnan told the crowd: "Many people, many opposition politicians look down on PAP politicians for spending so much time on the ground, for knocking on your doors humbly, for looking at drains, chasing rat burrows, getting rid of mosquitoes...
"In fact, the opposition does not even offer any local plans… They say there is no need for local plans. All that will be done automatically, right? They don't even plant trees."
MUNICIPAL VS NATIONAL CONCERNS
But how much will the municipal issues matter in this ward? Holland-Bukit Timah is often thought of as a "rich man's GRC" because its boundaries cover exclusive landed housing districts and high-end condominiums hugging the green lungs in central Singapore. About 45 per cent of its residents live in private housing, far higher than the national average of less than 20 per cent. Its public housing residents are clustered around Ghim Moh and Bukit Panjang.
Many residents are happy with the facilities and amenities that have been ushered in.
Mr Sean Balakrishnan, 43, who is unemployed, said: "There has been a lot of upgrading amid the improving of transport. They really heard out our grievances."
Another resident, a 67-year-old remisier who wanted to be known as Mr Tan, quipped: "This is a rich man's land. We solve our own problems."
Many voters, said, however, that they also give consideration to broader, national-level issues such as healthcare and income inequality, or the foreign influx, in the light of the White Paper released two years ago and its "planning parameter" of a 6.9 million population by 2030.
"When it comes to national issues such as the foreign migrants issue, we need to listen, we must see both ways," flight attendant Rohaizat Abdul Rahim, 42, said.
And Dr Chee would like to see that happen. "A lot of people tell us, Bukit Timah area, rich folks, they will vote for the PAP. Not true," he told The Straits Times. "They care about their fellow citizens. And because of that, I know they will respond to our message saying, look, we have got to level up society (and) close the income gap."
According to the SDP, the party received most of its votes in the last election from residents in the landed housing districts. Voters in HDB estates, in contrast, largely put their faith in the ruling PAP.
THE CHEE FACTOR
One of the unknowns is how the majority of voters will respond to Dr Chee's presence in the SDP team. The former psychology lecturer has had several high-profile run-ins with the PAP leaders, one of which led to a defamation lawsuit that relegated him to the political backstage for over a decade. He has gone to jail for acts of civil disobedience.
The PAP team has repeatedly questioned his character during campaigning. On the rally stage on Monday night, Ms Sim commented on how regularly he "chut pattern", a Singlish phrase suggesting that he performed a lot of antics.
Dr Chee has dismissed it all as an attempt to draw attention away from the real issues. Social media has helped change his public image somewhat, while the party appears to have softened its confrontational approach.Last Saturday, he even pledged to work with the PAP if the SDP candidates were voted into Parliament.
Meanwhile, Dr Chee has touched on his life as a bankrupt during rallies, while videos of his speeches and family life have been circulating widely online.
The phenomenon has caused some worry within the PAP camp. Mr Liang is concerned about "untruths and half-truths" sometimes circulated on social media and the bei qing pai, or sympathy card, played up during rallies.
"Will it swing votes (to the opposition)? It might," he said.
The younger generation, who know Dr Chee largely through the Internet, may have a kinder view of him, said data centre operator Daniel Teo, 32.
To counter that, the PAP team has been conducting its own version of social media outreach. Ms Sim's team runs a YouTube channel with interviews of residents. On house-to-house visits, she is accompanied by a photographer who carries a portable printer, so she can give residents photographs she takes with them, on the spot.
"I have been very touched by our residents who have come forward to say 'I want to say something'," she told The Straits Times. "We are in a digital world, and it would also be unwise not to have that social media capability. And I think it is wonderful because it lets our residents have a voice."
RIVAL VISIONS
Meanwhile, the Holland-Bukit Timah contest has pitted one doctor against another on competing visions of healthcare. In contrast to the multi-tiered national health insurance schemes currently in place, the SDP is proposing a national health investment fund that, as part of the healthcare system, would allow people to pay only 10 per cent of their bill for hospitalisation and chronic illnesses, and also reduce the size of hospital wards.
SDP's Prof Tambyah, an infectious diseases expert at the National University of Singapore Yong Loo Lin School of Medicine, said: "So many schemes are in place that people will just naturally slip through the cracks. The reality is, for all of these schemes, the issue is always the bottom line."
In response, Dr Balakrishnan, who was an eye surgeon before he entered politics, has repeatedly warned against the financial risks of laying out too generous a welfare system.
"Don't get scared by politicians telling you healthcare will bankrupt you in Singapore," he said at a rally last Monday, adding that "everyone will be looked after". While Singapore's healthcare system "is not perfect, "don't make the mistake of completely dismantling a model that works".
With few municipal concerns on the cards, the Holland-Bukit Timah contest is shaping up to be a tight contest of competing ideas. "I'm keeping my options open," said university student Gayathri Aruchunan, 23. "I'm going for SDP rallies - I want to check out its policies."
tanhy@sph.com.sg
yeosamjo@sph.com.sg
joycel@sph.com.sg
joseow@sph.com.sg

This article was first published on September 9, 2015.
Get a copy of The Straits Times or go to straitstimes.com for more stories.