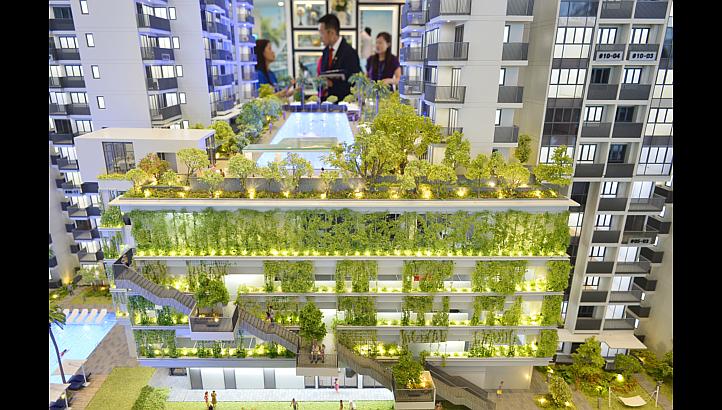 SINGAPORE - Results from four launches over the past month provide strong evidence that lower quantum or absolute prices generate more sales in a weakening market.
With credit harder to get now, buyers are being forced to trim budgets and lower expectations, with some developers sitting pretty to take advantage.
Take two recent launches.
Keppel Land released its 726-unit The Glades in Tanah Merah in the first week of September at an average price of $1,500 per sq ft (psf) and sold only about 80 of 200 units released on day one.
Three weeks later, CapitaLand sold 410 units for a similar average price at its 694-unit Sky Vue in Bishan.
Despite similar psf prices, these projects registered very different results with buyers seemingly to prefer flats with a cheaper quantum price, analysts said.
Prices of one-bedders at The Glades spanning 452 sq ft to 753 sq ft ranged from $678,000 to $1,129,500 while a unit of about 484 sq ft to 592 sq ft at Sky Vue starts from $726,000 to $888,000.
Colliers director of research and advisory Chia Siew Chuin said new loan curbs - known as the total debt servicing ratio - have made buyers more sensitive to the amount of credit available.
"A property priced at a lower price quantum means that it will be more accessible to a larger pool of potential buyers. This inherently implies more sales," she added.
The better sales at Sky Vue could also be because it has a higher percentage of smaller units, noted SLP International research head Nicholas Mak. At Sky Vue, 74 per cent of units were one- and two-bedders while The Glades had about 68 per cent of smaller units.
The Singapore Residential Price Index released in August showed that prices of units around 500 sq ft rose by 1 per cent compared with a 0.1 per cent increase in overall private resale home prices.
"This seems to suggest that buyers are gravitating towards smaller homes and lower quantum options," said Chesterton Singapore research head Elaine Chow.
This also seemed to be the case at UOL Group's 445-unit Thomson Three in Thomson and TA Corporation's 420-unit The Skywoods on Dairy Farm Road.
Buyers at the launch snapped up 160 units at Thomson Three, where one- and two-bedders made up 51 per cent of the project. Units went for an average price of $1,350 psf.
But The Skywoods, which has only about 23 per cent of one- and two-bedders, moved only 35 of 150 units released at $1,250 psf on the first day.
But analysts added that other factors such as location and competition also account for the different sales figures.
ERA Realty key executive officer Eugene Lim noted that The Skywoods and The Glades are in the suburbs, while Thomson Three and Sky Vue are on the city fringe.
"Of the four, Sky Vue is the nearest to the city."
Locations that have had several new projects would also have soaked up demand in the vicinity.
Hillview Peak, Foresque Residences and Hillion were launched in or around Dairy Farm over the past three years, while around 2,353 units have been developed over the past four years in Tanah Merah, said Ms Chow.
She added that pent-up demand remains in areas such as Thomson and Bishan, where not many sites have been available.
Despite the different results at the four projects, Savills Singapore research head Alan Cheong expects the hype of Sky Vue and Thomson Three to stir sales at The Skywoods and The Glades.
But he noted that its developers might have to dangle discounts, as buying demand in Tanah Merah and Dairy Farm has already been mopped up.
"If you don't have the first mover's advantage, you might have to offer discounts to motivate buyers farther afield to take up a unit there."
ocheryl@sph.com.sg

Get a copy of The Straits Times or go to straitstimes.com for more stories.