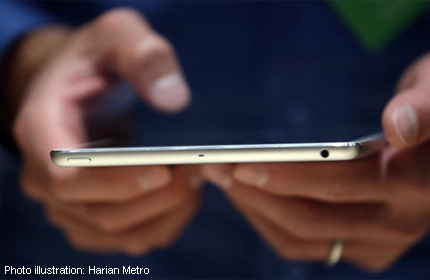 BARCELONA - Originally derided as a pricey niche product for geeks, tablet computers have become so common that supermarkets are now selling their own brands, pushing out low-cost rivals.
The shifting nature of the market underscores how millions of people are choosing simpler devices to surf the web, send emails and shop, putting pressure on traditional PC companies.
And since Apple pioneered the tablet in early 2010, the gadgets now available at the lower end of the market are becoming commodity items that non-technology companies can order from Asian contractors using common components. "Reference designs for tablets and smartphones from companies like Qualcomm have drastically reduced barriers to entry and increased commoditisation pressure in the hardware industry," said Sameer Singh, Hyderabad-based tech analyst. "This opens the door for not only players that can survive on low margins, but also for companies that use hardware as a channel for something else."
Tesco in Britain and Carrefour in France are selling their own branded tablets pitched at customers unwilling to pay US$400 (S$507) or more for an Apple or Samsung product.
The retailers are not only trying to cash in on booming tablet sales, but also to nudge people to buy everything from films to groceries from their online stores, pushed through their devices, a lesson learned from Amazon and Google .
Traditional computer makers including Asus, Acer , HP, Lenovo, Dell, Sony, LG will continue to be squeezed, said Gartner analyst Tracy Tsai.
They account for only 10 per cent of the market today, far behind Apple and Samsung with 60 per cent and also smaller than the 20 per cent share held by white label tablet makers who manufacture for others, such as Archos. Amazon and Google hold the other 10 per cent. "Some of them will pull out from the market of tablets altogether," Tsai predicted.
The price for tablets running Google's Android software ranged from US$99 to US$299 in 2013, providing an estimated 15 per cent to 25 per cent gross margin to hardware vendors, but when prices need to be cut to meet the competition the margin could drop.
LESSONS LEARNED
Amazon, which sells its Kindle Fire tablet at cost or even at a loss, ties people to its site to buy music, books or films rather than them buying Apple's iTunes or going to Carrefour and Tesco. "If you get a tablet into someone's hand, it is almost a digital shop window," said Ben Wood, analyst at CCS Insight. "The retailers are realising: 'Crikey, we need this to be part of a much bigger strategy to make sure that Amazon does not eat us alive.'" Carrefour is also selling smartphones and a smartwatch starting at 149 euros, in addition to four tablets, while a Pakistani bakery chain called Gourmet poached a former Samsung executive to help it sell smartphones starting at US$15.
Tesco shifted more than 400,000 of its Hudl tablets, priced at 119 pounds (US$200) in little over three months after a September launch. "We saw an opportunity in the market for a lower priced but highly spec-ed tablet," said Michael Comish, who heads Tesco's digital strategy and operations. "We were certainly pleasantly surprised by consumer demand,"he said, adding that Tesco was selling as many Hudls as it could produce in the autumn.
Carrefour's mobile phone, dubbed the Smart, launched at Christmas and was among the store's top-five selling products in recent months, said Jose Zdziech, sales director for technology products.
Big retailers have been here before. In the past many worked with manufacturers in Asia and elsewhere who produced everything from clothing to refrigerators that the retailers then sold under their own brands. Carrefour and Tesco, the world's second and third-biggest retailers, then turned to that network of manufacturers to make gadgets.
Tesco's Comish said they designed the Hudl to drive people to purchase films, music, and now books from blinkbox, a video-on-demand provider Tesco bought in 2011. The company spent a lot of time on the user interface, he said, to make it easy to get to Tesco services, without forcing customers to use them.
Carrefour's Zdziech said the retailer would continue to sell Apple and Samsung products since its own products were not aimed at the high-end. But Carrefour has dropped some competing tablets and phones from lower-end manufacturers he declined to name. "We had to make some choices so as to better showcase our own branded products," he said.