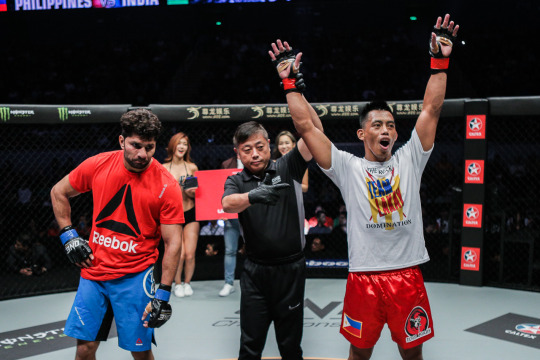 Team Lakay veteran fighter Honorio "The Rock" Banario (11-6) continues his impressive career resurgence with another satisfying victory inside the ONE Championship cage, finishing off Rajinder "Knockout" Singh Meena (8-3) of India via armbar in the very first round.
The two stood across each other at ONE: AGE OF DOMINATION, Friday, 2 December, in a three-round lightweight contest.
Banario, who had shown steady improvement after a disappointing five-fight losing streak, has now won three in a row over solid opposition. Against Vaughn Donayre and Eddie Ng, Banario showcased a tremendous improvement in his grappling. Against Singh Meena, the evolution of Banario came full circle.
Banario not only dominated the striking exchanges at the center of the cage, he also completely outclassed Singh Meena on the ground.
"I feel very happy this time because when I came up to the lightweight division, I felt very comfortable and strong," said Banario after the bout. "I am hoping to keep winning now so I can stay on track."
Singh Meena, who owns five submissions out of eight victories, is known as a capable grappling competitor, but against Banario, he was simply no match.
In the middle of the round, Banario smoothly transitioned into a mounted crucifix that left Singh Meena with nowhere to go. From there, Banario effortlessly stepped over his opponent's head and spun around swiftly to secure the armbar.
The tap came just seconds after. The official finish is listed at 4:04 of the very first round.
Prior to the matchup, Banario — the former ONE Featherweight World Champion — made it known that a move to lightweight was the best thing to happen to his career because he now feels a lot stronger and more confident in his abilities. It definitely showed Friday night.
After the bout, Banario expressed gratitude for all the fans in Manila who followed his career throughout the years.
"Everyone who is here watching, thank you to all," said Banario. "This is an early Christmas gift for me."
With Banario's re-emergence as a lightweight powerhouse, his transformation as a reinvented fighter is complete. Look for Banario to be back at the top of the heap very soon.