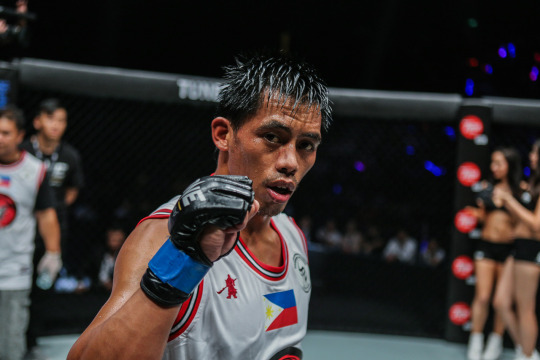 Former ONE Featherweight World Champion Honorio "The Rock" Banario will step back into action to face dangerous striker Rajinder Singh "Knockout" Meena in a lightweight showdown at ONE: AGE OF DOMINATION. The event takes place on Friday Night, 2 December, at the Mall Of Asia Arena in Manila, Philippines.
With both fighters showcasing predominantly stand-up skills and preferring to keep the fight on the feet, Banario, a wushu specialist, believes the contest will play out in entertaining fashion once the cage door shuts.
"I see the fight as an exciting fight because we are both strikers," the 27-year-old Filipino says. "I also see it that I am winning this fight."
Singh, a former Super Fight League Lightweight Champion, holds a respectable 8-2 record with three of those victories coming by TKO. Though known as a striker with an accomplished background in amateur kickboxing, boxing, and wushu, he also has a commendable ground game, with five of his wins coming by way of submission.
The Crosstrain Fight Club member lost his ONE debut against Peter Davis at ONE: AGE OF CHAMPIONS in March 2015, but after a year and a half away from the sport, he returns feeling re-energized and with a fresh perspective.
Needless to say, it will be difficult to defeat Banario. The Filipino is a durable competitor who started his career red-hot, winning eight of his first nine professional fights via stoppage and capturing the inaugural ONE Featherweight World Championship in the process.
Since that title win, however, "The Rock" has fallen on hard times. He dropped the belt to Koji Oishi and lost five straight bouts. Despite his unlucky streak, he remained loyal to the Asian organization.
"I am very grateful to be fighting in ONE because, even though I lost many times in the past, they never gave up on me," Banario says. "I decided to stay with them as long as they are good to me."
Banario also decided to re-create himself as a lightweight, and that is when his career turned around. He has won two in a row, claiming victory over Vaughn "The Spawn" Donayre at ONE: GLOBAL RIVALS this past April, and edging out Eddie Ng to nab a unanimous decision win at ONE: HEROES OF THE WORLD four months later.
Much of that credit is owed to his fight family, the famed Team Lakay. 
" I am very grateful to have a team like Team Lakay," Banario states. "I am happy to be part of it in making history. The good thing about our team is that we are like brothers. We respect each other and we help each other in so many ways. We work as a team and as a family. We are one."
Team Lakay, which has become one of the hottest gyms in Asia, has five fighters competing on the upcoming ONE: AGE OF DOMINATION card. The Baguio City facility is running full speed ahead, fully focused on their goals of victory.
They are a well-oiled machine just waiting to get their respective hands on their future opponents, and hopefully, future gold to match Eduard Folayang's newly-minted ONE Lightweight World Championship.
"Our gym is very full these days," Banario admits. "Every training session is packed. If you enter the gym, you can easily see that. Everyone there is so determined. They are there to train. We are like hungry savages when it comes to training prior to every fight."
Quite possibly, the most admired and respected trait of Banario is his perseverance, attitude, and fighting style, embodying an undying battle cry.
"It is in our blood here in the highlands of Cordillera in the Philippines," he explains. "Since olden times, our ancestors were Igorot warriors. We inherited their 'never say die' mentality, and especially their will."