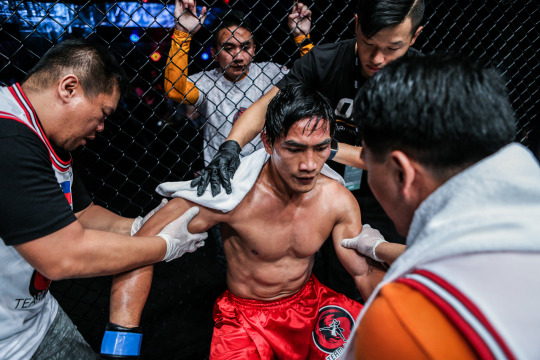 Eduard Folayang has yearned for a chance to become the ONE Lightweight World Champion ever since he headlined the organization's first-ever event five years ago.
It is an obsession that has taken a physical and emotional toll on him. But on 11 November, he will finally get his shot at reigning champ Shinya Aoki's belt at ONE: DEFENDING HONOR in the Singapore Indoor Stadium.
"My journey in ONE Championship ever since my first fight has been a roller coaster," said Folayang. "There were moments in my career when I was already near to a title shot, but suddenly I lost the momentum. And then I climbed the ladder again and fell again.
"This time I really pushed hard to be on the top, and finally after five years I have the chance to be fighting for the title."
However, fighting for the belt goes much deeper than simply adding a world title to his many accolades. For the man known as "Landslide," it is the culmination of his life's work, and a tribute to the people, community, and society that raised him.
Growing up in Baguio City, Philippines, Folayang's family was tragically impoverished. The Filipino was one of nine children, five of which passed away due to sickness because they did not have access to proper medical care.
His father worked as a laborer and part-time farmer, his mother worked at a laundromat, and both of his parents never learned to read or write. It is something they made sure their children would.  
"My parents sacrificed a lot to bring us to school. Sometimes they even borrowed money just for us to pay our tuition fees," recalled Folayang sadly. "In their daily lives they didn't focus on just one job, they found extra work that they could do so that it would compensate the needs that we had."
Though his parents had hoped he would become a police officer following his education, Folayang had other plans. He picked up wushu and took up a scholarship in college to help pay his way through school and lessen the burden on his parents. It would prove to be a decision that would change his life forever.
After proving talented enough to join the Philippines Wushu Team, Folayang won eleven major medals including three golds at the Southeast Asian Games. Plus, while still actively competing in the sport, he transitioned to MMA in 2007, and did so all while working as an English and Physical Education high school teacher after graduating from the University of the Cordilleras.
As the most prominent member of Team Lakay, "Landslide" made his professional MMA debut for Filipino promotion URCC in June 2007 against the promotion's then-undefeated welterweight champion Allan Co. He knocked out the champ in the first round and took home the belt.
MMA would become the means for him to inspire others with his abilities.
"The reason I compete in mixed martial arts is because I have the passion for it, and because I know God has given me the ability to influence my countrymen in this sport," Folayang says. "There are a lot of problems in the Philippines. We've seen the effect of drugs on the Filipino people.
"I'm so proud to be a Filipino. Fighting not only for yourself, but for your nation. Representing your countrymen despite the fact that our country has different tribes, there are a lot of differences, but gathering everyone and representing them in an event is a very happy moment for me.
"As an athlete, I want to inspire the youth to not waste their lives on doing drugs, but to find the purpose of their existence; to find if they have the talent in sports or whatever areas they are talented in.
"I want them to be inspired and I want them to make it not only in the Philippines, but also globally."
In the next four years, he racked up eight more wins and one loss before signing with ONE Championship. Though Folayang has experienced some tough breaks over his time in the promotion, he turned his luck around over the past two years.
He decisioned battle-tested veteran Tetsuya Yamada at ONE: CLASH OF HEROES back in January, and followed that up with a hard-earned decision over the iron-chinned Adrian Pang at ONE: HEROES OF THE WORLD in August.
However, now that he finally has a shot at gold, Folayang has made it more about national pride rather than personal glory.
After all, he knows how seeing a homegrown athlete go into battle for a prestigious title can inspire a new generation of Filipinos to chase their dreams and achieve greatness. He saw for himself the cultural impact Brandon Vera had when he claimed the ONE World Heavyweight Title last December at ONE: SPIRIT OF CHAMPIONS.
"It was a great success not only for Brandon (Vera), but for the Filipino fans as well. Winning that belt gave a lot of motivation to the fans and aspiring fighters. They really want to push themselves to also be getting the belt and giving glory to our country.
"What Manny Pacquio did in boxing I also want to do it in MMA. The sport will be a huge inspiration to the youth. I want not only to get the belt but also to be a good example to the community."
Of course, Folayang also wants to make his family proud and, in a way, winning the belt is the greatest way to thank the two people who worked long hours and sacrificed nearly every materialistic joy just to bring some to his life.
"I do my best in this endeavor because I really want to provide for my parents and take care of them, especially since they are already in their old age," he admits. "I want to show them that their sacrifices were worth it by pushing myself to be successful."
"My parents are my inspiration. They always encourage me and pray for me. I really don't want to waste the love that they are giving me, so I really push myself harder so that in my fight I can be able to give my best.
"I can already foresee that my parents will cry and have a lot of tears when they see me bringing home the belt. I'll do whatever it takes to see that."