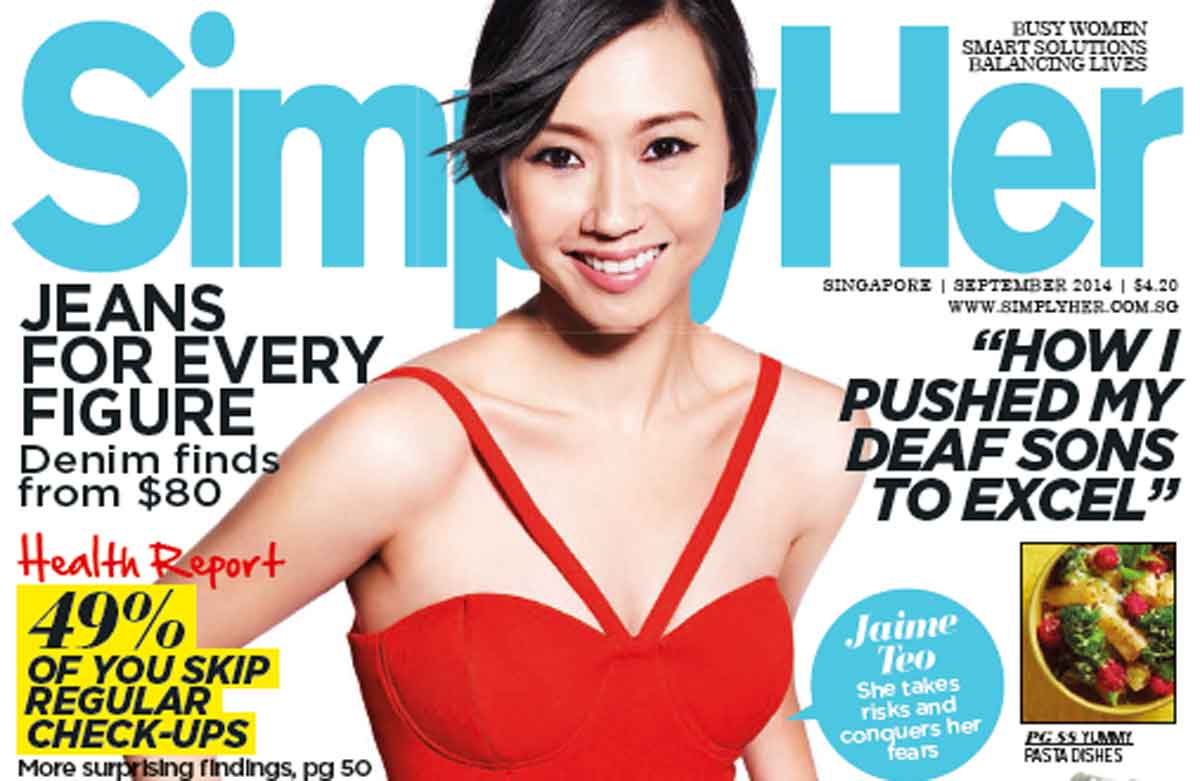 "I was 24 when I married my husband, Patrick, in 1982. A year later, our first son, Lionel, was born. He was a healthy, adorable baby. But when he was about seven months old, I noticed that he'd quietened down - he had stopped gurgling and preferred to play with toys and puzzles on his own.
I had friends who'd given birth around the same time as me, and their babies - some younger than Lionel - were already babbling their first words. When I tested Lionel's hearing by checking if he'd turn in my direction when I spoke, he always did so. I realised only later that he was using his sharp eyes and observation skills, even as a baby, to 'hear'.
DROPPING A BOMBSHELL
Some months after I began testing Lionel's hearing, a friend visited us with her dog. When the dog gave a sudden, loud bark right in front of Lionel, he wasn't afraid - in fact, he gave no sign that he'd heard it at all. I was sure then that something wasn't right. But as young, first-time parents, the word 'deaf' didn't even occur to me and Patrick.
I took Lionel to a paediatrician and an audiologist, who both told me that perhaps he had a slower developmental rate. But I had niggling doubts - my instincts as a mother told me otherwise. After more tests, Lionel was confirmed deaf at 14 months old. Doctors said it might be hereditary, so Patrick and I went for genetic testing. Our results, however, were normal. The doctors couldn't pinpoint what had caused the condition.
I consider myself a naturally cheerful person, but my child's deafness left me devastated. I fell into depression and couldn't bring myself to go back to work for more than a month - I was a purchasing officer at an aviation company. I read up obsessively about deafness and visited the Singapore Association for the Deaf (SADeaf) to experience what it was like being around those who were hearing-impaired. Patrick took the news better than me; he said that if our son was born this way, we had to accept it and focus on providing well for him. He turned his attention to running his construction business, so that we could afford to give Lionel better opportunities in life. But my biggest fear remained: Who would look after our son in our old age? It was a frightening thought.
MOVING ON
After thinking about what I could do to help my son, I decided to pick myself up and heed Patrick's advice. I knew I needed to arm myself with the knowledge of how to raise a hearing-impaired child. So I joined a parents' support group at SADeaf; I also enrolled in a distance-learning course with John Tracy Clinic, an established education centre in Los Angeles which specialises in helping parents to bring up young children with hearing loss. Their support was invaluable - whenever I encountered parenting problems, I'd write to the clinic for advice. That was how I successfully potty-trained Lionel, who was still wearing diapers at the age of five.
I also had the support of my sisters and good friends. They'd come over with their kids and the children would play together. I always told them not to give in to my son, and to treat him like any other child.
SECOND HEARTBREAK
Despite my fears, I wanted a second child - I felt that Lionel needed a sibling to grow up with. After two miscarriages, I fell pregnant with our second son, Joseph, in 1986. When Joseph was born healthy, Patrick and I were relieved. But four months later, I observed the same signs in Joseph that I had with Lionel. Again, my fears were confirmed after putting him through tests: At seven months old, Joseph was confirmed deaf too, and the cause was unknown.
This time, I didn't linger on my sadness for more than a day; instead, I counted my blessings that both my sons had no other disabilities. But some people looked at me differently - they said it was a bad omen to have two deaf children, and told their kids not to play with my sons in case they started speaking like them. From then on, I stopped giving too much importance to others' opinions, so they wouldn't get me down.
GIVING THEM BETTER OPPORTUNITIES
I was determined to give my sons as normal an upbringing as possible, so I enrolled them - Lionel first - for speech therapy training at Dover Court Preparatory School. I also continued my correspondence with John Tracy Clinic, and they taught me how to teach Lionel to speak and lip-read. For example, differentiating between 'pa' and 'ma' sounds is difficult for the hearing-impaired. I had to speak against a piece of paper as I made the sounds, to show Lionel that a 'pa' sound makes the paper move while a 'ma' doesn't.
On his fourth birthday, Lionel finally uttered his first word, 'ba'.
When Lionel was four, we took him and Joseph to Taralye, a centre for deaf children in Melbourne, Australia, where they could have speech therapy and interact with other kids. Each year for five years, the boys spent one week there. Just before giving birth to Joseph, I had been retrenched from my job. So I took the opportunity to home-school my boys to give them a head start before they began formal education. I read to them every night and taught them how to write and count. They're bright boys - before entering Primary 1, they could already recite the 12 times table.
GROWING UP AND SOCIALISING
Lionel and Joseph each entered Primary 1 at the age of five, at the Canossian School for hearing-impaired children. At the end of Primary 3, Lionel passed an aptitude test with flying colours and was admitted into an immersion programme at St Anthony's Primary School, which he eventually transferred to. Joseph aced the aptitude test in Primary 1 and joined his brother at St Anthony's. In spite of the change in environment, the boys took to normal school life well. They were naturally cheerful and sociable; growing up with their cousins and friends as well as their experiences in Taralye helped.
I often reminded them to work hard, telling them that nobody owed them special treatment just because they were hearing-impaired. I also told them that if they met people who were curious about their hearing aids, they shouldn't be embarrassed - they should simply explain how they work.
Recognising his inclination for languages, I let Joseph learn Mandarin in Primary 1. It's not an easy language even for normal students to tackle because of its tonal nature, but by the end of Joseph's first year, he was scoring full marks on his tests. I did all I could to help them in their studies. Every night, I went through their homework with them. Six months before every new school year, we'd already have covered the first six months of lessons. By June, they would have completed the year's syllabus, and we'd begin revision. I also enlisted the help of my niece, who was three years older than Lionel. I'd fax maths questions to her, and she'd write down each step for me so that I could teach my sons.
FILLING THE "VACUUM" IN A SILENT WORLD
I loved my boys, yet I felt there was something missing in my life. Seeing other children talking freely with their parents made me wish that I could have a child with normal hearing too. But I was afraid to try for a baby again because I didn't want to bring another deaf child into the world - even if he or she turned out fine, I didn't want to risk having his or her children be deaf too. I enquired about overseas adoption, but I wasn't eligible as I already had biological children.
When Lionel was seven, I met, by chance, a heavily pregnant woman who wanted to give her child up for adoption. It felt like a sign - I took her to a gynaecologist to check on her health and the baby's, and offered to pay for the hospital bills. I told her that I wanted to consider adopting her baby, and she agreed. After going through the adoption process, I took Baby Janice home. Lionel and Joseph took to their new sister immediately. The three siblings have grown up to be close to one another.
RECOVERING SOME HEARING
Three days after completing his O levels in 1997, Lionel underwent surgery to get cochlear implants fixed; Joseph had his done a few months later. It was a frustrating time for the boys, as they had to relearn how to link the sounds they heard to words and speech. When Lionel went to the washroom after his implants, he rushed out in fright because it was his first time hearing the unfamiliar sound of the toilet flushing.
I kept reading and talking to them, and reassured them that it would get better with practice. Even sounds like rain and the rustling of leaves were scary to them; we also had to get them used to the sound of traffic. After six months, they adjusted to the cochlear implants. By then, they had entered National Junior College.
Lionel did well in school and was among the top scorers in his year. He went on to do a double major in computer science and economics at Carnegie Mellon University in the US, then a master's degree in computer science at Stanford University, and he will graduate at the end of this year with a PhD from ETH Zurich. Joseph did bioengineering at Johns Hopkins University and has just obtained his Bachelor of Medicine, Bachelor of Surgery from Yale University. He'll settle down to a practice in oncology after he finishes his research year.
People think it's impossible for a deaf person to learn music, but Joseph is a self-taught pianist. When he was in Secondary 1, he'd stand behind Janice during her piano lessons. I never knew he was picking it up until he played one of Beethoven's pieces when he thought I wasn't home. So I asked Janice's teacher to take Joseph on as a student too, and he finished his Grade 8 examinations in the second year of junior college.
THE NEXT PHASE
Lionel is now married with two daughters, and he and his wife have another baby on the way. Joseph recently got hitched too, and in a few years, it'll be Janice's turn.
I'm proud that my sons have overturned many misconceptions about being hearing-impaired. Their achievements have lifted my own life too - I've worked as a volunteer speech therapist for deaf kids. And whenever parents of other deaf children talk to my sons and see how far they've come, they feel renewed hope that if they persevere, they can make it too. I got more than I expected in life, and I couldn't ask for more."
Get the September 2014 issue of Simply Her for more interesting stories. Simply Her, published by SPH Magazines is available at all newsstands now.

Cheryl Leong is a features writer with Simply Her magazine by SPH Magazines.

Check out more stories at Simply Her online, www.simplyher.com.sg.

Also check out the September 2014 issue for these stories:
a) Mooncake Mania We chomped through 40 snowskin and 22 baked mooncakes to find the best ones for you this Mid-Autumn Festival. BY RACHEL XIE
b) Your Health Report Card Are you as healthy as you should be? Simply Her readers took our health survey and the results might prompt you to start taking care of yourself more. BY CHERYL LEONG
c) Your Essential Insider's Beauty Guide The easiest ways to create the two-minute smoky eye, do the no-polish manicure and try this season's most wearable makeup looks. BY SIMONE WU