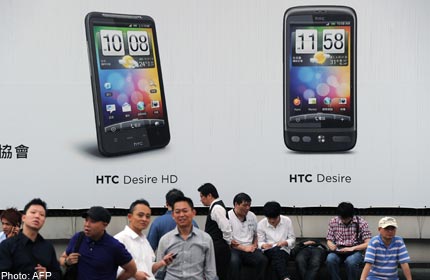 TAIPEI, Taiwan - HTC Chairwoman Cher Wang yesterday dismissed speculation that the smartphone company might be sold if it continues to make losses.
"HTC is a Taiwanese brand. We should treasure this brand and its management philosophy," said Wang, dismissing foreign investment firms' speculation that continued losses might force the vendor to seek a merger with others.
Speaking to reporters during the firm's sports meet day in Taipei, Wang said HTC has been giving conservative guidance to its outlook because it is an honest company.
HTC has forecast a dismal third quarter where the company will see its first quarterly loss since listing on the Taiwan stock market. Its share prices have been plunging since hitting a record high of more than NT$1,200 (S$50.5) two years ago. It closed at NT$143 per share on Friday.
As Wang spoke at the company event, HTC announced that it will buy back 15 million shares from the open market at prices between NT$140 and NT$290 per share beginning tomorrow. It expects to spend a maximum NT$4.35 billion for the treasury stock buyback.
The company maintained that the buyback will account for only 1.805 per cent of the company's total shares on the market, and as it will be funded by the company's cash on hand, it will not affect HTC's finances.
Despite HTC's move to shore up its stock prices, some analysts with foreign investment firms believe the firm's share prices will continue to fall to about NT$100, according to the Central News Agency.
Commenting on analysts' pessimism about HTC, Wang said these foreign investors are only looking for profits and seldom appreciate what hard work HTC has been doing in Taiwan and what achievements it really treasures.
Wang admitted that HTC has underperformed over the past two years, but it is ready to face the challenge and make a new start.
She noted that HTC actually was doing quite well in the midrange smartphone segment last year, and its latest high-end models have also seen growth and received good reviews.
HTC was previously too focused on developing high-end smartphones and ignored the importance of the midrange segment, Wang said. But it has learned the lesson, and is now devoting more efforts to roll out midrange devices.
HTC will have a very good product mix in the fourth quarter, which is expected to see a revival in business for the company, she added.