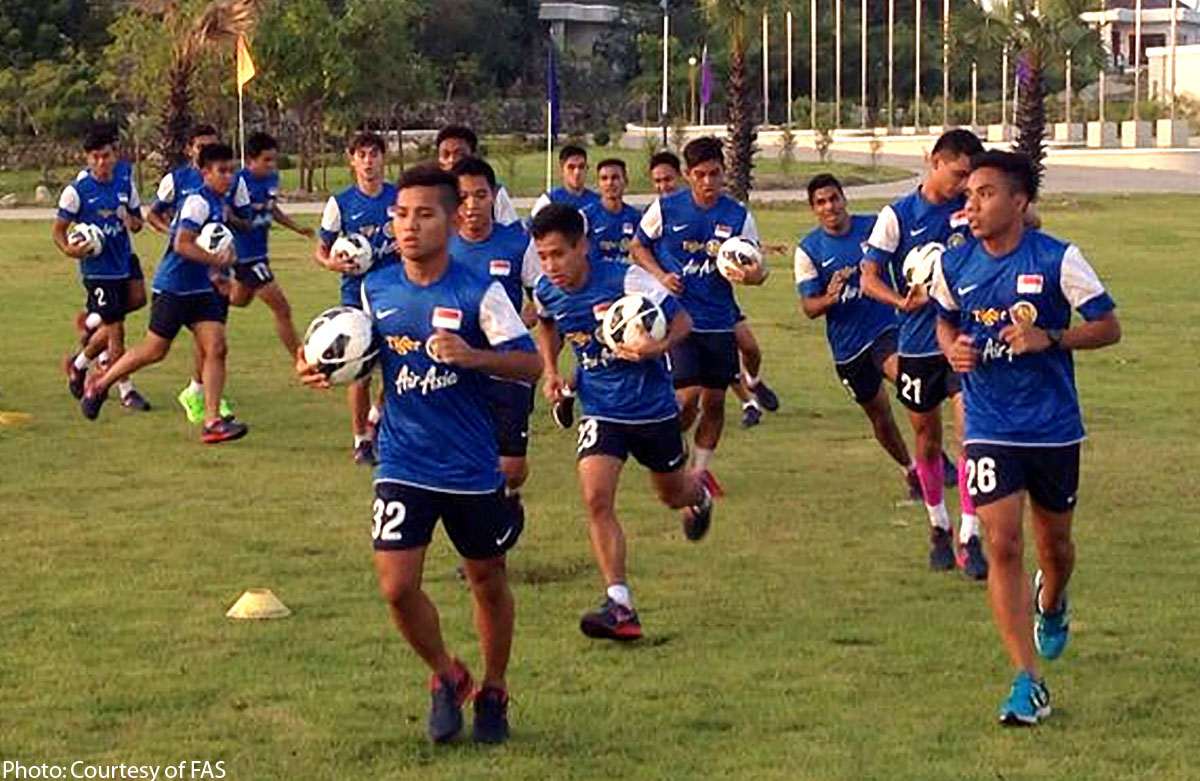 As it turns out, arriving in Myanmar six days before their opening game might not have been such a good idea for the Singapore men's Under-23 football team.
The team, who are eyeing a place in the final of this year's South-east Asia (SEA) Games, left early yesterday morning for Naypyidaw and arrived at the Hotel Royal Kumudra at around noon.
They soon found out they had no pitch to train on.
In the end, the squad of 22 players did light exercise on a grass clearing close to the hotel.
Coach Aide Iskandar and manager Azrulnizam Shah will have to find a pitch for the next two days, as the squad continue their preparations for their opening Group A clash against Laos on Sunday.
All five teams in Group A, which also includes Vietnam, Brunei and Malaysia, will train on pitches next to the Zayyarthiri Stadium - the venue for their games.
The training schedule, with the allocated time slots for each team, however, will be released only on Friday.
TARGET
When contacted yesterday, a spokesman for the Football Association of Singapore (FAS) told The New Paper: "We are seeking assistance from the team's liaison officer (from Myanmar) and are in the midst of finding a suitable location to train for the next two days."
The team have been set a target of a place in the final, and a good start on Sunday will be crucial for Aide's men.
Captain Hariss Harun says the players will be fine.
"Whether we get a proper field to train on or not, we simply have to be prepared for our first game," Hariss said yesterday.
"We left Singapore at 7am and we're all a little tired from the travelling. So the light session at the grass patch wasn't a big deal.
"But I hope the officials can settle the matter because (today) is when the real training begins.
"Right now, the important thing is for us to settle into our new surroundings. So far, the food has been okay. We haven't really had time to travel anywhere else in the city."
Singapore and Laos are the only teams who arrived at the hotel yesterday.
Winger Gabriel Quak described the hotel as a "village-like resort without a beach".
"It's a new hotel and I think we're one of the first ones to stay here. It's dusty and some areas are still under construction," said the 22-year-old.
"We just have to make do. The weather is more of a concern, because it is really very humid, more so than Singapore."
The U-23s face a hectic schedule next week, when they will play four matches in eight days.
Quak is still recovering from a hamstring tear suffered during a friendly match two weeks ago and, with Aide set to trim the squad to 20 by Saturday, he faces an anxious few days.
Even though he is not able to take part in full training, Quak is optimistic he will be ready.
"I hope to resume full training on Friday and Saturday. Whether I play (against Laos) depends on how I hold up on the two days," he said.
SINGAPORE'S GROUP A FIXTURES
Sunday: Laos
Dec 10:Vietnam
Dec 13:Brunei
Dec 15:Malaysia

Get The New Paper for more stories.