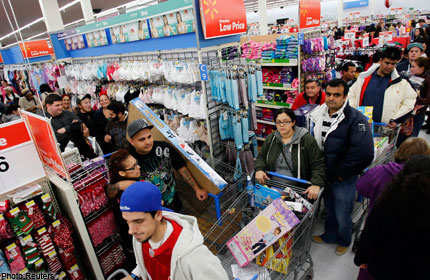 NEW DELHI - The Indian government on Tuesday promised a inquiry into the spending of millions of dollars by US supermarket chain Walmart on lobbying in Washington to ease access to India's retail sector.
Walmart, which will be able to open stores in India after recent liberalisation reforms, has said there was nothing illegal about the practice and the US State Department also stated no laws had been broken.
However, allegations of any foreign interference and lobbying that may influence government policy are a sensitive subject in India, and opposition parties jumped on the disclosures to try to embarrass the government.
"We will take all steps to unearth all the facts in this regard," Parliamentary Affairs Minister Kamal Nath told reporters after protests by lawmakers forced parliament to be adjourned.
"We have no hesitation in having an inquiry."
Walmart issued a statement flatly rejecting accusations by India's main opposition Bharatiya Janata Party that it was guilty of bribery.
"These allegations are entirely false," it said. "The expenditures are a compilation of expenses associated with US federal lobbying contacts... all in the United States.
"Our Washington office naturally had discussions with US government officials about a range of trade and investment issues."
Walmart in a disclosure report to the US Senate has said it spent US$25 million (S$30.5 million) on lobbying, including issues related to "enhanced market access for investment in India".
The political ruckus in New Delhi came the week after the Congress-led government won two parliamentary votes for its policy to allow in foreign supermarkets as part of its push to revive the faltering economy.
Opposition parties hope to tap into fears that the arrival of chains such as Walmart, Tesco and Carrefour will drive millions of small independent shops out of business.