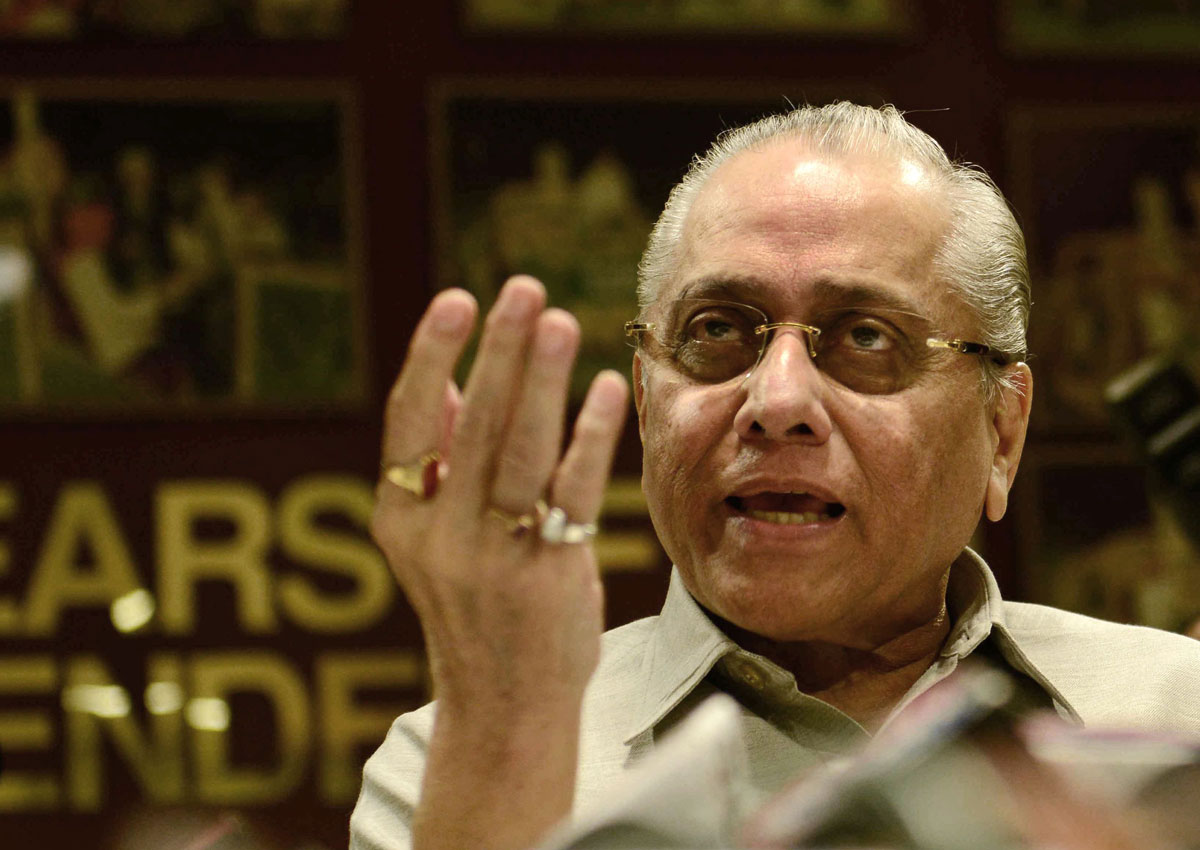 Jagmohan Dalmiya wore safari suits, large spectacles and always had his hair slicked back. In the cliche-ridden world of Hindi cinema, that was what the bad industrialist wore. But Mr Dalmiya loved Indian cricket and Indian cricketers deeply. That latter combination wasn't as prevalent as you'd like to believe it should be.
And he was tough. He read the fine print in contracts and exploited it for the benefit of Indian cricket and its finances. It meant he was always prepared and, while I was never in any negotiating room with him, those who were often talked about being befuddled by something that came from left field. The marketing head of one of India's biggest sponsors once told me that you had to fight tooth and nail with him on contracts but, she added with a smile, once you did that, he respected you!
Much has been written about his role in the 1987 World Cup. India had no choice but to get it right given the bad blood that had accompanied its exit from England that believed it had a right to host it every time. The India of 1987 was incomparable to the India of 2015. Hotels were limited and sometimes basic. There was only one airline and it was both arrogant and inefficient. And there were people waiting for the tournament to fail. It didn't. It was a high point in the running of Indian cricket.
But his finest hour came in 1993 when he took on the establishment over the awarding of television rights. A year and a half earlier, South Africa had come to India as part of a dramatic re-entry into international cricket. Ali Bacher of what was then the newly formed United Cricket Board of South Africa (UCBSA), asked Mr Dalmiya how much India wanted in terms of television rights. Remember, this was only 24 years ago but the Board of Control for Cricket in India (BCCI) wasn't aware that it could be paid for television rights. Unaware of what constituted a good amount, it asked the UCBSA to make an offer. What came in reply was several times higher than they would have been happy with. Out of this ignorance came a plan to revolutionise the finances of Indian cricket. And in Mr Inderjit Bindra, Mr Dalmiya found a soulmate and a fighter.
It was also the time that public service broadcaster Doordarshan demanded a production fee from the BCCI on the basis that if they didn't cover international matches, there would be no revenue from the advertising boards around the boundary. Mr Dalmiya and Mr Bindra sold the rights instead to TWI, the television arm of the giant sports marketing firm IMG. It set off a debate and a major legal battle on who owned the airwaves. It was ugly on the ground but the duo stuck to their guns.
As late as 1994, there were two crews flying around India. Two sets of cameramen for every position, two sets of commentators, two sets of equipment and two Russian-made Ilyushin aircraft flying everyone around the country. It was the tenacity of Mr Dalmiya and Mr Bindra, and a landmark judgment, that opened the airwaves to all and the rights to Indian cricket began to be sold for amounts that would have been considered unthinkable. Those two unlocked the value of Indian cricket.
In time to come, Mr Dalmiya would revolutionise the earning capacity of the International Cricket Council. The old establishment could never come to terms with his direct, often blunt, style of functioning, but he was too sharp for them. I don't think he ever received credit for what he did there and if there was any at all, it was grudgingly accorded.
Part of it could be because he played a political masterstroke in getting the 1996 World Cup back to India using the votes that the associate members had. I believe that while 1983 revolutionised Indian cricket and 1987 allowed Indians to see the best in the world, it was 1996 that changed the commercial landscape of Indian cricket.
I was in Kolkata for the opening ceremony when it became clear that Australia and the West Indies wouldn't play in Sri Lanka. A couple of quick meetings later, another masterstroke appeared.
Mr Dalmiya announced that a combined Indian and Pakistani team would play in Sri Lanka to show solidarity and to prove that it was safe to play there. Not even the absence of a passport for one of the players could come in the way of that visit and that strong message. It was another outstanding World Cup.
Sadly, Mr Dalmiya and Mr Bindra were to fall out rather spectacularly some years later. Both loved Indian cricket dearly and the Eden Gardens and a new stadium in Mohali were the new homes of Indian cricket for a while. Together they were a formidable unit, capable of thinking big and executing big. Much has happened since but I have little doubt that Mr Bindra will recall those days and that friendship with some pride.
Mr Dalmiya's political acumen was to win him most elections he contested and it would, in the late evening of his life, bring him back as a consensus candidate among all those that had, at some time, been his bitter opponents. He was that kind of person!
The relationship between player and administrator is, at the best of times, turbulent. On Mr Dalmiya's passing, many players said in their messages that he was a player's man. No administrator can ask for a better compliment. He might have been brusque, politically savvy and often ruthless but he lifted Indian cricket. And the current generation of players must be thankful for that.
tabla@sph.com.sg

Get a copy of tabla! for more stories.