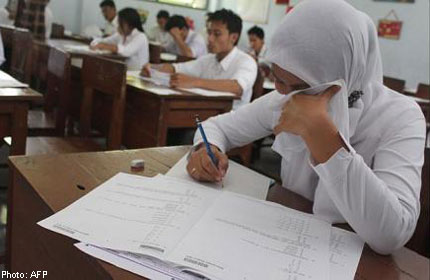 More than 800,000 Indonesians are currently studying the Japanese language, mainly due to the popularity of Japanese pop culture, anime, manga and mouth-watering Japanese cuisine, according to the worldwide "Survey on Japanese -Language Education Abroad" conducted recently by the Japan Foundation.
According to the survey, which is conducted every three years, the total number of people learning Japanese overseas surged to 3,984,538 in 2012, a 9.1 per cent increase from the 3,651,232 in 2009. China topped the list with 1,046,490 learners, a 26.5 per cent surge from 827,171 learners in 2009.
Indonesia ranked number two in the world with 872, 406 learners in 2012, an increase of 21.8 per cent from the 716,353 learners in 2009. Indonesia also pushed Korea, whose learners of Japanese declined from 964,014 in 2009 to 840,187 in 2012, into third position.
"Indonesia […] continued to show a distinct rise, especially in the number of high school students. Indonesia and other Southeast Asian countries such as Thailand, the Philippines and Malaysia have designated Japanese as an elective foreign language in secondary education," the Japan Foundation said in a press release last week.
According to Indonesia's Ministry of Education and Culture, there are currently around 8 million senior high school students in the country. That means more than 10 per cent of Indonesian senior high school students are learning Japanese in their schools.
Over the years, there has also been a major shift among Indonesians learning Japanese.
"In the 1980s adults such as company employees or university students used to study the Japanese language. It used to be a big challenge to teach Japanese in those days. But now more and more young Indonesians are learning Japanese. It's easy to teach Japanese as these people are really motivated to learn Japanese," Fukuda Kentaro, a native Japanese-language teacher who teaches at the Ikuzo Language Center in Jakarta, told The Jakarta Post on Sunday by telephone.
Ikuzo, which has some 300 students from various schools and companies, teaches the Japanese language and prepares its students for the Japanese Language Proficiency Test (JLPT), which is conducted every year in eight major cities in Indonesia and worldwide.
Why are young Indonesians showing such an interest in the Japanese language?
"I'm learning Japanese because ever since I was a kid I really liked Japanese culture and artwork. Actually I started to learn Japanese because I wanted to watch anime and read original Japanese manga without any translations. But now I'm aiming to get a scholarship to study in Japan so I'm trying my best in studying Japanese," Carine Steven Nagara, a Grade X student at Taman Rama School in Denpasar, told the Post in an email interview.
Carine spends roughly Rp 900,000 (US$90) on Japanese books and language lessons per month. She has also taken up Japanese as a subject at her school.
"I usually spend two hours each day to study or read something that is related to Japan," Carine said.
Another student from Jakarta also expressed a similar view.
"I love Japan, and I want to learn more about their people and culture. By learning their language first I can easily communicate with Japanese people and understand," Floren Anastasia, a 15-year-old student at Bina Bangsa School in Jakarta, said.
Like Carine, Floren spends some Rp 7 million on Japanese lessons, food, clothes and things related to Japanese culture per year. She also wants to study in Japan in the future.
Many foreign cultures are making inroads into Indonesian society. Countries like France, Italy, Russia, India, Japan and Korea have already opened their cultural centers in Indonesia. The Japanese and Korean cultures have become extremely popular among young Indonesians, thanks to K-Pop and J-Pop.
In the case of Japanese culture, it is like an addiction. The kids start watching Japanese cartoons and reading comics at a young age. Later on, they develop a taste for Japanese food, books, clothes, music and other aspects of culture.
"Our two kids are crazy about Japanese food, We as parents, like it or not, must eat at Japanese restaurants at least once a week. Japanese food is not cheap, you know," Indriartini, a housewife complained.