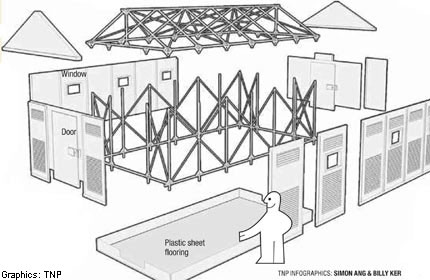 IKEA, a household brand synonymous with affordable DIY furniture, is launching an innovative new product.
But the model will not be featured in its latest furniture catalogue.
Working with the United Nations High Commissioner for Refugees (UNHCR), an organisation that helps look after the welfare of refugees worldwide, Ikea Foundation (the Swedish furniture maker's philanthropic branch) has designed a flatpack shelter that can be rapidly assembled in crisis areas.
Made up of canvas, ropes and poles, temporary refugee shelters have not evolved much over the years. They are hot during the summer and cold in winter.
But the new design is sturdy and durable, and comes with features like solar panels and USB ports to provide electricity.
The Ikea Foundation has reportedly invested US$4.8 million (S$6 million) towards developing the new shelters.
Previously tested in Ethiopia and at the Domiz refugee camp on the Iraq-Syria border, 50 shelter prototypes have been sent to refugee camps and areas of crisis in Syria. 

Get The New Paper for more stories.