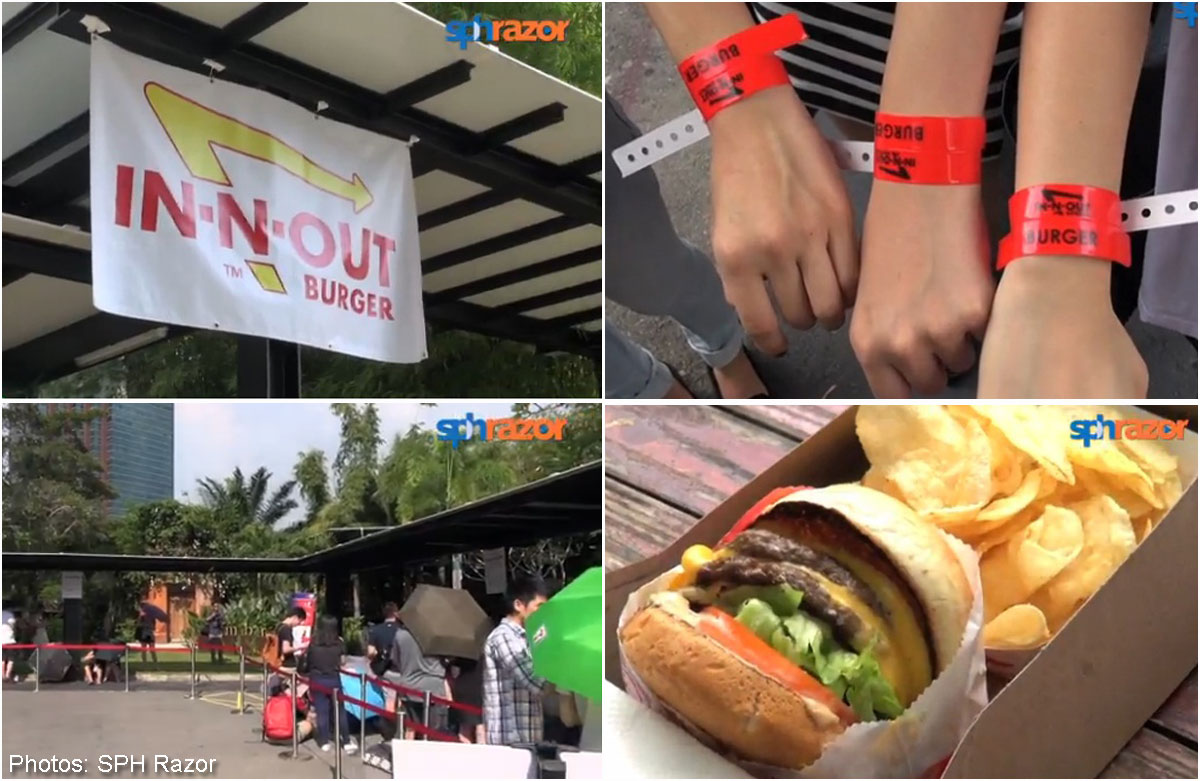 They got up bright and early. Some of them started queuing from as early as 7.15am.
So what exactly were these people waiting in line for?
Braving the scorching sun and the pouring rain, the grand prize at the end of a gruelling wait of about four hours was an In-N-Out burger.
The American burger chain opened a pop-up store for the second time here on Nov 12 at Timbre@Gillman, from 11am to 3pm.
For $7, you got to choose from three meal options: A Protein Style burger, an Animal Style burger and a Double-Double burger.
When SPH Razor visited the store, they did not get fries but received a small packet of potato chips instead. They also got a soda.
Customers could choose from either Coke, Diet Coke, Sprite or plain water for their beverage.
However, SPH Razor added that waiting for an In-N-Out burger was not exactly "in and out".
Service was a little slow on the opening day. The waiting time for a burger was about 45 minutes at the minimum, excluding the queuing time, which depended on how early one arrived.
The staff at In-N-Out burger started giving customers wrist bands at about 9am, which allowed customers to buy one burger per person, SPH Razor reported.
The last time In-N-Out burger was in Singapore in 2012, all 300 wrist bands were snapped up in five minutes.
Now the question is: Do the burgers live up to the hype?
According to a member of the public interviewed by SPH Razor, the meat was "nice and tender" and the "sauce mixed everything together into a beautiful mess".
Another commented with a resounding "yes" and that he missed the flavour of it from when he last tasted it in the US. Yet another said it was worth the wait.
Despite the overwhelming turnout and rave reviews, an In-N-Out burger spokesman told The Straits Times that the chain does not have any immediate plans on opening permanent restaurants in Singapore.
When customers were asked if they would visit the burger chain if it pops up in Singapore again, opinions were divided.
One told SPH Razor that he would be here "as early" while another said that he would bring his friends along with him the next time.
However, another customer said that although he would come back again, he would not queue up so early the next time.
But at least one person said that he would not return in future as the wait was too long for "just a burger and a set meal".