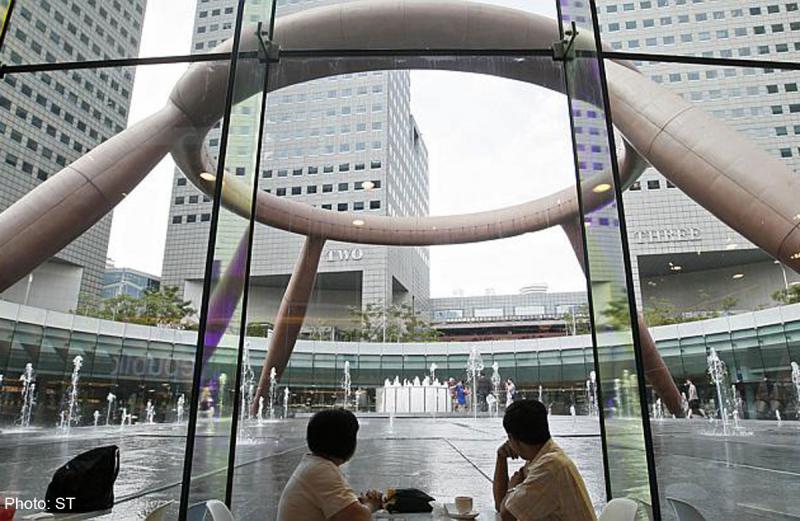 Real estate investment trusts (Reits), offering regular healthy payouts, are popular among investors in this era of woefully low bank deposit interest rates.
But a Monetary Authority of Singapore (MAS) report on Tuesday warned that a rise in rates will hit Reits - and lower their dividends.
Reits own a portfolio of property and pay investors regular dividends out of their income - the property rentals received.
The central bank's financial stability review noted that Reits need to distribute 90 per cent of any taxable income to unit holders.
So these vehicles have limited retained earnings and are dependent on capital markets and banks to meet their financing needs.
The MAS estimated that the ease with which Singapore-listed Reits would be able to pay their interest bills would fall markedly once interest rates headed north.
The median "interest cover" for Singapore-listed Reits would fall from 6.8 to 3.5 times if interest rates were to rise by 3 percentage points, the MAS estimated.
The interest cover is a ratio used to determine how easily a company can pay interest on its debt - the higher the ratio, the easier the interest can be paid.
The MAS also warned that higher interest rates would likely increase interest expenses and lead to lower dividend payouts. Reits might then appeal less to investors, capping their ability to raise more cash from capital markets.
On the bright side, the debt maturity profile of Reits is better now than before the global financial crisis in 2008 and 2009.
A smaller proportion of borrowings by Reits are due for refinancing in the next two years.
The MAS also issued a warning over the larger corporate sector.
"If interest rates were to rise from their currently low levels, firms' debt-servicing burdens could increase significantly."
Among companies listed here, there has been increased borrowings from hotels and restaurants, and construction, manufacturing, property and transport, storage and communication companies.
The MAS said current low interest rates could rise rapidly once the US Federal Reserve starts cutting its bond purchases. This massive programme of buying US$85 billion (S$106.8 billion) of assets a month has meant easy money has flowed around the globe - keeping interest rates low.
As other advanced economies achieve more broad-based growth recoveries, these countries may also start to slow their bond-purchase programmes or raise rates.
A sharp rate rise would leave the most indebted firms exposed to heavier debt-servicing burdens, said the MAS.
"Firms should consider the use of leverage carefully, and exercise financial prudence alongside restructuring efforts for more sustainable long-term growth."
Many Reits have prepared themselves for an eventual end to low interest rates, borrowing more in good times and locking in longer terms to cut the need to refinance in the next year or two.
"We've been proactive and prudent in our capital management," said Mr Yeo See Kiat, chief executive of ARA Trust Management (Suntec), which manages Suntec Reit. The trust has put in place a total of $1.3 billion of debt financing and re-financing over the last nine months.
"Rising rates will eventually come but we are well-positioned for any rise in interest rates and our financing costs will be well-managed by us," he said.
He noted that the average cost of financing for Suntec Reit - the amount it paid for interest, bond coupons and the like - was only 2.67 per cent in the third quarter, which is "competitive".
The MAS also touched on the domestic bond market.
Bond issuance by Singapore-incorporated companies reached a record US$32.8 billion in 2012, but has slowed down this year.
Issuance in the first 10 months of the year was US$14.1 billion, less than half the US$31.2 billion in the same period last year.
The bond issuances last year were mostly of investment grade, denominated in Singapore or US dollars, and had maturity periods of above five years - which mitigated credit risks, the MAS said.
But the risks have increased this year, with a larger share of the bonds issued being unrated or below investment grade and having shorter maturities.
jonkwok@sph.com.sg

Get a copy of The Straits Times or go to straitstimes.com for more stories.