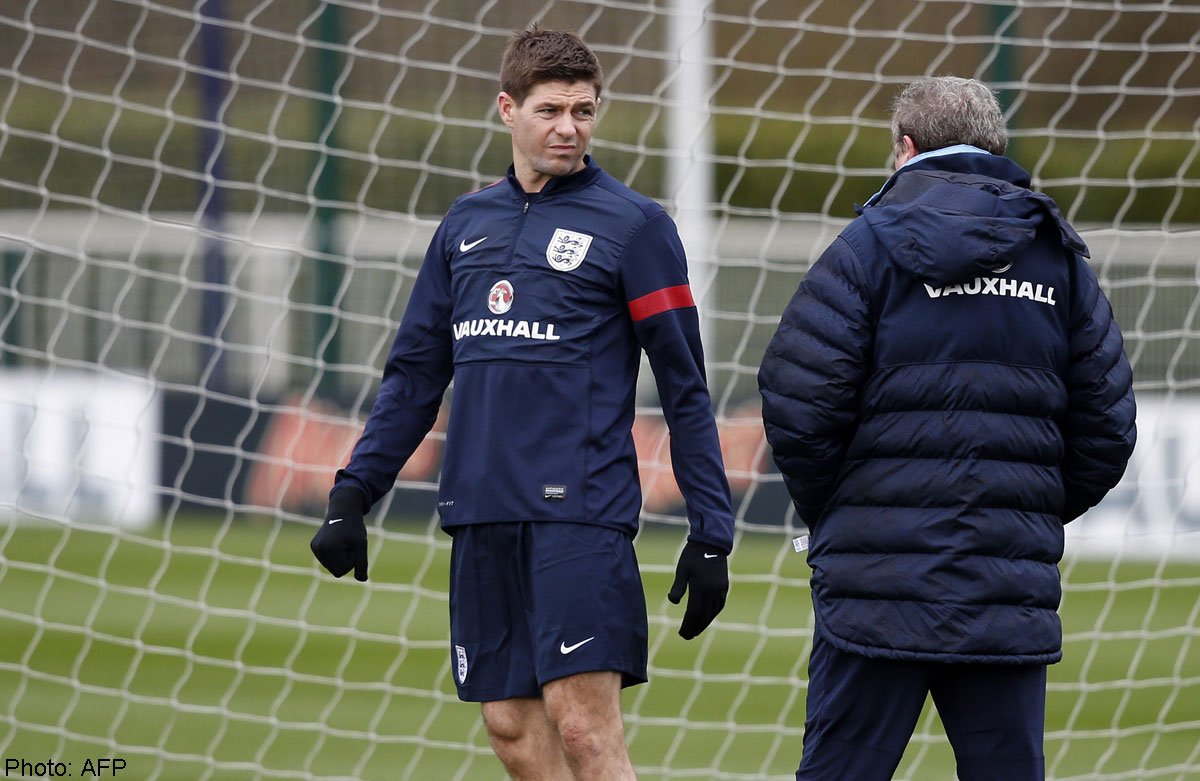 ENGLAND v DENMARK
Liverpool represent Roy Hodgson's greatest failure as a club coach.
With a bittersweet irony, the Reds now offer his greatest shot at success as England manager.
The blot on his copybook is suddenly a silver lining.
The Englishman owes his World Cup potential to a Northern Irishman.
Brendan Rodgers couldn't be more useful to Hodgson if he poured the tea and made the sandwiches at the English Football Association.
Liverpool's revolutionary manager is cultivating the core of the England side.
Daniel Sturridge, Raheem Sterling and Jordan Henderson are an attacking triumvirate currently terrifying opponents in the EPL.
Throw in Lion King Steven Gerrard and England suddenly have enough beasts ready to bear Hodgson's burden.
On Thursday morning (Singapore time), the Danes will be welcomed to Wembley. Perhaps a sign should say "This Is Anfield".
When Denmark's coach meanders along Wembley Way, they will be greeted by the imperious statute of Bobby Moore.
The World Cup-winning skipper offers a timely history lesson for Hodgson. Club foundations can offer the sturdiest of platforms for the international stage.
Just as West Ham's manager Ron Greenwood inadvertently paved the way for Alf Ramsey to lead his Lions to that solitary glory in 1966, Rodgers is doing likewise for England.
FAMED TRIO
Learning from the Magical Magyars of the late 1950s, Greenwood encouraged his famed trio of Geoff Hurst, Martin Peters and Moore to drop balls into space with teammates anticipating the cross and running ahead of markers to score (the philosophy is encapsulated by Moore's cross to Hurst for England's opener in the World Cup Final).
Ramsey was wise to build on Greenwood's work, supplementing the visionary club coaching with Bobby Charlton's artistry, Nobby Stiles' defensive ankle-chomping and Alan Ball's extra lung.
Hodgson finds himself in an equally enviable position.
Swop Luis Suarez for Wayne Rooney and England are instantly blessed with the English Premier League's most devastating, practically telepathic, scoring machine.
For an England manager dealing with a domestic league dependent upon foreign players, this is an unheard of luxury since perhaps Sven-Goran Erikssen could call upon Manchester United's Class of '92 graduates at the 2002 World Cup.
But United's England squad members back then were part of a multi-national attacking force at Old Trafford.
The Liverpool men in the current squad ARE the attacking force (minus Suarez).
Sturridge, Sterling, Henderson and Gerrard's roles and positions are as clearly defined at Anfield as they are non-transferable.
Henderson stokes the fires of Sturridge and Sterling. Gerrard supplies the fuel.
The England skipper's reinvention as a defensive midfielder, the reference point at the bottom of the diamond, a unique libero playing in front of his back four - call it whatever you like - has added years to his career, thanks to Rodgers' foresight.
A foresight not usually associated with the manager in the England dugout.
Time for experimenting is fast running out for Hodgson.
Denmark's visit to Wembley offers him a rare chance to temporarily dispense with his innate conservatism and his stubborn loyalty to 4-4-2 and go a different way - Rodgers' way.
He has suggested Gerrard will be rested for the Denmark friendly, wondering aloud what he can possibly learn from fielding an England captain with 108 caps to his name.
Well, nothing - if he insists on plonking Gerrard in the middle of a rigid line of four.
ATTACKING THREAT
But if the midfielder is permitted the chance to replicate his club performances for his country, patrolling the space ahead of his own penalty box before releasing either Henderson, Sterling or Sturridge, then England offer a legitimate attacking threat.
Hodgson is not opposed to the idea of plugging Sturridge into the connections that have dramatically transformed the Liverpool striker's fortunes.
He has acknowledged Bayern Munich's influence on Germany, Barcelona's imprint on Spain's tiki-taka and the role of Juve's sculptors in shaping Italy's style.
But those influences were developed over a number of years, through longstanding relationships between domestic clubs and national squads that the English Premier League just doesn't share.
Hodgson has just got lucky. Rodgers has established an invigorating, overlapping, inter-passing, instinctive scoring operation that happens to be predominately English.
If he's brave enough, the England manager will exploit this fortuitous development against Denmark. Hodgson might then realise that the Three Lions' most impressive World Cup master plan is being drafted not at Wembley, but at Anfield.
npsports@sph.com.sg

Get The New Paper for more stories.