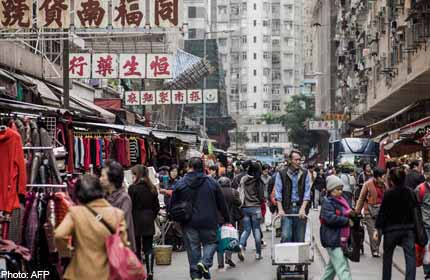 BRUNEI-MUARA - Investing in Hong Kong can provide Bruneian companies with a stepping stone to penetrate the Chinese market, the chairman of the Brunei Darussalam International Chamber of Commerce and Industry (BDICCI) said yesterday.
Due to the nature of BDICCI members, which mainly consist of international companies, local companies and those with foreign partners, "they will assess whether they want to set up in Hong Kong in the same manner that they have set up in Brunei," the local trade body's chairman Shazali Sulaiman said yesterday.
"As this could be a stepping stone into the Chinese market, the investor can also raise loans and use the Renminbi as their functional currency for business."
During a meeting which took place on Jan 16 between the BDICCI and InvestHK, Shazali said members of the local trade body gained a better understanding of how InvestHK can assist prospective investors to set up in Hong Kong.
"The organisation (InvestHK) helps in facilitating the establishment and expansion of businesses present in Hong Kong and as chairman of the BDICCI, I will pass on relevant information to our members," said Shazali.
"This will enable the members to make their own decisions about whether they want to invest in Hong Kong, set up a business in Hong Kong, or maybe just explore the market there before making the decision to invest."
Tax rates in Hong Kong are low compared to other countries in the region, said Shazali, adding that companies will not face much difficulty in repatriating profits from Hong Kong to Brunei.
Asked on challenges which prospective investors could possibly face, Shazali said "challenges are plentiful for any business looking to set up in another country. Companies will need to understand the laws and regulations of the country, the market that they seek to enter, the labour and supply market and what financing facilities are available to finance the operations."
A SWOT (strength, weakness, opportunity and threats) analysis is commonly done during the early stages of a business venture, he said. Such analysis typically enables investors to understand their own businesses better and help decide whether setting up shop elsewhere would be viable and feasible.
To overcome the challenges, Shazali said that the companies will need to ensure that its management has the required skills and knowledge of both the Hong Kong and Chinese markets. "They will need to enhance their working capital management and entrepreneurial skills."
Reliable local partners and contacts in Hong Kong are also important in order to ease business development, he said.
Brunei Darussalam has a Double Tax Treaty Agreement with the government of Hong Kong. Such agreements typically reduce the tax burden in each country, particularly a reduced level of withholding tax deductions on certain payments.
InvestHK is a government department responsible for foreign direct investment, supporting overseas, mainland China and Taiwanese businesses to set up and expand in Hong Kong.