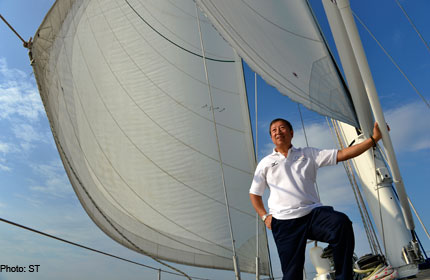 Over a period of nearly four months, he has chalked up air miles many would have thought impossible.
He has also walked a lot. And run a lot.
And talked a lot.
At meeting after meeting, at events and interviews all over the world, over the radio, TV, in newspapers, magazines and in cyberspace, Ng Ser Miang has discussed his ideas of how he would shape the world of sport.
Remarkably, the Singaporean, one of six men in the race to succeed Jacques Rogge as president of the International Olympic Committee (IOC), says he's not tired.
I spoke to him yesterday soon after the IOC entrusted Tokyo with the 2020 Olympic Games.
It was 11pm Saturday in Buenos Aires, there were about 2½ days left before the new IOC president would be revealed, and the hottest name in Singapore sport over the last couple of weeks sounded fresh and strong.
The 64-year-old, who has been in the Argentine capital for around a week for the 125th IOC Session, said: "We've had executive board meetings over four days now and they've been heavy days.
"There's been lots of meetings and always, the agenda of the day takes over.
"It's been long days," Ng admitted.
He officially threw his hat in the ring in May, and today, the IOC vice-president will make his final push to convince 103 of his colleagues that he is the right man to lead the movement after Rogge.
So will the other five candidates, before the winner is announced tomorrow.
Unlikely candidate
His is the most unlikely of candidacies. Yet Ng is regarded as one of the favourites to become the next IOC chief.
It is astonishing.
Singapore continues to struggle to comprehend the power of sport.
Its athletes have been mostly unremarkable on the world stage, yet, tomorrow night, a Singaporean could become the most powerful leader in sport, alongside the president of Fifa.
No wonder it has been a heady period in Ng's life.
"Yes, it's been really exciting and I've enjoyed it," he said. "There have been lots of travelling and plenty of hard work, but it's been truly enjoyable.
"While I have met with (IOC) members and discussed issues and ideas and the challenges, I've also learnt a lot from them."
Much has been made of the fact that Ng could become the first Asian to lead the IOC.
With the continent booming, many feel it is Asia's time.
Ng agrees.
He pointed to Tokyo's capture of the 2020 Olympics, two years after the South Korean city of Pyeongchang hosts the 2018 Winter Olympics.
He reiterated the fact that the first two Youth Olympic Games are held in Asia (Singapore in 2010 and Nanjing next year).
It could be a good omen for him, I suggested.
Ng laughed it off, but said: "The time has come for Asia. Two-thirds of the world's population live in Asia. Asia is rising."
He sounded a warning, though, when he added: "The IOC movement has become more universal, but members are looking for more than something symbolic.
"The key is what sort of president are they looking for." The cornerstone of his manifesto is youth. He vows to build 80 Olympic Youth Development Centres around the world if he becomes IOC president.
He believes that if the Olympic ideals are instilled in the young, the scourge of doping and match-fixing will be whittled away.
And they will dare to chase their dreams.
He said: "Definitely, the topic of youth is one of my main themes. I believe in it.
"It is the core mission of the Movement and it also has been a topic of quite intense discussion (here)."
Indeed.
The other five candidates quickly talked youth after Ng revealed his manifesto. But Ng owns a label none of them will possess.
He was chairman of the organising committee of the inaugural Youth Olympic Games which Singapore pulled off successfully in 2010.
About 11.30pm tomorrow, Ng will find out if his strategy has paid off.
First, though, he will once again get busy and make his final pitch.
"To be IOC president is to be a leader. You provide leadership and strategic input.
"It is an incredible responsibility. You have huge resources and influence. You are in a position to make things happen and to push your agenda.
"I will have time (today and tomorrow) to meet and talk to colleagues," he said. "I'm happy with what I've done and I look forward to the next two days, and the vote."

Get The New Paper for more stories.