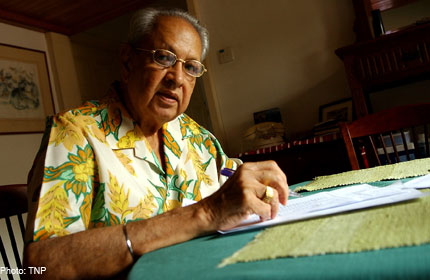 WHY?
Backing of incumbent Jacques Rogge
Backing of Asian candidates
Close links with China
Good contacts
Experience and history of leadership
The man who submitted the nomination of Ng Ser Miang to be an International Olympic Committee (IOC) member in the mid-90s is backing his fellow-Singaporean to be the next IOC president.
S S Dhillon, secretary-general of the Singapore National Olympic Council from 1971 to 1996, believes that Ng will win the vote in Buenos Aires on Tuesday.
Dhillon, 82, who has known Ng for more than 40 years, dissected the voting issue by running through the names of the 103 members who would vote.
Then, sieving through the list with a focus on continental leaning, he placed Ng above the other five candidates.
Rivalling the 64-year-old Ng are Germany's Thomas Bach, 59, Puerto Rico's Richard Carrion, 60, Taiwan's Wu Ching-kuo, 66, Ukraine's Sergei Bubka, 49, and Switzerland's Denis Oswald, 67.
Without going into the negatives of the other candidates and ignoring the allegations that Bach had solicited a lobby from a Kuwaiti official (as against the IOC voting rules), Dhillon focused on the positives going for Ng.
Then in a no-holds-barred assertion, he said: "He has the backing of the incumbent Jacques Rogge. Ser Miang has known the Belgian (who competed in the 1968, 1972 and 1976 Olympics) from their sailing days.
"And they got closer after Ser Miang became an IOC member and then vice-president.
"And, of course, when Rogge visited Singapore a number of times, especially during the Youth Olympic Games in 2010.
"Rogge saw what Ser Miang could do. This healthy partnership should translate into votes.
"Second, over the last few years, Ser Miang has been fostering a lot of friendships and trust through his travels for business, as an ambassador and as an IOC member, often putting through good advice and suggestions for the betterment of sport.
"He has done all this in a calm yet convincing manner. And he has never shirked responsibility but always put in hard work.
"I would label him a Graceful Swan, so elegant on the outside, but what goes unnoticed is the hard work put in by the swan's feet beneath water. "Third, he is a man of many deeds, as a sportsman, a diplomat, a businessman, administrator, a Nominated Member of Parliament.
"He has won many accolades in these areas, and they stand in good stead for a leadership role in the IOC.
"Also, Ser Miang has close links with China, a world leader in sport.
"Here, he had a quiet hand in bringing some of the foreign talent, especially in table tennis, from China.
"Fourth, he should get the majority of the Asian votes; I would say 18 out of 20. Then Australasia and Africa should give him strong support.
"He can also count on some Caribbean and South American votes.
"A few more from Europe and the United States would put him in the forefront."
Dhillon, who has travelled with Ng on many trips, lauds his strong qualities as a sports leader.
"I watched him closely when he was Singapore Yachting Association president, and he helmed a team that took sailing from mediocrity to a being a core sport," added Dhillon.
To cap it all, Dhillon said Ng is a "David", adding that "he has the guts and gumption to take on any Goliath".
"It is this never-say-die attitude - backed by a slew of personal strengths - that has brought him many successes and convinced him that he is ready to take on the world."

Get The New Paper for more stories.