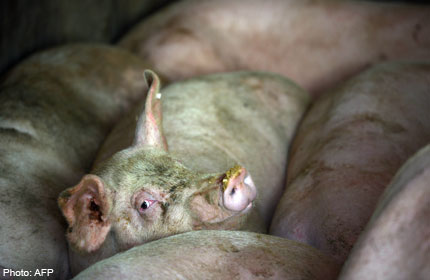 UNITED STATES - An Iowa animal pharmaceutical company has shipped about 770,000 doses of a new vaccine that treats a deadly swine virus first detected in US herds this year and has spread to 20 states, a company official said in an interview.
Harrisvaccines, based in Ames, Iowa, developed the vaccine called "iPED" in August to fight Porcine Epidemic Diarrhea virus, or PEDv. It is one of the first US companies to develop a vaccine to fight the disease.
"As soon as we heard of the confirmed cases we started developing the vaccine," said Joel Harris, Harrisvaccines' head of sales and marketing. "The vaccine has been used in multiple states, including Iowa and North Carolina, but it is too early to know how effective the vaccine is."
Iowa is the top US hog state and North Carolina is second.
The virus - first seen in the United State this spring - is not harmful to humans but causes diarrhoea, vomiting and dehydration in hogs and can result in death, particularly in piglets whose weak immune system is less likely able to fight off the virus.
"The vaccine is predominately being used in herds that are already affected. They have either already been exposed to the virus or it is used when bringing in animals where the virus is already present," Harris said.
The company said it is working with the US Department of Agriculture to obtain a conditional license to more widely market and sell the vaccine. The vaccine is currently available through a veterinarian prescription basis only, Harris said.
The USDA can grant a company a conditional license for animal vaccines in special circumstances including, emergency situations or for a limited market distribution, said Lyndsay Cole, spokesperson for the USDA Animal and Plant Health Inspection Service.
"The hope is to have this conditional USDA approval as soon as possible and then it would be able to be more widely distributed. We are looking to get approved by early to mid 2014," Harris said.
Vaccines have been used to fight PEDv in Asia and Europe but those vaccines are not approved for use in the United States due to concerns over their effectiveness, animal health officials said.
According to USDA data, 1,645 US premises have reported PEDv cases, since the disease was first recognised in April. Each premise could represent thousands of infected animals.
The National Pork Board has issued strict biosecurity guidelines to hog producers, live animal transporters, and manure handlers to inhibit the spread and transmission of the virus.
"Vaccines are a tool and it won't override general biosecurity practices. Biosecurity is still key," said David Schmitt, state veterinarian in Iowa.