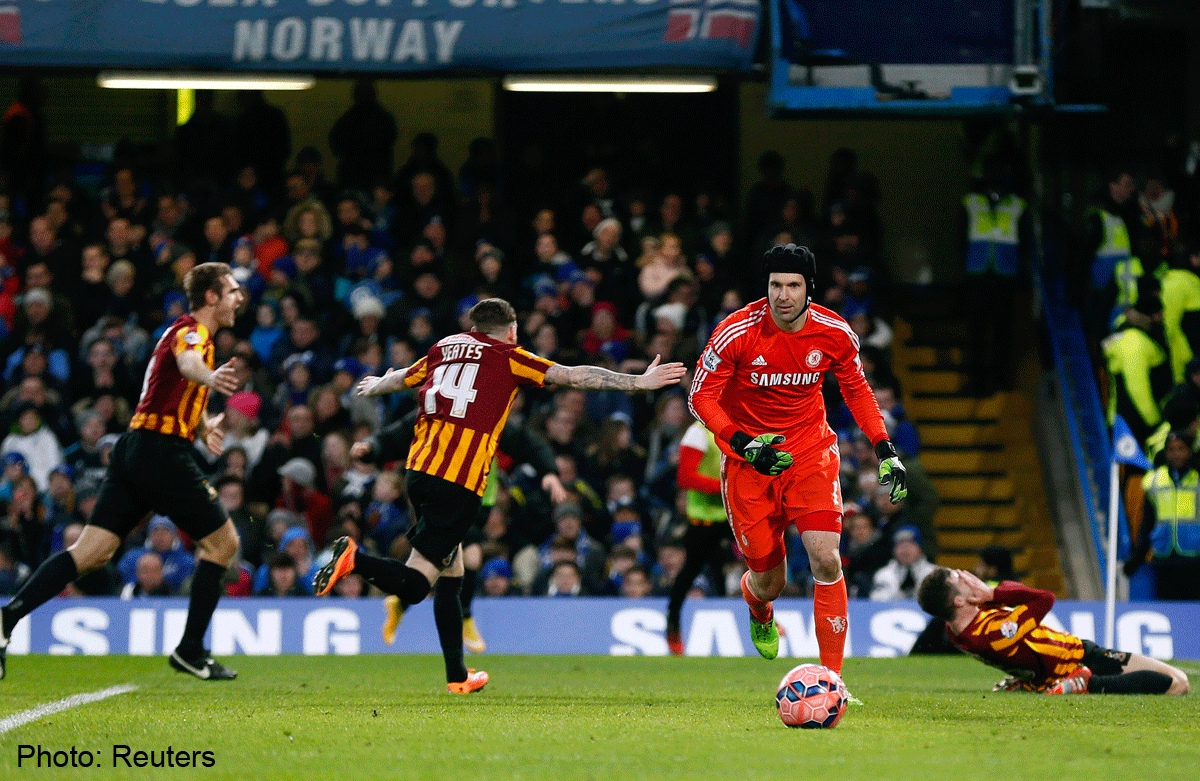 The only chance that King Louis van Gaal has left of impressing anyone that he has grasped the essence of English football is if his Manchester United win the FA Cup.
He gets that it is a competition steeped in history.
He knows that, for all the damage done in the past by Premier League giants treating the old Cup with disdain by fielding the reserves, there is something of a revival of Cup-tie "magic" in the air.
If Bradford City can hammer Chelsea at Stamford Bridge, who can rule out United falling at Preston North End tomorrow?
There are two leagues and 43 places between Preston and Manchester United. There is such a discrepancy in financial terms that the likes of Radamel Falcao can play or be on the bench, and still draw a salary greater than the sum of Preston's parts.
But so it was against Cambridge and Yeovil, and those teams had the illustrious Red Devils chasing their tails before winning unimpressively.
"The cameras will be at Preston for a reason," says Kevin Davies. "Cambridge and Yeovil gave them problems, and on our day we are capable of giving them problems. It's a big chance and we know it."
Kevin Davies? Yep, that Kevin Davies, the ageing warhorse centre forward of Southampton, Blackburn Rovers and Bolton Wanderers. The archetypal olde English battling No. 9 who will be quite happy to bundle David de Gea, Marcos Rojo or any of that red line of defence into their own net with the ball.
There is not too much that is secret or sophisticated about the way that Davies, or his equally physical sidekick Joe Garner play football.
They give and take the bruises in pursuit of goals and glory.
Alex Ferguson, who will be at Preston's Deepdale ground, was that type of centre-forward himself. "Elbows Alex", they called him in his playing days in Scotland.
But Fergie saw red the night that Davies went for a 50-50 ball four years ago with a tackle that put United's Tom Cleverley out of the game for four weeks - a fair tackle in a contact sport according to Davies, although he admits he still gets dodgy tweets from outraged Old Trafford fans.
Anger dies hard in football, not that it bothers Davies who turns 38 next month but has no intention of calling it a day in professional sport.
Seething anger also still remains among some North End fans who blamed Alex Ferguson for their club dropping to the third tier of English football, also four years back.
Fergie had shown his wrath at Preston firing his son Darren as manager, and in retaliation instantly recalled two United players who had been on loan at North End. That spiteful act has its repercussion tomorrow when local police have beefed up the security around the stadium.
In the case of these two clubs, history goes all the way back to 1890 when Preston North End thrashed Newton Heath, as United was initially named. That was the first of six meetings in the FA Cup, and the last was in 1972 when United - fielding a forward trio of George Best, Denis Law and Bobby Charlton - won 2-0 at Deepdale.
And since then, United became the symbol of the big clubs discarding FA Cup tradition when the 1998 treble side that won the Cup, the league and the European Cup declined to defend the English Cup the following season.
To be fair, there was pressure put on United to drop the Cup.
The Football Association, thinking it might impress Fifa and win votes towards bidding to host a World Cup, "invited" United to give the Cup a miss.
What misguided folly that turned out to be. It was thought that if United went to Tokyo to win Sepp Blatter's baby, the so-called Intercontinental Cup, that might curry favour among the Fifa executive committee.
Well, United did win the Intercontinental, beating Brazil's Palmeiras in an eminently forgettable 1-0 victory.
England was humiliated in the vote, and in every subsequent attempt to persuade Fifa to let the old country host the World Cup for the second time, following the 1966 event.
So now, it's back to tradition, and back to the importance of the domestic trophy which, as it happens, is the only silverware United can win in van Gaal's first season.
The Dutchman came to England with a huge reputation for tactical and authoritarian control. He replaced David Moyes (who incidentally served Preston both as a defender and as manager), who was sacked for failing to be Sir Alex Ferguson.
Moyes spent a little bit of money by United's standards - on Marouane Fellaini and Juan Mata - before he was abruptly replaced by Van Gaal.
The subsequent spending of £150 million (S$313 million) on Rojo, Angel di Maria, Ander Herrera, Danny Blind and the loan of Falcao has hardly changed things.
True, van Gaal's team is two places above where Moyes' was when he was sacked. But the fact that Southampton and Spurs appear as likely to qualify for the Champions League as United is a growing concern.
So is the lack of pattern, which van Gaal admitted this weekend is still a work in progress. "I have played five or six systems," he says, "and I'm still looking for the balance. But results are not bad and we're scoring goals."
The latest system, with Wayne Rooney hidden deep in midfield, a workhorse rather than a goal-scorer, fails to impress United old boys Gary Neville and Paul Scholes.
Neville called his old team "a pub team". Scholes said watching United was "miserable".
Van Gaal's post-game comments have a refreshing honesty in that he is apt to say "today, I didn't like my team, but we are winning". But he dismisses Neville as a TV pundit, and brushes off Scholes as "one of the fans of Manchester United, and fans can criticise us. It's not a problem".
It might become so if the unthinkable happens at Preston tomorrow night. The Cup that United once discarded is suddenly everything in the new Dutch era.
Something special again Louis van Gaal knows that, for all the damage done in the past by Premier League giants treating the old Cup with disdain by fielding the reserves, there is something of a revival of Cup-tie "magic" in the air.

This article was first published on Feb 15, 2015.
Get a copy of The Straits Times or go to straitstimes.com for more stories.