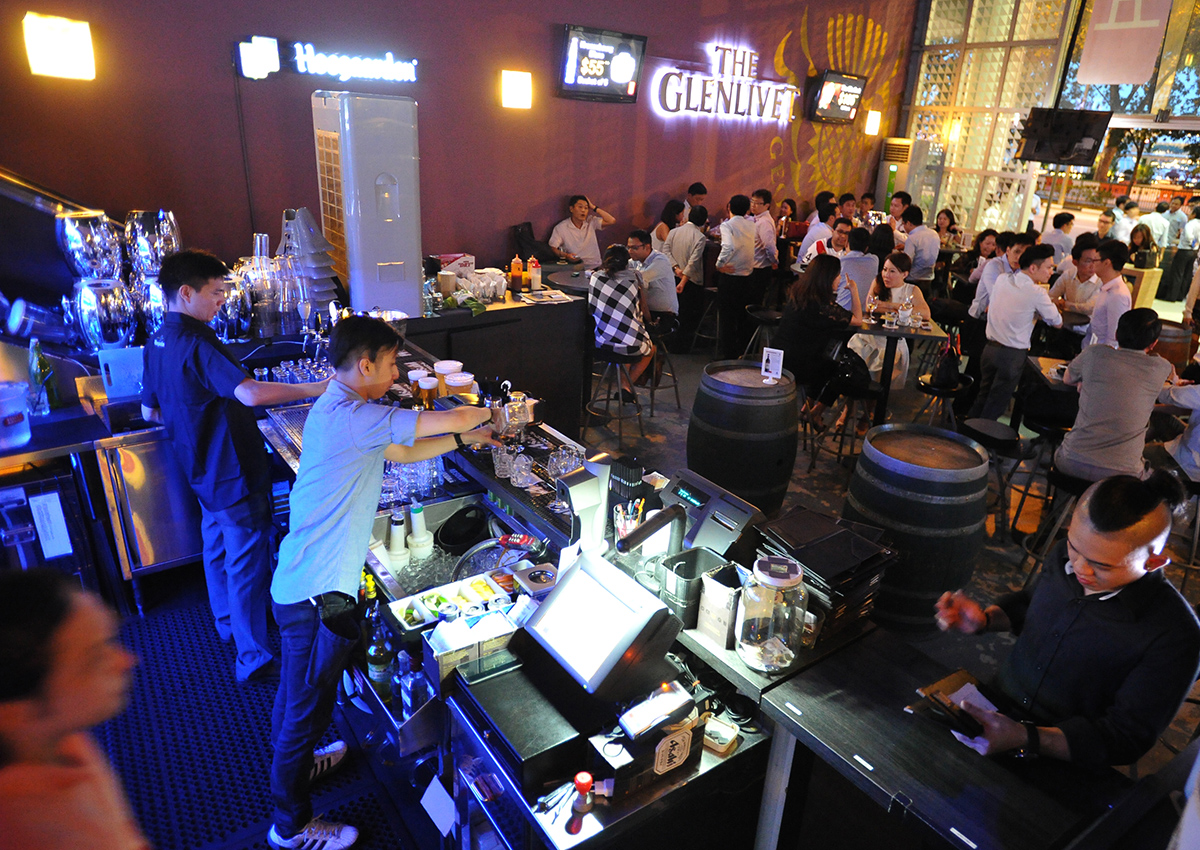 This article was originally published on the global travel search engine Skyscanner.
An izakaya is essentially a Japanese tapas bar, with a variety of small dishes that are best paired with beer and sake. They are popular among Japanese worker bees, who head there after a long day at the office for some team building time.
Singapore has a small but growing number of izakaya, and they all provide an ideal setting to unwind and enjoy great food at reasonable prices. Here are Skyscanner's top five.
1. Izakaya Tamako
This tiny hole-in-the-wall is tucked away in the back corner of Concorde hotel, sandwiched in between some shady lounge bars, and is well worth a trip to sample their mouth watering barbecued chicken skewers ranging from $5 to $8.50. Other popular favourites include squid & mayonnaise, skewered pork belly and anything wrapped in bacon, which all pairs perfectly with sake! This place is tiny, so make sure you get there early during the weekends. If not, be prepared to wait. Aside from the counter seats, which have room for about 8, there are only 2 high tables you could squeeze four people each into. Perfect for your tummy-fillers before a big night out or after!
Address: 100 Orchard Road, Hotel Concorde, 02-37
Closest MRT station: Dhoby Ghaut
Tel: 6887 5638
Opening hours: Mondays to Saturdays: 6.30pm-2am
Prices start from: $3.80
Drinks start from: $8
Website: https://www.facebook.com/Izakayatamako
2. Raku Raku Japanese Dining
Raku Raku is a little but not-so-little izakaya in Duxton Hill with tastefully minimalistic interior that feels authentically Japan. Raku can roughly be translated into "comfort." Despite the desolate tranquillity of the area on weekdays, you'll often find a surprising number of Japanese patrons at lunchtime here. You can also find reasonably priced set meals starting from $13++ that come with a main dish, pickles, Japanese salad, miso soup and high-quality Japanese rice. Even though it's branded as an izakaya, the menu has expanded a bit to suit a variety of tastes; they have popular dishes such as Japanese curry rice, udon, soba and much more to go with your Sapporo beer. Also expect dishes that izakaya in Japan might not serve like unagi and pomfret fish.
Address: 30 Duxton Road
Closest MRT station: Outram
Tel: 6224 5420
Opening hours: Mondays to Thursdays: 12pm-3pm, 6pm-11pm; Fridays: 12pm-3pm, 5.30pm-12am; Saturdays: 5.30pm-12am
Mains start from: $13
Drinks start from: $8
Website: https://www.facebook.com/RakuRakuJapaneseDining
3. Tomo Izakaya
The original outlet of this casual Japanese dining is in Clarke Quay but they have also expanded to Esplanade. The food they offer such as karaage (deep fried chicken) or okura bacon (okra wrapped in bacon) goes really well with the choice of warm, cold or even sparkling sake. Surprise yourself with their uni shot, sea urchin sashimi submerged in sake with wasabi and soy sauce. Seafood at Tomo Izakaya is flown in from Tokyo's famed Tsukiji Market twice a week, so you know they get the good stuff. Sashimi starts from $18 onwards. It is a good place to go after work for casual drinks and a simple dinner.
Address: 3A River Valley Road, 01-04
Closest MRT station: Clarke Quay
Tel: 6336 0100
Opening hours: Sundays to Thursdays: 12pm-2.30pm, 6pm-1am; Fridays to Saturdays: 12pm-2.30pm, 6pm-3am
Mains start from: $10
Drinks start from: $10.50
Website: https://www.facebook.com/tomoizakaya
4. En Japanese Dining Bar
En is a Japanese Dining Bar with a branch at Alocassia Apartment in Bukit Timah, and is a dining experience that fuses both traditional and modern elements. The earth tones in the restaurant's decor tell the story of how En came to be and create a soothing atmosphere for your meal. There is also a patio for those who prefer to dine alfresco. En specialises in Okinawan dishes like goya champuru (bitter gourd and spam), so be sure to give it a try to go with your Orion beer or Okinawan sake called Awamori. Here, you can expect to enjoy service that is friendly and efficient!
Address: 83 Bukit Timah Road, Alocassia Apartment, 01-01
Closest MRT station: Stevens
Tel: 6235 0080
Opening hours: Mondays to Sundays: 6pm-11.30pm; Saturdays, Sundays and public holidays: 12pm-3pm
Mains start from: $15
Drinks start from: $10
Website: http://endiningbars.com/en
5. Five Izakaya Bar
If you're looking for happy hour, look no further! Five Izakaya Bar is Singapore's first tachinomi izakaya. Tachinomi literally means "standing drinking," and these cheap alternatives to pricier sit-down joints are popular among Tokyoites who have spent the whole day sitting around their offices and don't mind using their legs for a bit at the end of the day. Five wants to bring this affordable dining experience to Singapore, where cheap and tasty Japanese options are few and far between. They offer tons of $5 specials all day every day as there is no specific timing for happy hour! There are however, a lot of affordable alcoholic drinks like sake, shochu, Asahi and Choya as well as Japanese food so the place is constantly packed with people for after-work shenanigans. Because of its location in the financial district, it brings in troops of execs wanting to kickback in their suits. Tasty items on the menu include $5 karaage, gyoza, donburi and pizza.
Address: 16 Collyer Quay
Tel: 6536 8955
Opening hours: Mondays to Fridays: 3pm-1am; Saturdays: 5pm-1am; closed on Sundays and public holidays
Specials start from: $5
Drinks start from: $5
Website: http://fivebar.sg
If you decide to go to Japan directly for their izakayas, don't forget to use Skyscanner! Book cheap flights, hotels and car rental today, or download our free mobile apps for easy browsing and booking on the go. Click here for the original article or visit the flight comparison site Skyscanner for more.