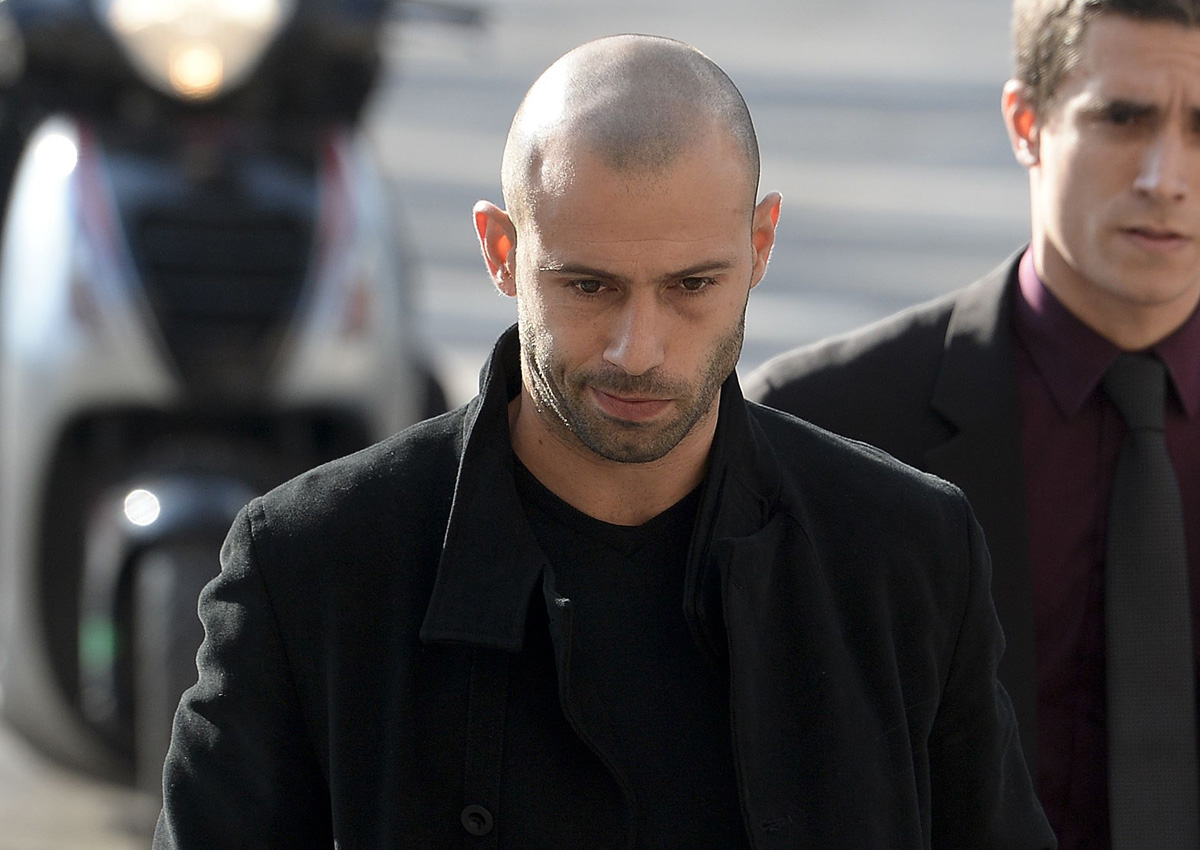 Barcelona were rather fortunate to come away from La Rosaleda on Saturday with a 1-2 win over a spirited Malaga and it was no surprise, given the week he had, that Javier Mascherano was heavily involved.
The Argentine made two crucial first-half interventions after errors from Thomas Vermaelen and Claudio Bravo, but that first period was also marked by his deflection that diverted Juanmi's shot past Bravo for an equaliser.
The Catalans earned the win thanks to another moment of genius from Lionel Messi but Mascherano was nearly instrumental in wiping that out, weakly clearing a free-kick straight to Ignacio Camacho who saw his shot stopped by Bravo.
With Gerard Pique it was another game that highlighted Barca's defensive vulnerabilities as Mascherano and Vermaelen, who was then replaced by Jeremy Mathieu at half-time following a wretched first 45 minutes, muddled through.
Marc Bartra meanwhile would remain on the bench throughout, three defenders who were expected to take Mascherano's place alongside Pique failing their latest audition.
Cessation of the transfer embargo
With the transfer embargo now over, Barcelona may now step up their pursuit of Athletic Bilbao's Aymeric Laporte or Villarreal's Adrian Marin to finally find a consistent partner for Pique, but with this transfer window drawing to a close Barcelona will have to see out the season with Mascherano still in his role as makeshift centre-half.
Despite the shakiness he displayed in Malaga, it is a position Mascherano played in two of Barca's recent Champions League triumphs and was so brilliant in during Argentina's run to the final of the 2014 World Cup.
Barcelona then will be thankful for Spanish law that allows people to avoid serving their sentence if they are handed terms of less than two years in jail, if they agree to fine, as on Thursday Mascherano was in court admitting two counts of tax evasion totalling £1.1 million.
The midfielder had concealed image rights earnings he had ceded to companies he owns in Portugal and USA but he has had to pay back the £1.15 million (S$2.3 million), plus interest, plus a £625,000 fine and the fine that will replace his year behind bars.
Costly advice?
Mascherano referred to himself in a statement as "honest and responsible", putting this incident down to a very costly instance of bad advice.
"I'm a professional sportsman and I don't know anything about tax law" he offered as the explanation to why his fiscal affairs were being managed by a third party.
Mascherano's fellow countryman and team-mate Lionel Messi is also expected to produce the same defence, laying the responsibility at the door of his father, when his own tax-evasion trial gets underway at the end of May.
The father and son pairing will be accused of defrauding the state to the tune of more than €4 million on income again related to image rights.
Messi and his father Jorge have made voluntary "corrective" payments of €5 million but the courts have ruled that this will not save him from an eventual sentence that, similarly to Mascherano, will not involve jail time.
Neymar predicament
Barcelona's involvement with the tax authorities doesn't stop there however with Neymar, Messi's strike partner, currently under investigation over the €57.1 million deal that took him from Santos to the Nou Camp in 2013.
Barcelona have since been forced to release documents that shows the deal cost far in excess of that figure with club allegedly avoiding income tax by disguising Neymar's salary as part of the transfer.
Then-club president Sandro Rossell and current president Josep Bartomeu are alleged to have sliced Neymar's transfer into various contracts so his wages were paid as other services to companies based in Brazil, where they would be answerable to a lower tax-rate.
Bartomeu has said the case hinges on a simple question whether to pay in Spain or Brazil, but it has been drawn-out, public and will involve several high-profile names with Neymar, currently with his assets frozen back in his own country, due to give evidence on February 2nd.
Scrutiny influenced by political stances and ties?
With Barcelona coming under intense scrutiny from the authorities it has given a voice to those who believe the club is being singled out for its links to the Catalan independence movement, with the Spanish government coming under increasing pressure from the separatist movement that won September's Catalan elections.
Despite Iker Casillas, Xabi Alonso, Luis Figo and Samuel Eto'o coming under investigation for their finances, albeit far less publicly than Messi, Neymar and Mascherano, some believe Barcelona's players are being singled out as easy targets by Madrid's central government.
"There is a whole machine behind [these investigations] and I'm sure in the end it will turn out that Neymar was in Dallas the day Kennedy was shot" said Carles Vilarrubi, one of Barcelona's vice-presidents.
There are also suspicions that Javier Tebas, president of La Liga and a fierce Spanish nationalist, is using his position to shine the spotlight on Barcelona as the prospect of them breaking away with independence to form a separatist league, looms even larger.
"Leave Neymar to play a few more years … and end his career in Europe, preferably at Real Madrid," said the Brazilian's agent Wagner Ribiero, hinting that Neymar would not face such in-depth probing if he was playing for Barca's El-Clasico rivals.
Still unstoppable
Of course there is no proof of any conspiracy and it is, apart from a few typically nervy moments from Mascherano on Saturday, failing to disturb their form, if that is the plan.
Messi and Neymar will follow their Argentine team-mate by appearing in front of a judge but it appears that even in the courtroom Barcelona can't be stopped.