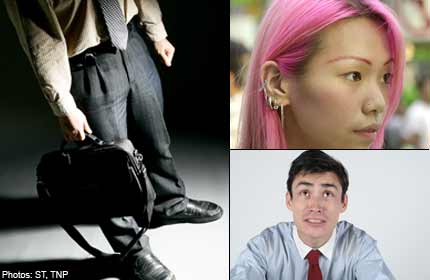 School's out for tertiary students, which also means job-hunting season has begun. Recruiters and hiring managers talk to BENITA AW YEONG about nightmare interviews, and the dos and don'ts when it comes to making the best first impression.
SCENARIO #1: Dressed for gym
Mr Dave Chew, assistant manager at recruitment firm TBC HR Consulting:
"He was a candidate in his late 20s, applying for an executive-level office position.
"I gave him ample lead time to prepare for our meeting, but he still turned up in the shoddy getup (slippers, singlet and shorts).
"When I pointed out that his outfit was not suitable for the occasion, he apologised and explained that he was heading to the gym after the meeting.
"Granted, the gym was a stone's throw away from my office, but his getup was still unacceptable.
"I short-listed him for a position because of his stellar working experience, but I would advise candidates to dress smartly, even if you're meeting the recruiter and not your prospective employer."
SCENARIO #2:Dissing previous employer
Ms Shirin Aziz, marketing manager at human resource company Adecco Singapore:
"She was a mid-career professional with more than 10 years of experience. Her resume was impressive. She was punctual and well-groomed.
"But things started going south when she started bad-mouthing her ex-employer.
"There are many reasons why people leave their jobs - long working hours, mismatched skills, corporate culture as well as relationships with management and colleagues.
"But dissing your previous boss or employer during an interview does nothing for your professional image.
"It not only made me uncomfortable, but I began to wonder if I could potentially fall victim to this, too, should I became her employer.
"My advice?
"Be truthful and sincere but avoid the scandalous details."
SCENARIO #3:Wild hair
Ms Christine Sim, director of HR consulting at PrimeStaff Management Services:
"He showed up with hair dyed a shocking yellow, with highlights in a myriad of colours.
"I'd describe it as a rainbow of sorts.
"I was considering him for a management trainee position at a bank, so I knew the hair would simply have to be dyed black, and told him so.
"Thankfully, he listened, and the interview went well."
SCENARIO #4: Seeks opinion on another offer
Mr Chew:
"The candidate had come to talk about a position I was hoping to put him forward for, but halfway through our conversation, he received a call from another firm or recruiter offering him a job.
"I stepped out of the room for a while to give him some privacy.
"When I returned, he asked for my take on the job offer he had just received.
"It was awkward, to say the least."
SCENARIO #5: Better on paper than in person
Ms Shirin:
"He was a fresh polytechnic graduate I was hoping to recruit as a junior marketing executive for my own team. On paper, he looked really good.
"He had good academic results, was active in CCAs, a student leader and he spoke well over the phone.
"But he arrived 30 minutes late without a call or text message to inform me. He also didn't apologise when he finally arrived.
"He was rude, demanding and, on top of that, had very little knowledge about the company and industry trends. He didn't get hired."
SCENARIO #6: Slumped
Mr Chew:
"Tardiness and lousy eye contact are nothing new.
"But one candidate who left a particularly bad impression placed both hands on the table to form a chin-rest, then slumped forward and placed her head on her table.
"I was rather taken aback."
SCENARIO #7:Resume photo horror
Mr Chew:
"I remember a candidate who sent in a resume with a photo attached. Five people were in it. She indicated that she was the person wearing red.
"Some candidates have resume photos taken at a birthday party or at the beach. These are strict no-nos."
"If you don't have a photo of yourself which exudes an air of professionalism, it is better to leave it out altogether."
Tip #1 Dress for the interview, not the gym
Tip #2 Give your interviewer your fullest attention
Tip #3 Don't slouch or fall asleep

Get The New Paper for more stories.