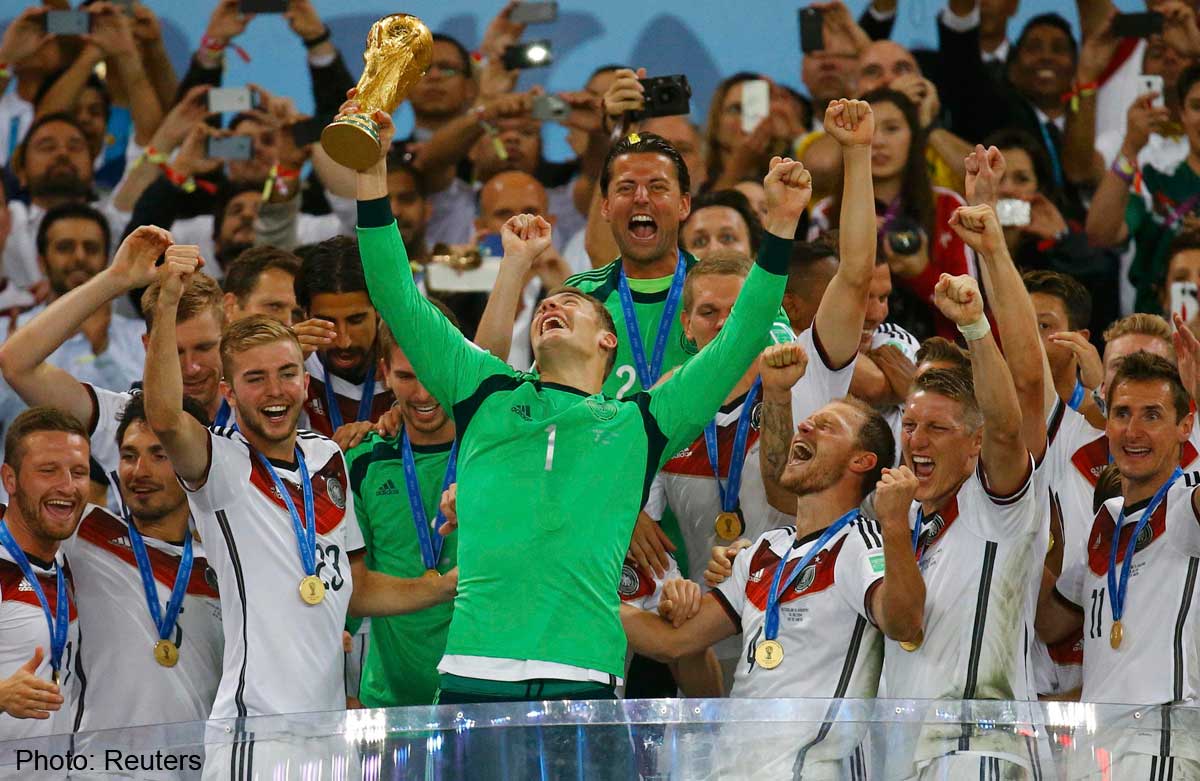 BERLIN - A jubilant German press on Monday celebrated the national side's fourth World Cup win and crowned striker "Super Mario" Goetze as a "football god" for his victory-clinching dream goal.
"It Is True", headlined conservative broadsheet Die Welt, with the three words printed in the national colours of black, red and gold. "What a match, what a fight, what drama," it exclaimed.
The top-selling Bild daily splashed "1:0" and "World Champions!" across its front page over a photo of Goetze and dedicated the next 16 pages to every detail of the team's triumph in Rio de Janeiro.
Online, the paper cheered: "Goetze, God of football" and heaped gratitude on the trainer and the rest of the team: "Thank you, Jogi (Loew)! Thank you guys! You have made us infinitely happy." "We bow to coach Jogi Loew ... Concentrated, he led the team through the tournament. He remains quiet after big wins. He remains calm after tough matches," Bild said.
"You are the Greatest!" cheered the headline over a double-page lift-out poster inside the paper, showing Bastian Schweinsteiger lifting the trophy over his head and the ecstatic team punching the air.
Even the paper's health section offered advice to hardcore fans on how to deal with the withdrawal symptoms after weeks of football fever and on how to overcome the post-World Cup blues.
News website Spiegel Online cheered, "1954. 1974. 1990. 2014!", recalling the four times Germany has clinched the trophy.
"Goetze, the liberator," headlined the online edition of the Frankfurter Allgemeine Zeitung. "For the first time a European team has won a world tournament in South America ... the title for Germany is well deserved." "World Champion! Germany's national football team has delivered," cheered the Neue Osnabruecker Zeitung, predicting days of celebrations.
"What started with honking motorcades in the evening will only grow by the time the team comes home," it said, describing the massive impact the win has had on the football-crazed nation.
"Nothing can resist the pull of football. War in Israel? War in Ukraine? The (US-German) spying scandal? For many those didn't matter. Everyone came on board: politicians and companies, newspapers and TV stations, football fans and those who usually aren't." The Koelner Stadt-Anzeiger noted that Germany, where patriotism has long been restrained by guilt over World War II and the Holocaust, has become a little more like other countries in its expressions of national joy.
"The tensions of the past have finally eased, but this hasn't been followed by a new nationalism, rather a new openness to the world," it said.