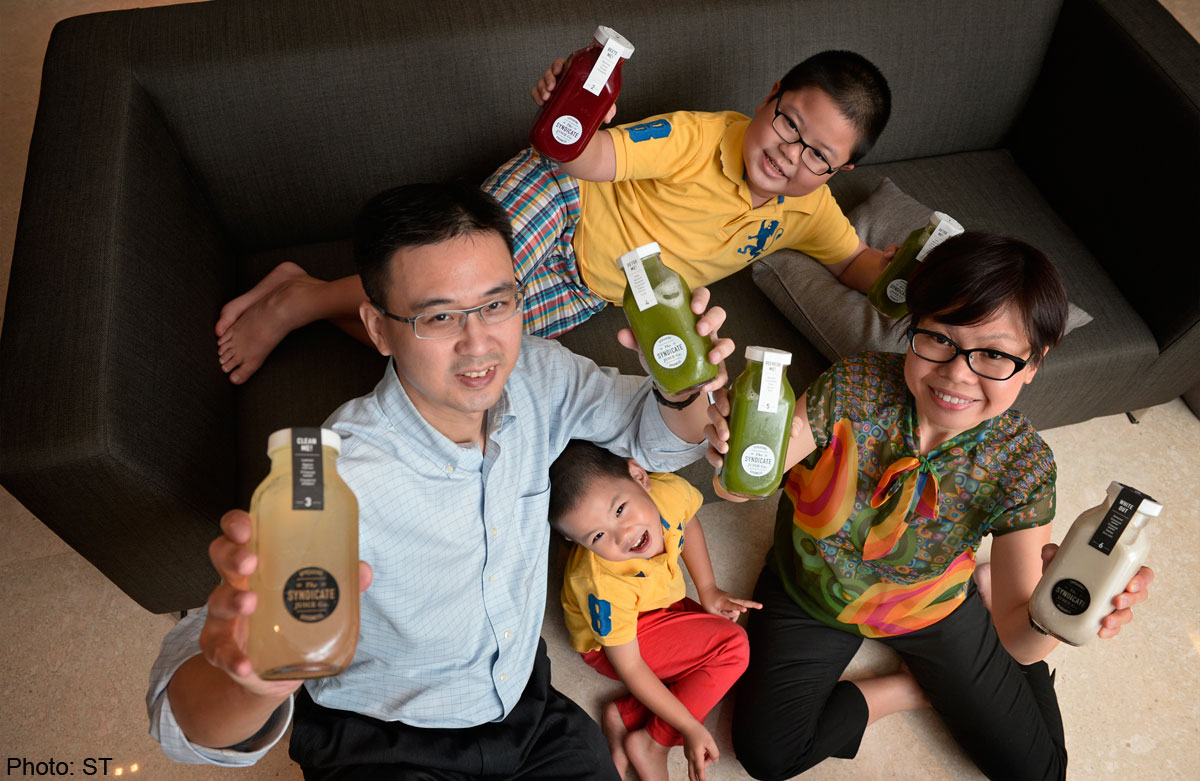 Up to two months ago, bank employee Glenn Lee could not understand why his fiancee Britney Cheong was spending so much money on juices.
Ms Cheong, a 27-year-old public officer, would do something called a juice cleanse every few months, paying $180 each time for 18 bottles of juice to last her for three days. She would drink six bottles of these each day, in place of her daily meals.
"Since she was doing it regularly, I figured it had to be something good and I decided to join her on her third juice cleanse," says Mr Lee, 29.
The couple went for a three-day juice cleanse in May and Mr Lee says his body felt energised and lighter as a result.
This was Ms Cheong's third juice cleanse in nine months and she says her digestion, skin and sleep improved after every juice cleansing.
The couple are among a growing number of people who have signed up for juice cleansing programmes here.
A juice cleanse, which can last from one day to a week, replaces all meals during the cleansing period with cold-pressed juices made from fruit and vegetables.
A three-day juice cleanse programme typically costs between $180 and $340, with participants consuming six bottles of juice a day. That works out to between $10 and $18 a bottle. A partial juice cleanse, where only certain meals are replaced by the juices, is also catching on.
These juices cost a lot more than what you get at fruit juice stalls in hawker centres because the companies say they use the cold-press method to prepare the juices and the liquids contain nutrient-rich ingredients such as chia seeds and wolfberry.
Juice cleansing was made popular by Hollywood celebrities such as Salma Hayek, Gwyneth Paltrow and Owen Wilson. In the United States, especially in New York, bottles of cold-pressed juice are easily available at premium supermarkets and juice bars.
In Singapore, more than 10 providers of juice cleansing programmes have come on the market, with at least five of them launching from February this year.
These companies say juice cleansing is popular among people who are affluent and health conscious, although students in their early 20s have started making up a small percentage of their clientele. Some people are also influenced by their travels to the US, where juice cleansing has become trendy. However, a juice diet is not without controversy as its health benefits have not been proven.
Two new players, The Syndicate Juice Co. which started in February and Gorilla Press, which began operations in March, do not have brick-and-mortar outlets. They market themselves on social media and rely on word-of-mouth recommendations. This has not stopped orders from coming in.
"We get 10 to 15 juice cleanse orders weekly, even though our website is not up yet," says Ms Ann Loh, 44, one of the three women behind The Syndicate Juice Co.
They produce the juices in a central kitchen in MacPherson and hire a logistics company to deliver the juices to customers every day.
Gorilla Press is a slightly leaner outfit. Its founders Valerie Oei and Ong Weiquan, both 32, produce the juices in a central kitchen and do the deliveries themselves. They receive about 50 orders a month.
Mr Ong, who used to work as a bank trader, says: "We knew there were others in the market when we started but we decided to go ahead because we believe in what we do."
Mr Joel Lee, 28, business director for Mission Juice, says orders for juice cleanses have increased significantly, from about five a week in April to between 30 and 40 orders a week. He started selling cold-pressed juices in May 2012 but rolled out juice cleansing programmes only four months ago.
He attributes this development to people becoming more aware of the concept of juice cleansing, having read about it online or seen cold-press juice bars overseas.
Agreeing, Ms Loh says Singaporeans are becoming more receptive to leading a healthier lifestyle and the local yoga community in particular has taken to juice cleansing.
She adds: "We live a fast-paced life here and people end up going for fast food. With these juices, we show you how you can have fast, healthy food in a bottle and on the go."
Ms Rochelle Hogan, a 35-year-old Australian who founded Sana Cleanse in 2012, one of the first to offer juice cleansing programmes here, says: "When we launched, we spent a lot of time answering questions and educating people about our programme."
Now, however, the "fear factor" is virtually absent. Ms Hogan, who has been living here since 2005, says: "We get new people ringing up every week, telling us they are interested in the programme and want to try it."
The juice cleansing community is generally made up of working adults in their mid-20s to 40s, say juice cleansing companies.
Many of them are women like Ms Cheong, who "feel unhealthy" and want to detox via a juice cleanse. She says: "Juice cleansing also gets rid of my guilt after I have eaten a lot of ice cream, cakes and chips."
Others such as Ms Olyna Ong, 38, look to a juice cleanse to boost their health. "I kept coming down with the flu and was quite sick for a period of time, so I did a juice cleanse this year for a system overhaul," says Ms Ong, who runs an education consultancy.
"After the three-day cleanse, I felt a lot better, stronger and healthier, and I haven't fallen sick since."
Juice cleansing fans generally claim it makes them feel lighter, cleaner and more energetic.
Men are also jumping on the bandwagon.
Sales manager Mario Didier, 31, bought his own cold-press juicer a year ago so that he could make green smoothies. But he found it a hassle to buy, cut and wash the vegetables on his own, and to supervise his maid in preparing the juices. The homemade juices also did not taste good, so he decided to get them delivered to him instead.
He has been on three juice cleanses with Gorilla Press since March and says they increase his feeling of well-being. Apart from the cleanses, he also orders green juices in bulk to drink daily for breakfast.
He looks upon juice cleansing as a quick way to get his daily intake of fruits and vegetables. "It takes a while to chew vegetables. I'd rather drink my food because it takes just 10 seconds. I think I've spent a few thousand dollars on juices. My parents think it's ridiculous," he says.
Ms Gladys Wong, chief dietitian at Khoo Teck Puat Hospital, says there is a lack of evidence to date on the effectiveness of juice cleansing.
She says: "No one can pinpoint exactly what toxins we are specifically detoxifying. As healthcare professionals, we would not condone short-term juice diets and we also would not recommend or endorse it."
Noting the different lengths of cleansing programmes, she adds that it is safe for one to live on juices and no solids for three to five days.
However, she cautions that a juice diet may not meet a person's daily energy requirements as it is a low-protein, low-calorie liquid diet.
"The person may feel more hungry and will need to really meditate to divert his attention from delusions of yummy food," she adds.
Nutritionist Alexandra Prabaharan, who works with local food delivery company Food Matters, agrees that the first two days of a cleanse can be difficult as one is used to eating solid meals. She cautions that juice cleansing should be done only once in a while.
"There is such a thing as too much of a good thing. Our bodies need balance and if we are eating only fruits and vegetables, we're eliminating a whole slew of nutrients that the body requires," she says.
Family end up eating more healthily
Bank executive Yap Jun Teck and his wife Katharine Kum stumbled upon the idea of juice cleansing earlier this year at their regular chiropractic clinic, which was having a tie-up with The Syndicate Juice Co.
Thinking it would be a good way to detox their systems, the couple decided to try the juice company's three-day vegetable cleanse in May this year.
For a three-day cleanse, the bottles were delivered twice - once on the first day (six bottles a person) and another delivery on the second day.
They paid about $300 for each round of cleansing. They drank juices consisting of vegetables such as parsley, cucumber, romaine lettuce and spinach.
In the days leading up to their juice cleanse, Ms Kum, 40, recalls getting her husband to stop eating meat and dairy products.
An executive in a private developer firm, she says: "I figured we should make those dietary adjustments since we would be taking only juices during the cleanse and I wanted us to enjoy the full effects of it.
"So, for example, if he were to order a sandwich for lunch, it had to be without meat, cheese or mayonnaise dressing."
While Mr Yap, 40, was prepared to make those sacrifices, he could not help feeling hungry on the first day of the cleanse after his juice lunch.
He says: "I ended up taking some fruits to supplement what I drank for lunch."
On the two subsequent days of cleansing, however, he had no hunger pangs.
He recalls feeling "more alert and healthy" after the cleansing, while his wife says she felt that her stomach was "really clean".
She adds: "It's quite amazing how light an emptied-out stomach feels. It's something I've never felt before."
The couple say doing the cleansing together made the experience even more enjoyable.
She says: "We were both at work but we sent texts to each other on our progress through the various bottles.
"I did not like the taste of one particular juice but he finished it in 20 minutes. Hearing that gave me the motivation to finish it, although it took me 1.5 hours to do so."
The couple's three-day cleanse caught the attention of their colleagues.
Mr Yap says his female colleagues were intrigued as they watched him "drinking green stuff" throughout the day and one of them ended up trying the cleanse too.
Because the couple liked their first juice cleanse experience, they did another round of the same cleanse earlier this month - and had similarly feel-good results.
"I think we'll be doing this every few months," says Ms Kum, adding that the entire family has started eating more healthily. They have two sons, Cheng Hoe, eight, and Cheng Kwee, four.
She adds: "We figured it would be good to keep to a healthy diet."
Mr Yap no longer eats store-bought beehoon with luncheon meat, fried eggs and oily cabbage for breakfast. In its place are an apple, a pear, two slices of bread and a bottle of water with lemon slices to go, lovingly prepared by his wife at home each morning. Her sons have the same combination of food items for breakfast.
She says: "My kids are too young to have a juice cleanse but hopefully, this will teach them what it means to be health conscious."
Liquid meals are 'addictive'
Bank analyst Lee Jiamin, 26, did her first juice cleanse earlier this month and was so impressed with its results that she did another one a week later.
She says: "It made my skin glow. I have eczema, but my rashes were less inflamed and during and after the juice cleanse, my skin felt moisturised instead of dry."
She had read about juice cleansing online and had heard her friends talking about it over the past few months, but it was not until June that she came across Gorilla Press on Instagram.
"I sent them an e-mail, got excited when I saw their juice menu and decided to give their four-day cleanse a shot," she says.
"I sometimes work up to midnight and eat irregular meals, so I thought this would be a good way to boost my immune system and ensure that my body gets sufficient nutrition."
She was initially surprised by how expensive the juices were, compared to the prices at fruit juice stalls in food courts.
But she says she could taste and feel the difference after having the cold-pressed juices. She adds: "They are really refreshing and taste great. You think it's just liquid but it's very filling and addictive."
Some of her favourite concoctions in the juice cleanse are matcha nutmilk - a blend of cashew nuts and almonds with milk and matcha powder - and a coconut water drink with bits of coconut flesh inside, which she says gives the drink "bite".
It was during the juice cleanse that she ate avocado and kale (a vegetable touted as "angmoh kailan") for the first time and was surprised by how pleasant these tasted when mixed with other ingredients.
She says: "After the juice cleanse, I felt really clean inside and found that I could concentrate better at work. I would often feel sluggish after lunch but not when I was doing juice cleansing."
She found her appetite shrinking after every juice cleansing and that she could not stomach her usual food the same way.
She adds: "Somehow, the usual items did not taste that good and it seemed that my stomach was not able to digest them.
"I would feel full three-quarters of the way through a bowl of noodles when I would usually finish the whole bowl."
Having enjoyed these effects of a cleanse, Ms Lee went for her second four-day cleanse a week later. She is planning her third one next month.
The whole process is convenient for her because Gorilla Press delivers to her office and she usually stores the bottles - two days' worth a delivery - in her office refrigerator.
Gorilla Press charges $370 for each four-day cleansing programme but Ms Lee says she does not mind the cost.
She adds: "It's expensive but I find that this is beneficial to my health."
What goes into the juice
Juice cleansing companies typically make their juices with cold-press juicers such as the Norwalk (from the United States) or the Hurom (from South Korea) because they say the process of cold-pressing retains more nutrients than regular juicing.
The domestic fruit juicer is usually a centrifugal juicer that separates juice from the pulp through the use of high-speed blades.
This creates friction and heat, which can destroy the nutrients and enzymes in fruits and vegetables, the juice cleansing companies say.
A cold-press juicer, on the other hand, crushes and wrings the fruits and vegetables into a dry pulp, with little or no heat produced.
The juices are quickly bottled and kept chilled, so that there is little exposure to oxygen and other oxidising elements.
Some juice companies such as Absolute Juice produce the juices daily and deliver them to their customers later that same day, rather than deliver two or three days' worth of juices at a go, to maximise freshness.
The juices, however, can usually last three days in the fridge.
In juice cleansing, customers are usually given six 500ml bottles of various juices - vegetable, fruit and nut-milk blends - for each day.
A typical vegetable blend incorporates greens such as kale, spinach, celery and cucumber, while a fruit blend usually includes pear, pineapple and beetroot.
Some concoctions include "exotic" ingredients such as medjool dates, Himalayan salt and maca (dubbed "Peruvian Ginseng"), which is said to increase one's strength and libido.
Mr Tan Choonboon, 27, founder of Joob, says he adds a bit of apple into his more bitter-tasting blends to sweeten the mix, while lemon is also used where necessary to "neutralise any zing".
Absolute Juice owner Adren Lim, 41, says he rolled out a new juice menu two weeks ago, after taking into account customers' feedback on the taste of his juices.
Green pepper is now no longer used in his juice blends.
He says: "Some people felt it made the juice taste slightly 'spicy'. We took it out because we want people to enjoy the juice."
Besides taste, Gorilla Press' co-founder Ong Weiquan, 32, says variety is also important.
He adds: "We sometimes throw seasonal ingredients such as blood orange and lychee into our juices, just so that customers don't get bored."
brynasim@sph.com.sg

This article was first published on July 27, 2014.
Get a copy of The Straits Times or go to straitstimes.com for more stories.