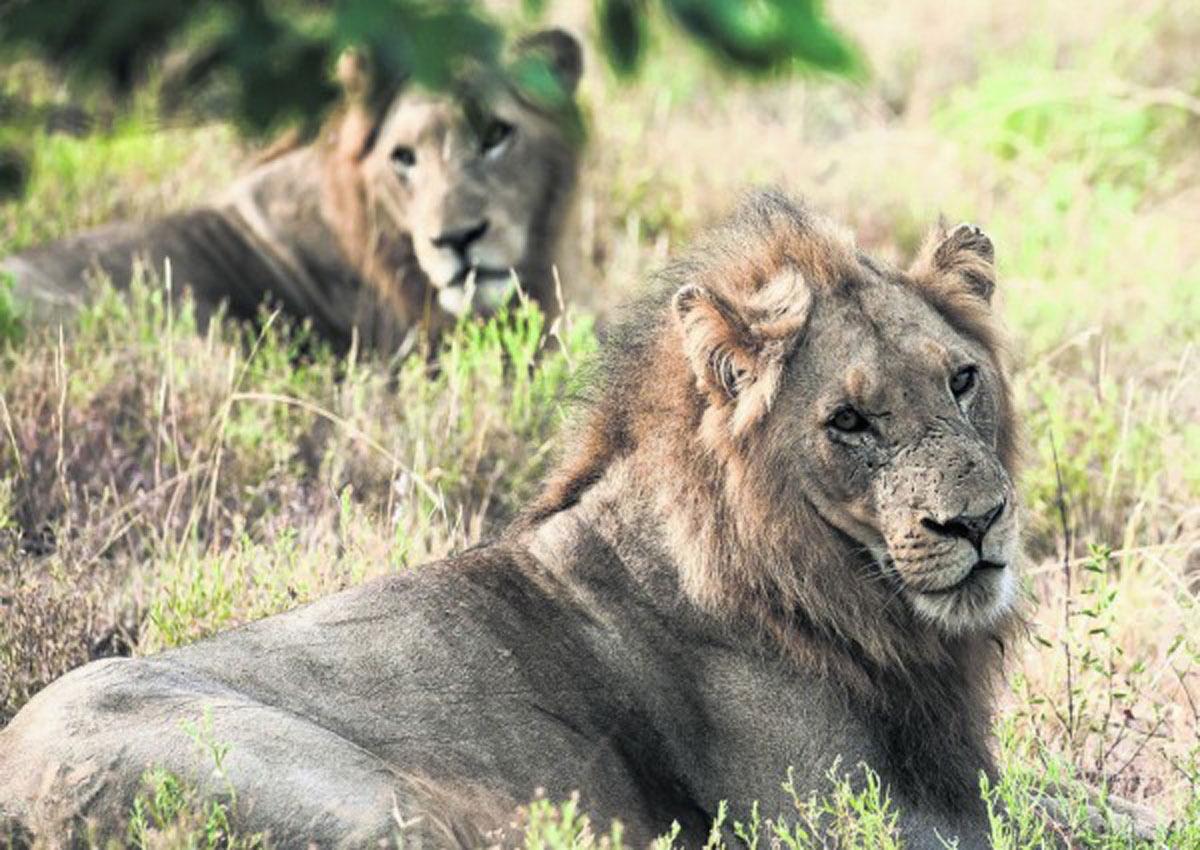 Our daughter was turning two, and it seemed like a good excuse for a family holiday. My wife and I had always wanted to visit South Africa; we had heard so much about the beautiful landscapes and amazing wildlife reserves. We liked the idea of a long road trip - but could we do it?
After thorough research, we felt confident about going ahead. We planned a 14-day itinerary starting from Johannesburg and ending in Cape Town.
After arriving in Johannesburg, we drove four hours to our first stop, the small town of Graskop, en route to Klaserie Private Nature Reserve. Graskop is a good base to explore the Blyde River Canyon, one of the largest canyons in the world.
After resting there overnight, we drove 130km to Gomo Gomo Game Lodge, where we had booked four game drives over the next two days.
Game on
Klaserie Private Nature Reserve is one of the largest privately owned reserves in South Africa, and is part of the greater Kruger National Park; it boasts a great diversity of wildlife and has a game viewing area that spans 60,000ha.
Unlike some reserves that remove the natural vegetation to create a zoo-like experience for visitors, Klaserie's safaris take place in a pristine wilderness, with thick foliage - providing the animals with plenty of cover and shelter.
With the help of experienced and eagle-eyed rangers and trackers, we got up close with four of the elusive Big Five - lions, elephants, Cape buffalos and rhinos - as well as other wild animals.
The rangers were confident enough to take us within 5m of the lions and rhinos, as they are calm unless provoked.
The elephants, on the other hand, tend to be very territorial; at one point, a bull elephant almost charged our open vehicle. Thankfully, our rangers knew how to defuse the situation by hitting the bonnet of the vehicle and shouting at the animal, so we got back in one piece.
Due to relentless poaching, our ranger told us he feared his grandchildren might never see the endangered rhinos, adding that we were lucky to see them in the wild.
After two days of watching big game, we continued on our way, driving 1,630km through Nelspruit, Pretoria, Bloemfontein and Graaf Reinet, staying with locals and enjoying their hospitality. They gave us many tips of what to do in every city and made sure we were happy and well fed.
The Garden Route
From Graaf Reinet, we embarked on a four-hour drive towards the Garden Route, a scenic stretch along the south-eastern coast of South Africa. Along the way, we stopped by the Daniell Cheetah Project, which focuses on cheetah conservation and offers educational tours on the big cats by trained tour guides.
The enclosure also rescues and shelters lions from "canned" hunting, where lions are raised in cages and then hunted by wealthy people for guaranteed trophy kills.
The cheetahs, lions and leopards had large caged enclosures all to themselves and ignored us until they saw my daughter toddling towards their cages.
The guide explained that big cats, wild or captive, have a natural hunting instinct to go after the weakest in a pack, and in this case, our daughter was the only young among us and was instantly marked as a prey.
Before the tour ended, we were thrilled to pet an adult female cheetah, Ola. She was very relaxed around humans and enjoyed licking our arms. According to the guide, she loved the salt on our skin.
Our next stop was the town of Knysna, which is along the Garden Route, and we immediately fell in love with its mild climate. It was also safer than the large South African cities.
It is perfect for chilling out, and there are many restaurants and cafes. Do drop by Ile De Pain, a bakerycafe in Thesen Islands, a marina development within Knysna. The splendid breakfast and the aroma of its wood-fired baked bread will make you come back for more. You have to arrive early to get a table, as it quickly gets crowded.
We made Knysna our base to explore the region. There are many activities you can try, such as whale watching, shark cage watching, bungee jumping and game viewing. There is also plenty of hiking in the many national parks around the area.
The Mother City
The final leg of our long journey was the five-hour drive from Knysna to Cape Town. The first landmark we saw on our approach was the dramatic Table Mountain, which overlooks the city.
We took the cableway to the top for the magnificent views, but you can also hike all the way up. Do hire a guide and be prepared to sweat it out.
One of the must-dos in Cape Town is the Chapman's Peak Drive - from Noordhoek to Hout Bay - which ranks among the world's most scenic coastal roads. The scenery is breathtaking - from sheer cliff drops overlooking the Atlantic Ocean to towering mountains. It is a 9km route with 114 curves that skirt the rocky coastlines of Chapman's Peak - a paradise for keen motorists.
We also visited Waterkloof Estate, perched on the slopes of Schapenberg, 300m above sea level and just 4km from False Bay Coast.
It is a family-run vineyard that consists of a barrel maturation cellar, a state-of-the-art gravitational cellar, a modern tasting room and its signature glass box fine-dining restaurant with scenic ocean, vineyard and mountain views.
For a small fee (S$14), you can enjoy six wines of your choice with the acclaimed Healey's matured farmhouse cheddar cheese. Do try Waterkloof 's award-winning, Circle Of Life range of wines.
Back at Cape Town, I felt a little adventurous and decided to hike up another famous landmark, Lion's Head. Many locals do the hike before they head to work, for a good morning workout.
The best times to go up to the peak are sunset or sunrise, and it takes 45 minutes to two hours, depending on your fi tness level and the route you take. Once on top, spectacular views over the city and the Atlantic Ocean greet you.
It was a fitting way to conclude our road trip. We had travelled far, seen many of South Africa's wonderful sights and had a fulfi lling and eye-opening experience we will cherish for many years to come.
Guidelines
We flew from Singapore to Johannesburg on Singapore Airlines. From there, we hired a rental car and drove to our end-destination, Cape Town.
- Plan your route to avoid unsafe areas, and always be vigilant. When driving, keep windows and doors locked at all times.
- The climate is generally mild but do apply sunblock regularly as it can get quite hot during the day.
- As South Africa does not impose a service charge, it is polite to give a tip to service staff of 10 to 15 per cent on the total bill.
This article was published by the Special Projects Unit, Marketing Division, SPH.

This article was first published on July 14, 2015.
Get a copy of The Straits Times or go to straitstimes.com for more stories.